Welcome back to our rookie quarterback rankings. This week sees the last of our fab 5 finally get his team going in the win column, while a usually stellar member takes a nose dive and we have a new name at the top of our rankings.
There were some tricky fixtures this week. With the improved Minnesota Vikings coming into Washington to face Robert Griffin III, the high-powered Patroits visited Seattle and Miami played host to a feisty Rams team.
1. Russell Wilson: Seattle Seahawks vs. New England Patriots
For a while now I've been saying that Seattle haven't trusted Wilson, they've not opened up the playbook and let him attack down field. Well they did in this one, and they were rewarded with Wilson's best game of the season, and a win too.
What do 4 Superbowls, 3 league MVP's & 3 Superbowl
MVP's? 0-2 in Seattle, that's what.
Wilson was firing the ball around with authority against the weak Patriots secondary, hitting plays of 50 yards to Doug Baldwin and 51 yards to Golden Tate on pinpoint throws. He also hit Sidney Rice for a 46 yard game-winning touchdown with just over a minute left, his 3rd in the game.
Wilson was never in danger of being intercepted, and while he did give up a fumble that was far more a good defensive play by fellow rookie Chandler Jones than it was a bad play from him.
His movement in and out of the pocket was once again a big part of his success, and though he only carried it 5 times he was able to extend plays both left and right against a New England team that has pretty good play on the edges of it's defense.
With a road trip to divisional rivals San Francisco and their elite defense on Thursday night I don't expect Wilson to stay here, there's a good chance the playcalling goes back into it's ultra-conservative approach.
Track speed on the gridiron doesn't always translate,
but so far so good for Mr. Griffin
2. Robert Griffin III: Washington Redskins vs. Minnesota Vikings
The story is once again Griffin's legs. The passing game was ok, Griffin rarely drove the ball down field, he had his most success on intermediate passes over the middle off of play action.
Griffin only had 5 incompletions, but one of those was a horrible interception to Antoine Winfield. RG3 was scrambling right and threw to the sidelines for Josh Morgan, but Winfield had him covered the whole way, the pass was never on and it was a pass that really should have just been thrown away. It was early in the game, at just 6-0 down in the 1st, and the defense were able to keep Minnesota out of the endzone, but it's the kind of forced pass that can swing games.
But after that, it was all about Griffin's legs. He carried 13 times and found the endzone twice, once on his usual QB draw inside the 10, but his 2nd touchdown, which iced the game, was exactly what pushed Griffin up the draft boards in the first place. On a 3rd & 6, when the 'Skins need to keep the ball and drive out the game, Griffin drops back and the pocket opens in front of him (The commentators said it was a designed QB draw, i'm unconvinced), Griffin springs out of the pocket upfield, swings to the left and leaves everyone in his dust as he goes up the left sideline. It was a great sight that hasn't been seen in the NFL since Michael Vick's heyday in Atlanta and is why, despite the concussion from last week, the Redskins will keep running him at least this year.
All in all it was a good day for Griffin, the lack of explosive passing play was noticeable, but without Pierre Garcon it shouldn't be surprising. The Vikings did a really good job limiting Alfred Morris, but just couldn't handle Griffin out of the pocket. And not many can.
3. Brandon Weeden: Cleveland Browns vs. Cincinnati Bengals
A win for Cleveland is a rare thing, and all involved should savor it. Brandon Weeden, for his part, played ok. He was once again the victim of drops by a lot of his receivers, and it's noticeable that he's targeting main offender Greg Little less and less.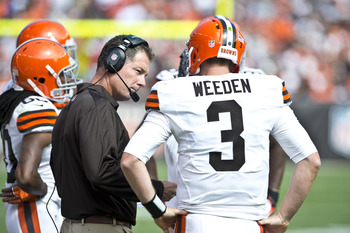 "We think it's just a scoreboard malfunction, but can't be sure."
When Weeden gets time, and can stand still in the pocket he can really sling the ball with both good velocity and accuracy, as shown on his deep bomb to Josh Gordon that dropped in perfectly. But he's still prone to errors, especially when he's forced to move off his spot. Cleveland's offense went through 6 drives, spanning half time, without picking up a 1st down. It's this kind of inconsistency from all involved, not just Weeden, that continues to hold the Browns back.
Weeden also struggled in getting his passes over the D-Line, having 3 passes batted at the line, and one of them being picked off. None were by particularly good pass defenders either, which is a worry, a guy of Weeden's size shouldn't be having issues with this.
All in all, it was an ok game for Weeden, he didn't have to do much as the Bengals imploded and turned the ball over a lot. Rarely went down field and leant on the running game once more. A feather in Weeden's cap is that he spread the ball around a lot, targeting 10 different players and completing with 8 of them. That's great, and shows a willingness to go to anyone who's open, but it also highlights the lack of any serious receiving threat.
A win is a win, but it wasn't a great performance from Miami
4. Ryan Tannehill: Maimi Dolphins vs. St. Louis Rams
Short, easy completions. That was the name of the game for Ryan Tannehill this week. As a result that makes it very difficult for Tannehill to go anywhere in the rankings. Yes, he missed just 8 passes all day, but really he should have completed all of them. He averaged just 6.4 yards an attempt, and a lot of those were yards after the catch. Tannehill moved well on a few designed rollouts, but he continues to look stiff to me in the pocket and against the rush.
He did have 2 touchdowns, a 29 yard pass to a wide open Marlon Moore after rookie cornerback Janoris Jenkins dropped his coverage completely, and then a 1 yard flip to Anthony Fasano off a play action.
It was a nice, simple day for Tannehill, and his team got the win despite being largely outplayed all day. He didn't make a mistake, but he wasn't asked to do anything at all difficult.
5. Andrew Luck: Indianapolis Colts vs. New York Jets
A really disappointing game from a guy who's normally at the other end of this column.
It was a really bad day for the Colts, and Luck wasn't immune.
Luck looked a little off all day, missing on throws he'd normally make and having just uncharacteristically bad plays. There was some really nice coverage all day from the Jets, but Luck had windows to throw into and he just couldn't find it. He was particularly bad throwing into the endzone, over throwing his tight end Coby Fleener on one drive, Reggie Wayne on another and then throwing a really poor interception in the back corner as he went to Donnie Avery. He threw 2 interceptions to Antonio Cromartie early on too, both of which he took back for a touchdown even though neither score stood. The first was called back for a flag during the return, and then the 2nd taken entirely off the board for a rather flagrant defensive pass interference. Luck continues to move and slide well in the pocket, but in this one he started to feel phantom pressure and step up and throw early on.
It just wasn't a very good day at the office, but I continue to be impressed by Luck's baseline talent and am sure he won't be down here very often at all.
- Toby Durant (@TDonSport)
- The Pulling Linemen