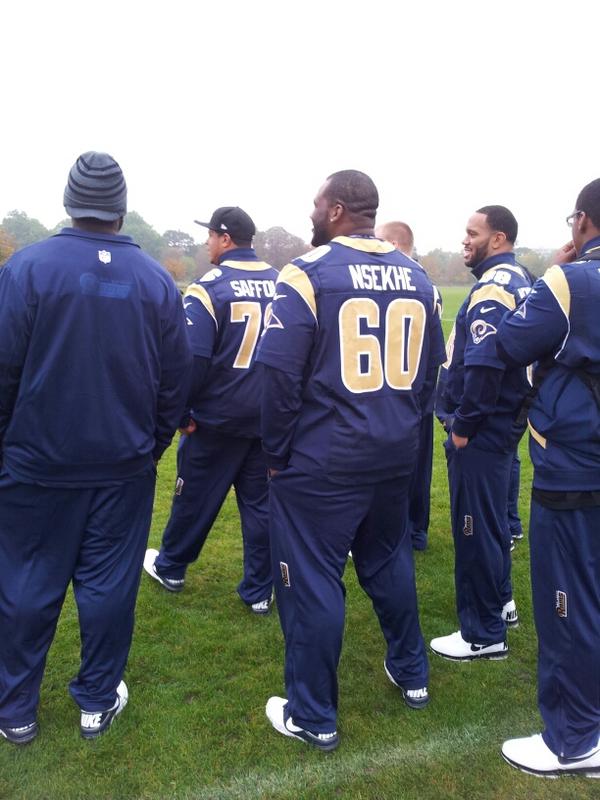 Rams linemen cheer on the
kids at the Play 60 event at
Regent's Park in London
We kick off our coverage of the buildup to to the International Series game between the St. Louis Rams and New England Patriots at Wembley on Sunday with some choice quotes from today's Play 60 event hosted by the Rams, where children from five different schools took part. We were able to get some quotes and short interviews with some of the Rams players, who gave different takes on whether the Rams have an advantage over the Patriots by arriving in the UK earlier, the keys to slowing down Tom Brady, and the whole concept of the International Series. We'll be bringing you a full report of today's event tomorrow, and make sure you're
following us on Twitter
, as we'll be live-tweeting the Rams' first practice at Arsenal's training facility, as well as the press conferences from Jeff Fisher and Sam Bradford. In the mean time, hit the jump for quotes and answers from players such as Sam Bradford, James Laurinaitis, Cortland Finnegan and others.
Sam Bradford
(Unfortunately due to time constraints, I didn't get to ask Bradford any questions myself, but was able to barge my dictaphone through a mesh of other journalists' arms to bring you the following quotes)
On the Play 60 campaign, and today's Play 60 event in the UK:
It's extremely important, we do a lot of these events back home, keeping kids active and healthy, not letting them just sit around playing video games all day. I think it's great to come out here and teach them a bit about American football, I can tell just from the first group I was working with that they're really not well versed in it. Hopefully, today will inspire them to learn and want to play.
On the Rams' training schedule for the week:
It'll be like a normal game week for us. We're going to have a full week of preparation, a full week of practice, a lot of film work. It'll be interesting to see how my body feels as far as rest goes. I think that's big to making sure that mentally and physically I'm rested going into the game on Sunday.
On whether he's watched some of the previous International Series games:
I've seen some of the games. A few years ago I watch the Tampa Bay game, I was playing at the time so I didn't see it live but I watched the re-broadcast of the game.
On what he's expecting it will be like when he walks out onto the Wembley field:
It's such a famous venue, it's known all over the world. For us to have the opportunity to play there, it's going to be something I'll remember for the rest of my life. I think everyone on the team is extremely excited about the opportunity to play there, and hopefully we put on a great show on Sunday.
On what Wembley means for the NFL's sponsors:
(Sam seemed very taken aback by this particular question. Must admit, I'm pretty surprised that the reporter asked this question - then again, even I found it weird that even the plastic cones used in the Play 60 event were emblazoned by 'Kinnect on Xbox Live' graphics.)
It's a great opportunity for them to get their names out there, to reach fans. I'm sure there'll be a great crowd there and I'm sure [the sponsors] are excited to get their name out in London.
On the jet lag:
I think everyone was a little bit tired on the bus ride here [from the airport] but that's why we're over so early in the week, so we can acclimate ourselves to the jet lag and get accustomed to the time difference so hopefully by Sunday it'll be a non-factor.
============
James Laurinaitis
(While I didn't get any one-on-one time with James, I got the next best thing - some two-on-one time, with only an American journalist also asking him questions, which worked well, as the following set of answers came from us following up each other's questions. So there you go, three isn't always a crowd.)
On whether there are a few mini James Laurinaitises among the British kids at the Play 60 event:
I dunno, we have a couple of athletes out here, so we'll see about that, but it's been an interesting day so far.
On the jet lag:
I'm fine right now, I'm sure this afternoon will be a little different but I'm fine right now, I'm not tired. I'll try and stay up till after dinner and have a good night's rest and we'll see how it plays out, but we've got a week to get adjusted to it and we'll start to get better a bit at a time. I dealt with jet lag when I went to Kuwait last off-season so I understand the beast that it is.

On whether arriving earlier than the Patriots gives the Rams an advantage:
I don't know, there's different theories on it. I think what it comes down to is who's going to prepare better and who makes more plays on Sunday. For us, I'm glad we came over early, just going through the whole process, travel and all that stuff, I'm glad we got it done and behind us. Now that we're here, we're just focusing on football so we'll see.
On how to slow down Tom Brady
Well, it's a smart way to word it – you can't really stop him, you just try to slow him down. [He's] one of the best in the game and it's hard to stop those guys, or even slow them down. You can say "you hope and make the Patriots one-dimensional" because they run the ball really well, but even that, you're putting the ball in [the hands of] one of the best in the game's history to ever do it. So you have to try and force turnovers, steal possessions away from them, give your offense more possessions. It sounds cliché but football's pretty simple, you've got to force turnovers and do things that benefit your team, so we'll see how it works.
On whether, once he eventually hangs up his cleats, Laurinaitis plans on putting on his father's old pads ('Road Warrior Animal' from the Legion of Doom) and joining the WWE:
[Laughing] I get that a lot! My dad always tells me hopefully I'll do this long enough that I don't have to [wrestle], his body's pretty beat up from all the years doing it. There's a natural family connection, [but] I hope that when I'm done, I can stick around the game of football and help coach in some way or form. I love the camaraderie of a team. I'd love giving back to the game that's given me a lot of life skills about teamwork, overcoming adversity, working with a wide range of individuals with a wide range of backgrounds. When you're in the game of football, you learn how to interact with different personalities, you have guys who need to get yelled at to get going, you have guys who if you yell at them, they're going to punch you in the mouth. You have a wide range of people you have to learn to work with. I think that does well for outside of football, but having been given so much by this game, I would love to give back and be a coach someday. Not a head coach – that's way too much responsibility – but a linebacker coach, getting back to my position would be way more exciting to me than getting body slammed in the ring or taking a chair to the head.
On his dad being well-known world wide:
You know, [it's] wrestling in general, but back in the 90's to me was when it was at its peak. My dad is probably more popular in Japan than here [in the UK], the Japanese are crazy about wrestling. He used to go do two-month tours over there every summer. That's how he was able to come over for a lot of my games in college, all his air miles [he had stored] from wrestling over in Japan.
On whether he ever thought he would be playing football at Wembley Stadium:
I didn't, especially as I watch my dad [when] they had a Summer Slam over here in the old Wembley, so I knew about Wembley Stadium since I was a kid. To be a part of it is pretty cool, [but] the coolest thing so far was when I was walking off the plane and down the tunnel with the glass windows, a lady banged on the glass and shouted "O-H", for Ohio State, so I said "all right! I-O". Buckeye alumni are everywhere! That was pretty cool.
===
(At this point, I was able to get some alone time with some of the players)
Harvey Dahl
On the effect of injuries on the Rams' OL in 2011:
The offensive line is all about communication and working together. The more you know a guy and the longer you've been working with him, the better the communication is gonna be, you know what he's going to be doing so it helps to have that experience with [the same] guys. But that being said, we [now] have a real good coach in Paul Boudreau who's bringing us together, bringing guys up to fill those roles and I think we've been doing a pretty good job this year.
Cortland Finnegan & Jo-Lonn Dunbar
On how they are dealing with the jet lag (take 1):
CF: I pop the freaks, all the hunnies, monies, playboy bunnies. [Laughter breaks out among the defensive players]
On how they are dealing with the jet lag (take 2):
CF: Our circadian cycle is right where we want it to be. That's really the biggest thing. We're really energized, being out here with the kids, they're putting a smile on our faces and trying to learn what football's all about.
On whether they have an advantage coming over three days before the Patriots (I accidentally said 'three years' before correcting myself):
JLD: I'm not sure if it'll give us an advantage but Jeff Fisher put together a really good schedule for us so as long as we follow [it], in terms of eating, sleeping, working at the right time, we should be all right.
On how they plan to slow down Tom Brady:
JLD: It's an extremely difficult task, but there's a few things we need to take care of. We've got to keep him in the pocket, we've got to get some pressure with our front four and we've got to play really solid defense on the back end. [We've got to] get off the field on third down. There's a few things that offense poses, our defense is going to have to play almost stellar to have a chance to stop [them].
CF: If we had gotten here three years earlier like you said, we'd probably have had a better chance to stop them.
On the International Series:
CF: I think it's an excellent thing. [It's] a chance to show, [as] we're a small market, to show the world what the Rams are about, and to give back to London who have been so welcoming. As soon as we got off the plane, we're getting those "hip hip hoorays" and all those good things, so it's a chance to give back.
On why Finnegan chose to go to the Rams over other teams in free agency:
CF: I think it was just the thug nasty approach I have in my life [smiles]. It was Coach Fisher, I think Coach Fisher was a big part in my decision. Just what he does and the amount of respect I have for him and just the team as a whole.
JLD: Here's what else you don't know [about] Cortland, Coach Fisher is actually his step-father! [laughs] He's actually his step-father and that's why Cortland's here, he just brought his son on over, it's great.
Janoris Jenkins
On whether he was excited on learning he would be playing a game in London this early in his NFL career:
I was very excited, as a kid you look at London as a place you always want to go so I'm just happy to have the opportunity to come out here playing for the St Louis Rams.
On whether the Rams have an advantage coming to London earlier than the Patriots:
I'd say yes, as there's a big time difference, and just getting adjusted to the time, having the time to relax and not feel rushed to do anything, I think we have a big advantage.
On the biggest challenge he's found transitioning from college to the pros:
I'd say probably studying film. You've got to put in a lot of work at film, at this level everybody can play football so you've just got to stay focused [on film].
On the keys to slowing down the Patriots' offense:
[Keying in on] the formations, [knowing] the certain receivers the use on third down, look at the yardage they are at, for example on third and shirt they go for certain plays with the deep ball, stuff like that.
On the International Series:
It's very important [to grow the sport abroad], to give kids and other people the opportunity to see, and to learn how to play American football.
On what he's most looking forward to doing in London:
I just want to see the city, walk around, try the different [foods], just explore while I can.
On the pre-draft questions surrounding him, and whether he feels this is an opportunity to prove his naysayers wrong:
I look at it as a blessing. Everything that happened, happened. It humbled me as a kid, it taught me how to face reality as a young man. [As for] the people that [doubted] me, I don't hold no grudges. I made my mistake myself, and I can't blame nobody but myself, but now I'll just go out there and play football.
- Gur "Fred" Samuel (@FredTheGur)
- The Pulling Linemen