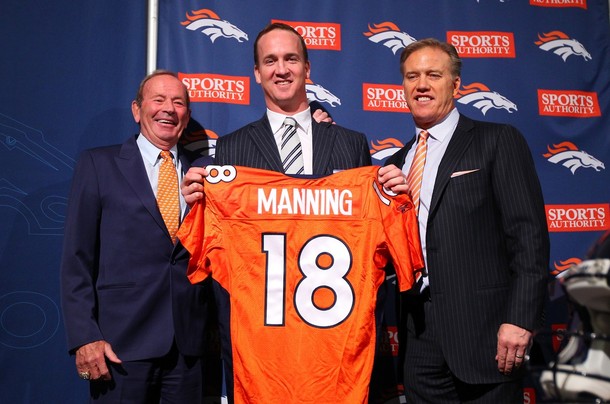 Let's get things straight. As a Patriots fan, I both hate and respect Peyton Manning. He's been our rival for as long as he's been in the league, and with almost continuous "Brady or Manning" debate it feels like I've had to talk about him more in NFL discussions than any non-Patriots player, both in and out of TPL Towers.
Since his return from multiple neck surgeries and missing the 2011 season, Peyton has come into Denver and looked... well not quite his usual self, but pretty damn close. The offense is like the Colts just decided to wear orange this year.
The Manning-led Broncos sit atop the AFC West at 4-3, with their only defeats coming against the "elite" teams of Atlanta, Houston and New England. They look like a much more potent team than the 8-8 team last year that made it through to the 2nd round of the playoffs.
And as for Manning? Well he could be in line for a 5th MVP title.
The MVP leader in the club house would appear to be Atlanta's Matt Ryan. After all, he's the QB of the last undefeated team. So why do I point to Manning as the guy most "worthy" of the MVP at the almost-half way mark (how depressing is that!)?
The Argument From Team Improvement
In 2011, with a combination of Tim Tebow and Kyle Orton under centre, the Broncos averaged 19.3 points a game (This includes defensive & special teams scoring). This season with Manning the Broncos are putting up 29.1 points a game.
Peyton's arm might not be what it once was, but his mind is
as sharp as ever.
Given that it is effectively still the same offensive personnel around Manning (the OL hasn't really changed, McGahee is still the main RB and his still throwing to Demaryius Thomas and Eric Decker) this is a huge turn around, and one of the big reasons that Denver are looking good to take the AFC West again, and certainly cause issues for most teams in the playoffs.
The fact that everyone else around him is playing better can not be taken away. Ryan Clady, who was getting slated for a weak 2011 campaign, is looking back to his old self in this more pass-orientated offense. Demaryius Thomas is giving secondaries fits at the moment and Willis McGahee is finding the game just as easy now as he did with the running QB Tebow under centre.
Life is a lot more fun for these guys with Peyton around
The Argument From Numbers
Peyton Manning has never had a problem putting up big numbers in the passing game. And despite a change of scenery and new personnel around him, he's doing it once again.
Manning leads the league in passer rating (109.0) and yards per attempt, is 2nd in yards per game (302) and 3rd in TD/INT ration (4.25, behind Tom Brady & Aaron Rodgers). Prior to dismantling the Saints yesterday he lead all QB's in both ESPN's Total QBR and Football Outsiders DVOA, and probably will continue to do so once the numbers are updated to include week 8.
Denver's schedule for the rest of the season, outside of a week 15 trip to Baltimore, looks very soft: 2 games against Kansas, trips to Cincinnati, Carolina and Oakland while they will host San Diego, Tampa and Cleveland. It's very possible that they could go 7-2 the rest of the way with Manning continuing to put up big numbers.
The Argument From Narrative
Sports writers LOVE to add narratives to games, seasons, anything. And Peyton Manning has the narrative. 4-time (well, 3.5) MVP suffers career-threatening injury misses a season, is abandoned by his old team and questioned by everyone, but comes back to lead his team to a division crown and a playoff berth. How is that not a sports movie, let alone your real life MVP???
Throw in that Peyton had some near-miss comebacks in the 3 losses before overcoming a 24 point halftime deficit against a team that has historically performed very well against him and is now his divisional foe. This is the kind of thing that simply doesn't go unheralded in the era of 24-hour sports coverage.
AP Awards tend to go to the person with the best narrative, the name value or the gaudy numbers. Well Peyton already has 2 of those, and he's on his way to the 3rd once again. Tom Brady, Aaron Rodgers & Drew Brees have all had their issues, and so have their teams, this year. None of Green Bay, New England or New Orleans look as good as they were a year ago, and often (without cause) that will get placed on the QB. Matt Ryan is yet to convince everyone that he's truly ready to be called the MVP of the league. The other potential candidate would be Eli Manning, who continues to pull late comebacks and big wins out of his backside. But he's yet to have a statistically relevant regular season, and it doesn't look like he'll have one this year either.
As much as I hate to say it, Peyton is the best bet for this season's MVP award.
- Toby Durant (@TDonSport)
- The Pulling Linemen