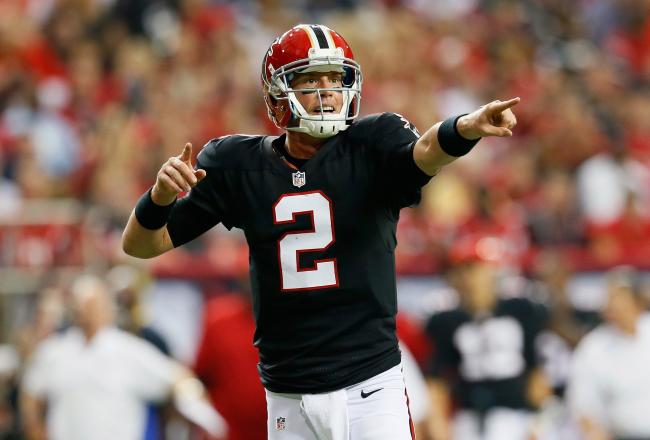 Last week saw something of a picks explosion, with 10-5 being the worst record. Was it luck, or are we finally beginning to get a handle on what has been a crazy season so far?
This week sees 4 teams take their bye, and all 4 have some work to do. Dallas and Detroit have found themselves with serious issues to face if they're to live up to the playoff expectations of their fan base, while Oakland need to figure out how to perform on the road and Tampa need to start putting up 60 minutes of football so they can claim real victories as opposed to moral ones.
Week 5 sees the only divisional game take place in what has quickly become the most fun division in football, the NFC West. With the undefeated Arizona Cardinals looking to make it to 5-0 on the road in St. Louis on Thursday night. After that sunday sees the renewal of hostilities between Peyton Manning and Tom Brady as Denver travel to New England.
So sit back and enjoy week 5 with out recommendations of what to watch, and out picks.
Toby's Game of the Week: Philadelphia Eagles (3-1) @ Pittsburgh Steelers (1-2), Sunday 1pm ET
"I'm about to score, high 5!"
Philadelphia sit at a rather tenuous 3-1. Their 3 wins have come by margins of 1, 1 and 2, and while every win counts the same there is still serious pressure on Andy Reid and Michael Vick despite their good record and 1st place in the very competitive NFC East.
As for Pittsburgh, I'm sure they wouldn't have forseen a 1-2 start when they opened training camp, but injuries to key players along the way have seriously hampered their play. But this week, coming off their early bye, they'll get James Harrison and Troy Polamalu back on defense, allowing Dick LeBeau to bring his own brand of mayhem to the field. While the offense looks set to welcome back running back Rashard Mendenhall. The Steelers run game has looked anything but good so far this year with Issac Redman and Johnathan Dwyer carrying the load, but with the return of Mendenhall (albeit probably in a limited role this week) Pittsburgh look set to become a balanced attack once again.
However, that might not be quite as easy. Philadelphia boast one of the best defenses in the NFL at the moment, with all their off-season additions and acquistions like former-Texans linebacker DeMeco Ryans and his rookie running mate Mychal Kendricks having turned a soft run defense into a very stout one.
Last week we saw Philadelphia start to feed the ball more to LeSean McCoy, and Vick cut out the turnovers, if they can keep to that formula again on sunday then I can see them walking away 4-1, but I doubt the Steelers will allow them to do that.
Expect a hard hitting game, a loud Heinz Field and maybe a scuffle or two in this intra-state rivalry.
Phil's Game of the Week – Houston Texans (4-0) @ New York Jets (2-2), Monday 8:30pm ET
Just to set my stall out early, I don't expect this to be a close game. Nor do I expect the Jets to pull off an unexpected victory against a team that has to be one of the favourites for the AFC title this year having started 4-0. No, the reason I've picked this as my game of the week is for the impact it may have on the city of New York, the media, and the career of Mark Sanchez over the coming weeks.
7.5 sacks is a fantastic season total for a 3-4 DE. But 2nd year
man JJ Watt is just getting started.
Last week in their shutout trouncing at the hands of the 49ers, Jets QB Mark Sanchez looked, let's say poor. The exact word I'd use to describe his performance is probably not suitable for family viewing, so we'll brush over it a little. 13-of-29 for 103 yards and an interception would be a horrendous game even if you didn't have a myth/legend breathing down your neck on the roster, but for Sanchez it's even worse. Since the arrival of Tim Tebow in NY, the question marks over the viability of Sanchez as a starting calibre QB have been amplified, with many already calling for a change. This game could be the straw that breaks Rex Ryan's back.
The Texans boast a mean defence, with their front 7 ranking around 8th in the league in terms of rushing allowed and QB pressure. If the Jets OL again fails to open any lanes for Shonn Greene to squeeze through, the offense will rely on Sanchez being able to move the ball himself. With their number 1 receiver presumed out for the season, and their number 2 receiver yet to emerge, it's an almost impossible task for the QB, and one he is expected to fail at spectacularly. Unfortunately for Mark, he might have run out of chances already, and Monday Night Football might see the start of the Tebow era in New York.
Will Tebow succeed? Well no, certainly not. He's a much worse QB than Sanchez, does not have the formidable defence he had in Denver to bail him out when he can't complete a pass for 3 quarters, and has almost no offensive weapons around him to help. Will this stop the fans, and more pertinently the media, bringing his name up with every Sanchez incompletion? Not likely.
Guest Game of the Week: Denver Broncos (2-2) @ New England Patriots (2-2), Sunday 4.25pm ET
By Conor Philpott, V2Journal (@V2Journal)
After a break, the old rivalry returns
The second bye week is upon us with the Bucs, Lions, Bears and Raiders sitting this week out. Never fear though, there are plenty of great games to be found. The games that intrigues me the most is the Denver Broncos at the New England Patriots. The Broncos and the Patriots squared off in last seasons play offs. The Patriots took it at a canter with a 45-10 win, a game where Tom Brady punted, if that doesn't' show the dominance of the Patriots last time out I don't know what does! Things have changed a lot since then. Tim Tebow moved on to New York with the Jets while Peyton Manning landed in Mile High Stadium after being released by the Indianapolis Colts, who opted to draft Andrew Luck. So this game sees the return of the rivalry of the 2000s.Peyton v Tom. Like families during civil war era, the divide is clear, you are either with Manning or Brady. Brady leads in Super Bowl Rings, and in the personal match up, his three rings and 6 win totals better Peyton's solitary ring and three wins.
It's the first time in 2 years that Brady meets Manning, and that game was a thriller with a Patriots interception stalling Peyton on what looked like a game winning drive. I think it's fair enough to say that Peyton has struggled a bit since coming back. It's clear that he lacks the arm strength he once had. This was abundantly clear during the Sunday Night Football matchup v the Falcons where he threw three picks in one quarter. Peyton threw 2 TDs against the Texans but only completed 50
% of his passes. He is improving but there is still some rustiness there. He is still one of the smartest players in the league but I wonder are the physical skills still there for him. He isn't the player he was before the injury I don't think, but can still be a very effective player. He has a 96.9 QB rating, most guys would kill for that, but from what I have seen of him so far he is lacking some of the physical skills that made him one of the best in the league, that might be just me however, I think he is mainly lacking in arm strength though, perhaps accuracy at times.
Both teams come into the game with a 2-2 record. The Patriots lost to the Cardinals surprisingly, after a last minute kick from Stephen Gostkowski drifted wide, the Cardinals have been a surprise team this year though, super defence and some pretty good performances from Kevin Kolb which I think it's fair to say were expected. In a reversal of last season's AFC Championship result, the Ravens beat the Patriots by slotting a late field goal. The Patriots have a solid stable of running backs and they have been using the running game well. They are 8th in rushing attempts per game, Stevan Ridley in particular proving to be a surprise package. Brady is also putting up points 8TDs in total, 7 passing and one rushing. Brandon Lloyd has been a nice playmaker on the offense, Aaron Hernandez has missed some time out but his absence hasn't hurt the team too much. The defence has give up less yards although conceded more points then last season. I would expect things to improve on defence as the season goes on.
I think the Patriots take the win, the Broncos are improving but I don't think they can do enough yet to stop the Patriots. Their pass rush could cause problems against a team that are allowing 2 sacks a game, the Broncos have grabbed 10 so far. The Broncos have a good run defence too, but I think the Patriots stable of RBs should pick up decent yardage. It should be close as it always is between these 2 juggernauts but I'm going with Brady and the Patriots to win by around 10.
| | | | | | | | |
| --- | --- | --- | --- | --- | --- | --- | --- |
| | Toby | Phil | Gur | | | | |
| ARI @ STL | STL | STL | ARI | STL | ARI | ARI | ARI |
| MIA @ CIN | CIN | CIN | CIN | CIN | CIN | CIN | CIN |
| GB @ IND | GB | GB | GB | GB | GB | GB | GB |
| BAL @ KC | BAL | BAL | BAL | BAL | BAL | BAL | BAL |
| ATL @ WAS | ATL | ATL | ATL | ATL | ATL | ATL | ATL |
| CLE @ NYG | NYG | NYG | NYG | NYG | NYG | NYG | NYG |
| PHI @ PIT | PIT | PIT | PIT | PHI | PIT | PIT | PHI |
| SEA @ CAR | SEA | CAR | SEA | CAR | SEA | CAR | SEA |
| CHI @ JAX | CHI | CHI | CHI | CHI | CHI | CHI | CHI |
| TEN @ MIN | MIN | MIN | MIN | MIN | MIN | MIN | TEN |
| DEN @ NE | NE | NE | DEN | NE | NE | NE | NE |
| BUF @ SF | SF | SF | SF | SF | SF | SF | SF |
| SD @ NO | NO | SD | SD | SD | SD | SD | NO |
| HOU @ NYJ | HOU | HOU | HOU | HOU | HOU | HOU | HOU |
| BYES: DAL, DET | | | | | | | |
| BYES: OAK &TB | | | | | | | |
| Last week | 10-5 | 10-5 | 12-3 | 10-5 | 13-2 | 11-4 | 10-5 |
| Total | 34-29 | 37-26 | 38-25 | 36-27 | 35-28 | 37-26 | 35-28 |