Week 6 is here, and so is our weekly prediction competition and GotW feature. It's still a close battle for the yellow jacket of predictions, with a tie for 1/2, 3/4, and 5/6, with all 7 teams separated by just 3 points. Week 5 was a good week all round, Toby leading the way with a 12-2 record and no-one falling below 9-5, but this set of games looks much more difficult to call. Pre-season favourites for the NFC and AFC in Green Bay and Houston face off down in Texas, the top teams in the AFC West, the Chargers and Broncos, battle it out in a matchup with potential playoff implications even this early in the season, and last years NFC Championship teams NYG and SF will go head to head at Candlestick.
Take a look after the jump for our Games of the Week, plus predictions for week 6. There might be a few surprises...!
Toby's Game of the Week: Buffalo Bills (2-3) @ Arizona Cardinals (4-1), Sunday 4:05 pm ET
The last 2 weeks have not been kind to Buffalo. They've been routed by New England and San Francisco in their last 2 games, with everyone, at every level, getting criticism for the poor play and perceived "quitting". But now they have a chance to show people they can still play against a rather shell-shocked Cardinals team.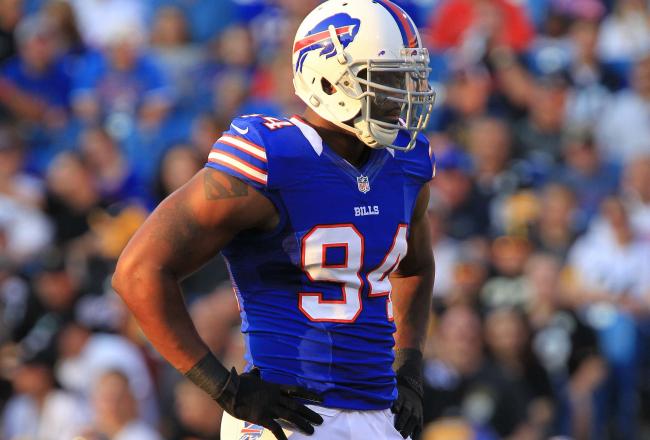 It's been a slow start in Buffalo for Mario Williams,
But a game against Arizona could cure his ills.
Arizona suffered their first loss of the season in really disappointing fashion on thursday night against the Rams. Their offensive line,
which our ratings have as the 2nd worse this season
, was overmatched all night by Chris Long, Robert Quinn and the rest. Well now the much maligned Mario Williams and his expensive buddies get to tee off against it. If they can't get any rush here then Buffalo, my pick to sneak a wildcard, are going to be in serious trouble.
As for the Cardinals? Well they still boast a great defense, with middle linebacker Daryl Washington seemingly owning a teleporter into the backfield. But on offense they're still struggling. With Beanie Wells on the new returnable IR they lost Ryan Williams for the season last week leaving them super-thin at running back. And we saw what happened when they tried to just air it out. I don't think Kevin Kolb will want to do that again.
One of the big things that Buffalo have going into this game is that they have someone in rookie CB Stephon Gilmore who has been really affective against some of the better wide receivers so far. Now he gets a huge test in Larry Fitzgerald, and I'm by no means saying Gilmore will put in a Revis-like performance, but I was very high on this guy during the draft and he's showing excellent coverage skills so far. He's going to be able to live without a safety from time to time on sunday, which will allow them to deploy the safety elsewhere.
But despite of all of what I've just said. I'm picking Arizona to win. Why? Well firstly they're a great home team, and this Buffalo team are shell-shocked. I love the Cards defense: Calais Campbell, Daryl Washington and Patrick Peterson are all legitimate All-Pro candidates so far this season and make the rest of the defensive players around them better. They're going to be very tough for Ryan Fitzpatrick to figure out and will clamp down on their two-headed run game. Last week should have given Ken Whisenhunt a real wake up call and we should see more max-protect schemes this week that will help out D'Anthony Batiste and Bobby Massie, who really aren't NFL-calibre at all. If they can do that then they should nullify the Buffalo D-Line and get to the soft underbelly of their back 7.
Guest Game of the Week: Dallas Cowboys (2-2) @ Baltimore Ravens (4-1), Sunday 1pm ET
by Olly Dawes, Second City Fanatics (@2ndCityFanatics)
It's already something of a vital game for the Cowboys. After the thumping defeat to the Bears a fortnight ago, Dallas now have to bounce back to avoid a 2-3 record. Unfortunately for them, they have to go to Maryland to take on the Baltimore Ravens.
After a rough game in Kansas, the Ravens offense looks
to get back on track at home against Dallas.
The Ravens are coming off a tepid display against the Kansas City Chiefs, where kicker Justin Tucker scored all their points in a 9-6 win, but expect the offense to rebound against the Cowboys when they return to their home field.
Quarterback Joe Flacco is notoriously better at M&T Bank Stadium, so the Cowboys could run in to an in-form Flacco. With Torrey Smith showing huge development from his first year, Cowboys cornerbacks Brandon Carr and Morris Claiborne will have their work cut out to stop an air attack from the Ravens.
It's crucial for the Cowboys that Tony Romo improves on his display against the Bears. Romo's 5 interceptions two weeks ago led to a crushing loss on their home field. They face another strong defense this week with huge playmakers on Baltimore's side – ball hawks Ladarius Webb and Ed Reed will be licking their lips at the prospect of picking off a Romo pass this weekend.
One particular area the Cowboys could get some joy though is on the ground. I know the offensive line sometimes struggles to open up holes for DeMarco Murray, but having watched Baltimore give up over 100 rushing yards to Jamaal Charles last week, there is an opportunity to be had for Dallas.
I think the Ravens will edge this one as they're strong at home, but the Cowboys have to show that they can compete with the best if they are to challenge for the playoffs. Right now, the Giants and Eagles both look better placed to make the postseason.
| | | | | | | | |
| --- | --- | --- | --- | --- | --- | --- | --- |
| | Toby | Phil | Gur | | | | |
| PIT @ TEN | PIT | PIT | PIT | PIT | PIT | PIT | PIT |
| OAK @ ATL | ATL | ATL | ATL | ATL | ATL | ATL | ATL |
| CIN @ CLE | CIN | CIN | CIN | CIN | CIN | CIN | CLE |
| STL @ MIA | MIA | MIA | STL | STL | STL | MIA | STL |
| IND @ NYJ | IND | IND | IND | IND | IND | NYJ | NYJ |
| DET @ PHI | PHI | DET | PHI | DET | PHI | PHI | PHI |
| KC @ TB | TB | TB | TB | TB | TB | TB | TB |
| DAL @ BAL | BAL | BAL | BAL | BAL | BAL | BAL | BAL |
| NE @ SEA | NE | NE | SEA | NE | NE | NE | NE |
| BUF @ ARI | ARI | BUF | ARI | BUF | ARI | ARI | BUF |
| NYG @ SF | SF | SF | SF | SF | SF | SF | NYG |
| MIN @ WAS | MIN | MIN | MIN | MIN | MIN | MIN | WAS |
| GB @ HOU | HOU | HOU | HOU | HOU | HOU | HOU | HOU |
| DEN @ SD | SD | SD | DEN | SD | DEN | DEN | DEN |
| BYES: CHI, NO | | | | | | | |
| BYES: CAR, JAX | | | | | | | |
| Last week | 12-2 | 10-4 | 9-5 | 9-5 | 10-4 | 9-5 | 9-5 |
| Total | 46-31 | 47-30 | 47-30 | 45-32 | 45-32 | 46-31 | 44-33 |