We're at the midpoint of the October games, so the time is ripe for us to unleash our power rankings for the month. Perhaps surprisingly, over half of the teams are did not move much in the rankings, with five teams remaining exactly where they were ranked in September, and another fifteen moving by three spots or less. Still, there are a few bigger moves - four teams dropped by seven places, while two more made double-digit jumps. As always, you can tell us why you think we're wrong in the comments below, or by heading over to our
Facebook group
.
We kick of the rankings with the only team left with a '0' in their record...
1: Atlanta Falcons (TD = 4, PG = 1, GS = 2)
Last month = 4th
The last unbeaten team, but not a consensus #1? Huh? How's that possible? Well let me explain. Atlanta have limped to their 6-0 record. They needed awful DB play and bomb from their own endzone against Carolina to scrape the win. They were losing when Kirk Cousins took over from the mighty RG3 against them, and then they were struggling at home to the perennially awful
road team Oakland, and were in real trouble until Carson Palmer threw a gift to Asante Samuel. 6-0, could easily be 3-3. Were it not for the nerveless Matt Bryant they very well might be.
But for all that, there are positives. Matt Ryan has been playing like we've never seen before. With Roddy White, Julio Jones and the ageless Tony Gonzalez they're a scary prospect. Michael Turner however, looks done as any kind of threat, it can only be so long until they turn full time to Jacquizz Rodgers. (Toby Durant)
2: Houston Texans (TD = 1, PG = 7, GS = 1)
Last month = 2nd
Oh, Houston Houston Houston. You were looking so very dominant, but you let the Jets come back to within a score in Week 5, and then your first loss of the season on Sunday. Andre Johnson hasn't really shown up this season, Matt Schaub did not have a good outing this week, and you now have to contend with a dearth in leadership in the middle of your defense, having shipped DeMeco Ryans out of town back in March and now losing Brian Cushing for the season. Still, you have a very strong run game, a defense yet to allow a touchdown on the ground through the first third of the season, and a player who is redefining his entire position - that of the 3-4 DE - before our very eyes. In a generally mediocre AFC, there's still every reason to believe the Texans will be representing that conference come the Super Bowl. (Gur Samuel)
3: New York Giants (TD = 3, PG = 3, GS = 4)
Last month = 15th
"I need my other hand free for
salsa-ing"
An emphatic victory in week 6 over the heavily fancied 49ers gives the Giants a great boost in our PR. A shaky start that saw losses to divisional rivals Cowboys and Eagles plus a narrow, come-from-behind victory against the Bucs seems to have been put behind them, and Sunday's 26-3 win at Candlestick signals that last year's Superbowl victors are once again forces to be reckoned with. (Phil Gaskin)
4: San Francisco 49ers (TD = 2, PG = 6, GS = 3)
Last month = 1st
The 49ers are built to play from in front. The 2 games they've lost (@ Minnesota & vs. Giants) they failed to get out to early leads, and the other team could get early points against their elite defense, and as a result we've seen the dark side of Alex Smith. If I'm Jim Harbaugh I'd seriously consider putting Colin Kaepernick in full time if I find myself in a 2-score hole again.
But either side of these loses San Fran have dominated teams. Week in, week out Buffalo rank highly in our OLR, but against the 49ers they were just over-matched. Their running game has more variations then you would have thought possible. But Alex Smith continues to be this teams weakness, and they'll only go as far as they can manage him. (TD)
5: Baltimore Ravens (TD = 6, PG = 2, GS = 6)
Last month = 3rd
Leadership. Just how important a quality is it for an NFL team? Obviously it's important to have a head coach who demands attention and respect from his team, but how important is it to have players who step up and become leaders on the field?
The Ravens will be able to give you the answer at the end of the year. While, in terms of on-the-field impact, the Ravens took a huge blow with the loss of Lardarius Webb for the season, some might argue that their locker room took an even bigger blow with the news that Ray Lewis will not be playing for the Ravens again this season - or perhaps ever. His dominant play in the preceding decade (less so this one) in many respects dominated the desired ideal of the inside linebacker, but even with the recent deterioration in his play, there is no question that he has been the beating heart of this team for nigh-on two decades. And now, the Ravens have to go on and face the rest of the year without his sideline speeches and without his pre-game dance. Baltimore have, for sure, flashed all the ingredients you could want from a potential Super Bowl-winning team at times this season, but Lewis may have been the straw that stirred the drink. Without the man that embodies the franchise on the field, the Ravens may well struggle to put it all together over the long term. (GS)
6: New England Patriots (TD = 5, PG = 5, GS = 5)
Last month = 6th
It's hard to discount the Patriots, no matter how many times they let people down. Another last second lost to an NFC West team in week 6 to go along with the one in week 2 has dropped New England to 3-3. Whilst the blame for Sunday's lost might be levelled mostly at their porous secondary, Brady wasn't without fault either, throwing a redzone interception in the 4th quarter and giving away an intentional grounding penalty with 2 seconds left in the 1st half – the 10 second run off negating their chance for a FG that would have won them the game in the end. (PG)
7: Green Bay Packers (TD = 7, PG = 4, GS = 10)
Last month = 5th
Rodgers and Nelson always
find time between plays for
a quick round of "thumb war"
The ink wasn't even dry on the Packers obituary when they came out and dominated the previously unbeaten Texans in Reliant Stadium on Sunday Night Football. Yes, they've played some really bad football at times, and a fair bit of that has to come from their seriously shaky offensive line. Right tackle Brian Bulaga has looked seriously overmatched too often this season, and he's just one of their issues. But when Aaron Rodgers is hot, like he was on sunday,
Green Bay are just unbeatable.
Unfortunately that just hasn't been the case as often as needed this season, even the reigning MVP hasn't been immune to problems. But with Clay Matthews back to his fearsome best and Nick Perry showing flashes opposite him the defense (12th in Football Outsiders DVOA) is beginning to get towards it's 2010 best. (TD)
8: Chicago Bears (TD = 8, PG = 8, GS = 9)
Last month = 13th
In the immortal words of Morrissey, stop me if you think you've heard this one before: the Bears are looking pretty good in general, their defense is phenomenal, they have a good stable of running backs and a quarterback with a very strong arm and a highly regarded deep threat who should be able to stretch things out for a capable body of secondary receivers... if only they had an O-line who could keep him upright. Yes, for all that Mike Tice has now taken over the whole offense, the line are still not doing their job well enough if the Bears want to take a deep run at the playoffs - an OLR of
around -0.200
is simply not going to cut it. That said, this defense is playing phenomenally well so far this season, being one of the best rushing defenses and leading the league in interceptions. The D will keep them in a lot of games, and if Cutler can get some time in the pocket, the Bears have to be considered in contention for the playoffs, especially if Green Bay's performance in Houston turns out to have been more a mirage than a turnaround. (GS)
9: Denver Broncos (TD = 10, PG = 9, GS = 7)
Last month = 8th
This team might just be settling in with Peyton at the helm. It's taken them a while, and a few ups-and-downs, but the win over early front running Chargers in week 6 might just signal the start of better things. The division is basically theirs for the taking, and their upcoming schedule is perhaps one of the softest looking in the entire NFL. Following their Bye in week 7 they face Saints, Bengals, Panthers, Chargers, Chiefs, Buccaneers, Raiders; and if this run goes the way it really should for them, they might have the currently wide open AFC West all wrapped up. (PG)
10: Seattle Seahawks (TD = 11, PG = 12, GS = 8)
Last month = 10th
What can you say about Seattle. Wins at home against Dallas, New England and Green Bay, but a disappointing 0-2 in their division before they even take on the 49ers. Their defense has shaken up 2 of the very best QB's in the game, but they've refused to trust their own against anything but the very worst secondary. Everyone knows I have a huge love of Russell Wilson, and he was mightily impressive in the game against New England, moving well and firing down field with impressive accuracy. While the defense has playing off the charts, with youth, size and speed at every level, they continue to lack any consistent offensive play thanks in part to a very weak and ineffective offensive line and a lack of raw talent at wide receiver. They're certainly on the cusp of playoff contention in the super-competitive NFC West, if they can improve their divisional record. (TD)
11: Dallas Cowboys (TD = 9, PG = 14, GS = 16)
Last month = 11th
Back in the offseason, Jerry Jones talked about how he believed that there were windows of opportunity for himself, and some of his players, which would be closing in the relatively near future. At times this season, it has looked like Tony Romo is trying is best to slam his window shut. Against the Ravens, he played pretty well (aside from some bizarre clock management issues at the end of the game, though that falls equally on the QB and on HC Jason Garrett), but his two performances prior to that were just not good enough. When you give the other team the ball eight times in two weeks (an interception and two sack-fumbles lost against the Bucs in Week 3, five interceptions against the Bears in Week 4), you need to take a long, hard look at yourself. The bye week may have allowed Romo that opportunity, based on his improved performance against the Ravens (albeit with the customary pick), but with DeMarco Murray out a few weeks, there's only so far the Cowboys can go. A good defense gives them a relatively high ranking this month, but if the offense doesn't pick up in radical fashion, don't expect to see them this high in our power rankings come November. (GS)
12: Pittsburgh Steelers (TD = 15, PG = 11, GS = 13)
Last month = 7th
With two key linemen out, Big Ben will finally find
out what it's like to be on the receiving end of
having holes forcefully penetrated
They lost to the Titans. Need we say more? It's safe to say that injuries were hurting the team before week 6, but add offensive linemen Maurkice Pouncey and Marcus Gilbert to LaMarr Woodley and Troy Polamalu, the likely "outs" for week 7, with a further knock to Rashard Mendenhall and the future doesn't look too rosy on the banks of the Three Rivers. The Ravens still look strong atop the AFC North, so unless the Steelers fortunes turn around fast they might be battling the Bengals just to take second in the division and one of the two wild card slots.
(PG)
13: Washington Redskins (TD = 17, PG = 13, GS = 11)
Last month = 18th
Washington is in an RG3-enduced state of bliss. The rookie QB's explosive play has seen good results on the field. But his tendency to absorb a lot of hits while he's running around the field has already seen him forced out mid-way through the potential upset of Atlanta.
One of Griffin's main competitors for offensive rookie of the year honours is lining up in the backfield with him. Running back Alfred Morris has excelled this season, barrelling through defenders and helping to take the pressure off of Griffin's arm. However, their poor defense, already suffering with the loss of Brian Orakpo and Adam Carriker, is struggling to provide both consistently and a high level of play. The NFC East is very close this season, and the play-offs are by no means out of the question for these Redskins, so long as Mr. Griffin can stay healthy and on the field. (TD)
14: Minnesota Vikings (TD = 20, PG = 10, GS = 12)
Last month = 27th
Are the now London-bound Vikings the surprise team of 2012? Yes, yes they are, unquestionably. Christian Ponder has improved considerably since his rookie season; Adrian Peterson caught everyone off guard with how quickly he returned to the field after his ACL tear, and how well he has played on that knee; they may have the league's most dynamic receiver in Percy Harvin; and the defense has been much improved since last season, allowing opposing teams just 4.8 yard per play, good for joint-fourth least in the league. Yet, there are some questions surrounding this team. After lasting longer than every other starting QB before throwing his first pick of the season, Ponder has thrown four of them in the last two games - a trend that bears paying attention to. On defense, they are only intercepting 1.3% of opposing QB's passes - 5th lowest in the league - which isn't helped by getting sacks on just 6.2% of pass attempts, barely over the league average, and too low for a division featuring three (well, at least two) good-to-elite quarterbacks. Perhaps most tellingly, the two games where Adrian Peterson has finished with under 100 yards are the only two games they've lost - for all the progress Ponder has made, this offense still stems from AP. Still, they are undoubtedly a team on the rise, with a quarterback who's growing, a defense that's improving, and a running back who still demands attention from opposing D's. In a competitive division, the Vikings are in with a chance of making some real noise down the stretch. (GS)
15: Philadelphia Eagles (TD = 13, PG = 19, GS = 14)
Last month = 12th
When we did our last power ranking the Eagles were 2-0, and we took some heat for ranking them down in 12th. Our justification? That they looked the least convincing 2-0 in the NFL, and one of those wins, over the until-recently-winless Browns, was a last second, one point victory. In the last 4 games, the Eagles have gone 1-3, including a beating from Arizona, and narrow loses to Pittsburgh and Detroit, and have done nothing to improve their status in our eyes. In a mildly inconsequential token gesture, the Eagles today fired Juan Castillo as DC, a move they probably should have made at the end of last year. Their problem hasn't really been defence in 2012, even if their usually dominant DEs have been a bit sub-par. Unless firing Castillo is going to make their OL regain their injured starters and help Mike Vick play better it might not make much of a difference at all. (PG)
16: San Diego Chargers (TD = 12, PG = 24, GS = 15)
Last month = 9th
A big fall from last month, thanks largely to Phil's ranking, and it's not without merit. Their offensive line has serious problems, mostly stemming from the enforced retirement of Marcus McNeill & Kris Dielman in the offseason that destroyed their left side. Jared Gaither has already come up lame at left tackl, being replaced by rookie UDFA Michael Harris, who had a terrible day on MNF against Denver. But a lot of their problems are also coming from the play of Phil Rivers under centre. While the pieces around him are not what they used to be, we've seen him excel with off-the-street receivers before and he simply isn't playing as well as we've all come to expect. Serious questions are going to have to be asked about his ability to lead this team to the play-offs through what is a weak division. (TD)
17: Detroit Lions (TD = 16, PG = 15, GS = 22)
Last month = 16th
There is seriously no single image
that better sums up the Lions' 2012 so far
For many, the Lions may be one of the most disappointing teams of this season. After Matthew Stafford finally validated his #1 pick status with a phenomenal 2011 campaign - the first where he remained healthy throughout the season - he barely resembles the same quarterback this year. He's still got an arm - currently fourth in the league in passing yards per game - but his decision making has been shaky throughout the season, he's struggled to get things going early in games - both of his wins so far have come on fourth-quarter come backs - and perhaps most tellingly of all, he currently has the worst touchdown-to-pass ratio of any starting quarterback, throwing touchdowns on just 1.8% of his passes. On the other side of the ball, their much-hyped pass rush has produced a below-average 12 sacks, and their defense has been able to make just two interceptions on the season. To their credit, their rushing defense has been solid this season, but there's not much else that this team does particularly well. If Stafford doesn't start finding the endzone again soon, it could be a long, long season for the Motor City. (GS)
18: Tampa Bay Buccaneers (TD = 18, PG = 18, GS = 18)
Last month = 19th
A 2-3 record could easily be 3-2, or even 4-1, for the Buccaneers. Were it not for a 4th quarter collapse vs the Giants and an uncharacteristic non-choke by Redskins K Billy Cundiff, this team could be chasing the Falcons at the top of the division. As it stands, they have the 5th best defensive front 7 in the NFL by our calculations, and an offence that can put up numbers as they showed week 6 against the Chiefs. Unfortunately they also have a diabolical pass D, including a lacklustre pass-rush, they teams will certainly look to exploit. As the Giants showed, no lead is big enough for Tampa, so Josh Freeman and co will need to stay very productive if they're to live up to their potential. (PG)
19: Miami Dolphins (TD = 22, PG = 16, GS = 19)
Last month = 26th
I wasn't the biggest fan of Ryan Tannehill in the draft process, or the decision to start him in week 1 of this season. But he's played better than I thought he would, and backed up by Reggie Bush and the super-tough run defense Miami have over-achieved from their pre-season predictions at 3-3 so far.
But perhaps the biggest surprise is that Brian Hartline as been one of the most successful receivers in the league so far. Against Arizona and Patrick Peterson he hauled in 12 catches for 253 yards (admittedly 80 of them, and his only TD, came when literally no one was covering him). If Hartline can continue to win his matchups outside then Tannehill can be even more successful that we initially thought this year. And don't forget that 2 of their losses have come in overtime games where they had a real chance to win. (TD)
20: New Orleans Saints (TD = 21, PG = 28, GS = 21)
Last month = 22nd
So, the Saints finally got a W, on the night that Drew Brees passed Jonny Unitas for the longest consecutive streak of games throwing a touchdown pass. As much as that game surely must have been a boost for the Saints franchise (and fan base), it does not erase their simply pitiful showing in the opening games of the season. The Saints offense simply hasn't been clicking like it should; for all that Drew Brees is one of the few true elite quarterbacks in the NFL, he has not looked like the player he has been since he arrived in N'awlins. We always knew Sean Payton played a huge role in their offense, but perhaps it wasn't apparent just how big a role that was until this year. While statistics generally tell only a marginal part of the whole story, perhaps nothing sums up the disconnect between the O's potential and production than these two stats: despite leading the league with 326.8 passing yards per game, Drew Brees is completing just 58.9% of his passes, which over a season would be his lowest since 2003. The defense is terrible, ranking in the bottom 10 in points, total yards and rushing yards allowed (third-worst in the last category). On the positive side, their passing yards allowed is outside the bottom 10 - coming 11th worst in the league. Opposing quarterbacks are averaging a passer rating of 104.5, and opposing running backs are picking up an average of five yards every time they tote the rock - both again being third worst in the league. In the past, the Saints' bad defense has been masked by that power-house offense; but with cylinders misfiring on Brees' side of the ball, and an inability to stop opposing offenses, the Saints should cherish that W against the Chargers, because there will not be many more coming to them this year - if any. (GS)
21: Arizona Cardinals (TD = 14, PG = 23, GS = 24)
Last month = 14th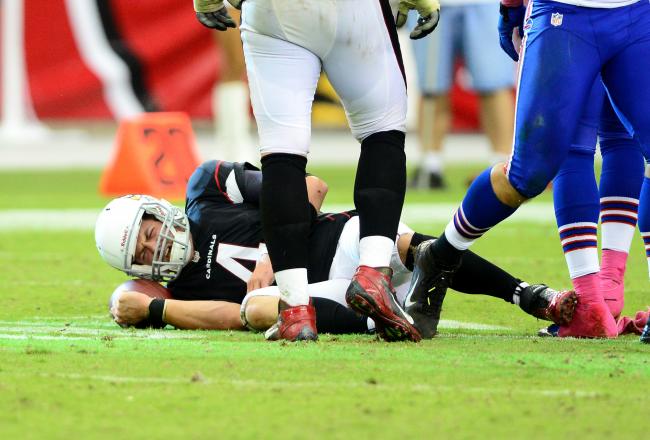 "Sternums aren't meant to bend this way!"
Their shocking offense is finally catching up with them. Until week 6 against the hapless Bills D, the Cardinals hadn't recorded a YPC of over 3.2, and have given up 22 sacks in the last 3 weeks alone. They may have started the season 4-0, but defeats to St Louis and Buffalo don't look good on anyone's record, and really do indicate a downward trend in the desert. Kolb's injury was only a matter of time taking so many hits, so the focus switches back to John Skelton as starting QB. He will need to hope William Powell can continue to run the football vaguely successfully if he and the Cards are to stand any chance of success moving forward. Personally, I suspect they'll be comfortably sub .500 by season's end. (PG)
22: St. Louis Rams (TD = 19, PG = 22, GS = 20)
Last month = 24th
The St. Louis Rams currently sit at 3-3, and are in their familiar last place in the NFC West. But they sit here at 22 because they are a very difficult side to play against.
2 of their 3 losses have come by less than a touchdown, and in both of those games they were legitimately the better team. Despite the continued lack of talent along the offensive line they sit middle of the pack in rushing yards, which is keeping a poor passing game afloat. Sam Bradford continues to see quick pressure in the pocket, and with his best and favourite target Danny Amendola out for a long time the pass game will continue to struggle. But the defense has shown not just the ability to rush the passer with Chris Long and Robert Quinn, but they can also cover now with Cortland Finnegan & the rookie Janoris Jenkins. They're also sitting top half in rushing yards allowed. Just maybe the NFL Wembley game against New England won't be the walk-over game everyone chalked it up to be. (TD)
23: Cincinnati Bengals (TD = 27, PG = 20, GS = 17)
Last month = 23rd
The Bengals had really begun to impress me after a Week 1 beating from the Ravens... and then they went and lost to the Browns. It's hard to know what to make of the Bengals, despite having the second-most sacks in the league, they've generated just two picks off of that pressure, while allowing QBs a fifth-worst 66.1 completion percentage, something which speaks to their weak secondary. Their biggest defensive struggles, however, come at the worst time they could - in the redzone, where they are allowing opposing offenses to score touchdowns on 64.71% of redzone opportunities. That is, quite frankly, not good enough. Offensively, Andy Dalton has had a good showing, leading the Bengals' passing attack to 4th in passing yards and 5th in passing TDs, but their run game has been largely ineffective, ranking below average in every significant statistical category. The Bengals' passing game cannot carry this team - until their defense can stop opposing teams putting points up, this 2011 playoff team will likely be far from making the postseason this year. (GS)
24: New York Jets (TD = 23, PG = 17, GS = 26)
Last month = 17th
A drubbing of the Colts isn't enough to keep the Jets out of our bottom 10. 3-3 is a better record than many expected of NYJ coming into the season, but they're still too wildly inconsistent to really give them any chance going forward, even in a division that is all tied up at .500. It says a lot about the offence when they can score 35 points in a game with their starting QB only throwing for 82 yards, and as decent as Shonn Greene looked this week, they won't be facing the Colts front 7 again…
(PG)
25: Buffalo Bills (TD = 24, PG = 21, GS = 23)
Last month = 21st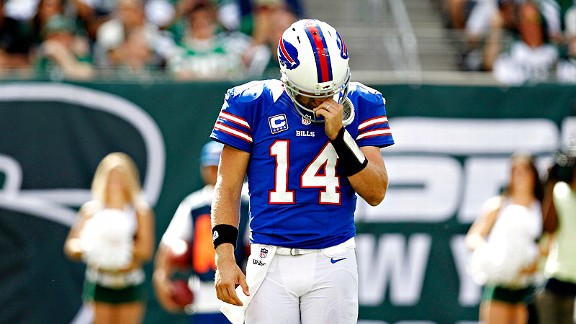 "I wonder if interceptions count towards pass completion
percentage..."
I was wrong, Buffalo aren't going to sneak a wildcard berth. At least not this season. Their talented and expensive defensive line is yet to show up except against the awful Cardinals offensive line. They've been utterly dominated and crushed in all 3 of their losses (Jets, Patriots & 49ers), however there are bright spots. Their top picks Stephon Gilmore & Cordy Glenn have been very impressive so far, and their offensive line is consistently near the top of our OLR.
However, Ryan Fitzpatrick is continuing to be the kind of quarterback you can get by with, but only as long as the rest of the team is good. I think the Bills are seriously beginning to regret that long term deal they gave him last season. (TD)
26: Oakland Raiders (TD = 25, PG = 26, GS = 29)
Last month = 32nd
The Raiders' first full season without Al Davis running the show since 1962 has not started incredibly well at all, with only a single win so far over a disappointing Steelers side. Oakland shocked many when they almost handed the Falcons their first loss of the year this Sunday, but at this point, it's hard to put too much stock into that game when they've been completely blown out twice this year. The problem with the Raiders is that there is simply very little they do well - the one thing that can be said in their favour is that they look after the ball, turning it over only six times, good for third-fewest in the league. Unfortunately, they don't do much with it, with former first-round RB Darren McFadden picking up a pedestrian 3.2 yards per carry, and have only scored six touchdowns through the air. When they don't have the ball, they don't put up too much of a challenge for opposing teams, particularly through the air, where opposing quarterbacks are completing a ludicrous 70.2% of their passes. This perhaps should be surprising - they have only three interceptions on the year (not having a single one before this Sunday), and their sack rate is the second-lowest in the NFL. Even when they are in games, their inability to stop teams through the air means that leads can be quickly squandered - as we saw against Atlanta. With such poor passing defense, and without being able to do much offensively, it's going to be a dark season for the silver & black. (GS)
27: Carolina Panthers (TD = 28, PG = 27, GS = 25)
Last month = 20th
Sophomore slump for Cam? It certainly looks like it. 1 win in 5 games, against the disappointing Saints, is all Carolina has to show for a season that promised so much. The latest nail in the coffin was the news that starting C Ryan Kalil, arguably one of the best at his position in the league, is out for the rest of the season with a foot injury that requires surgery. The Panthers OL has been hit and miss all season as it is without their lynchpin going down injured. There may be trouble ahead in Charlotte. (PG)
28: Indianapolis Colts (TD = 26, PG = 29, GS = 27)
Last month = 25th
I can't tell you how impressed I've been with Andrew Luck. This guy's amazing. Yes, there are some inexperiences and rough-edges that every rookie will have, but his feel in the pocket is outstanding, and his arm can be jaw-droppingly good. However, the rest of the offense (outside of Reggie Wayne) is rather poor, especially the O-Line.
The defense behind Luck is very porous too. I mean, if you let Shonn Greene run all over you you're really, REALLY bad. As good as Dwight Freeney and Robert Mathis are they're not being allowed to get their rush on because teams are happily running over their new 3-4 defense. We'd be very shocked if they didn't turn their focus onto big bodies in the draft and off-season, this team is losing the battle up front far too often. And finally, out thoughts are with head coach Chuck Pagano in his battle against Leukemia. (TD)
29: Tennessee Titans (TD = 29, PG = 25, GS = 28)
Last month = 28th
What to make of the Titans? They've racked up two wins - one more than a few of the teams ahead of them in the power rankings - but one can't help but feeling it is more a reflection on how poorly the Lions and the Steelers have played this season than it is a result of the Titans' play. It almost seems redundant to talk about how poor Chris Johnson has played, averaging just 50.2 yards a game, and is yet to find the endzone this season. What's worse is that it's not even a case of the Titans having a different goal line back who's stealing touchdowns from Johnson - the stable of running backs as a whole has produced all of one rushing touchdown between them. The passing game hasn't been helped by Jake Locker having had to sit out the past few games with injury, with Ol' Man Hasselbeck proving to be a subpar replacement, completing 3% fewer of his passes, and, most tellingly, averaging a yard-and-a-half less per pass attempt, which over a game can end up the difference between 3rd-and-manageable and 3rd-and-forever. It doesn't help that the defense are really struggling to stop teams putting points up on them, having given up the fifth most passing touchdowns and the fifth most rushing touchdowns, while allowing the third most redzone TDs per game (an average of 2.7 RZ TDs each contest) - all of which combines for the worst scoring defense in the NFL. Struggling to score points on O, struggling to prevent points on D, the Titans 2012 season so far can be best summed up with these little nuggets: they have only twice scored more than 20 points in a game, and they have only once stopped opposing teams scoring
30 or more points
. The maths speaks for itself. (GS)
30: Cleveland Browns (TD = 30, PG = 31, GS = 30)
Last month = 31st
Browns win! Browns win!
Sorry, just thought we should make the most of a phrase that we might not here much this season. Against the Bengals the Browns looked like a competent team, and Brandon Weeden didn't look like a complete no-hoper. The scheduling could help them here, as in weeks 7 and 8 they face the sputtering Colts and Chargers respectively. Who knows, maybe if they can build some momentum they'll keep themselves off the 32nd spot when November's power ranking rolls around. (PG)
31: Jacksonville Jaguars (TD = 32, PG = 30, GS = 32)
Last month = 30th
If you have nothing nice to say, say nothing at all.... (TD)
32: Kansas City Chiefs (TD = 31, PG = 32, GS =31)
Last month = 29th
Jamaal Charles' dazzling breakdancing display is rudely
interrupted
The Chiefs have two things going for them: they've gained a lot of yards on the ground, and they have a respectable linebacking corp with Tamba Hali and Justin Houston on the outside, and Derrick Johnson and a relatively underrated Jovan Belcher inside. And... that's about it. The talk about their running game has been, in my opinion, overstated - yes, it was the leading rushing attack going into Week 6 (having racked up over 150 yards on the ground in all but two of their first six contests), but for all that, they have just four rushing touchdowns on the year, undermining the alleged potency of their rushing attack. What do they have on defense outside of the linebacking corp? Their secondary has produced just three of the Chiefs' four interceptions, with Stanford Routt proving a liability in pass coverage, and Eric Berry, once considered the safety of the future, struggling to regain his rookie-season form following his sophomore season-ending ACL tear last year. The "combine superstar" rookie Dontari Poe has so far lived up to his detractors' criticisms - that, as impressive as his combine stats were, his production has always been lacking, and that has continued to be the case in the pros. Yet, as poor as their defense has been, the Chiefs have been utterly seppuku-ing their season with turnovers. Their turnover rate is simply abysmal - leading the league in both interceptions (11) and fumbles (10), they simply cannot keep giving the ball away, and there is no single aspect of their season that better explains why we believe the Chiefs are the worst team in the league. (GS)