Welcome to the first Power Rankings of the regular season!
Initially we were going to wait a bit longer to do one of these, and let the league settle a bit more before ranking the good and the awful among NFL teams. But who wants stable and ordered!? So what we give you is our take on the first 2 weeks of the regular season. As ever you can see where each of us ranked the teams and where they were in our pre-season rankings. A lot has happened since then and it's been reflected in some big winners and losers in our rankings. So enjoy, and feel free to leave a comment about why your team is too high/low.
1: San Francisco 49ers (TD = 1; PG = 1; GS =1)
Last month = 5th

It's not often in our Power Rankings we can kick things off with a consensus #1 overall team. There are always question marks surrounding one unit or another, a lucky result here, a surprising off-day there, and all these things are true and have happened. Just not to the 49ers. We already had them as a top 5 team in the preseason, perhaps held out of the top 3 due to uncertainty over Alex Smith's long term ability and the roundly criticised selection of AJ Jenkins in the 1st round of the draft. Now, however, you can't help but be impressed. A sound win over previous #1 Green Bay in week one was followed by a just as impressive silencing of the Detroit Lions in week two. This team is 2-0, having faced two of the better opponents they'll meet this year, and doesn't look like missing a beat. Deserved top spot. (Phil Gaskin)
2: Houston Texans (TD = 2; PG =2; GS = 2)
Last month = 6th
Last season was a bit of a surprise, can the young bulls
handle a "favourites" tag?
Another consesus pick! Houston are yet to face a real test, but boy have they looked good in their 2 games so far. Any worries we had about their new-look right guard/right tackle combo have been pretty much put to bed as they continue to be a brutally good running side. Not only that but the defense still looks monstrous, with JJ Watt and Brooks Reed
seemingly even better than their impressive rookie campaigns. If there is a weak spot with Houston though it's their passing game. Andre Johnson remains the only viable threat, and that might be all you need most of the time, but when they come up against the big boys they might just start to come up short. But for now, the bulls are on parade. (Toby Durant)
3: Baltimore Ravens (TD = 4; PG = 5; GS = 3)
Last month = 3rd
The only team to remain unchanged from our August power rankings, the Ravens have already showed some of that maddening inconsistency that they displayed in 2011. The opened the season up incredibly strongly, demolishing the division rival Cincinnati Bengals 44-13, before following it up with a bitterly disappointing 23-24 loss to an equally frustratingly up-and-down Philadelphia Eagles side. A week after Joe Flacco finally looked like the elite QB he always claimed to be, his 52% completion percentage and 66.8 passer rating this Sunday suggests that Baltimore are dealing with the same hot-and-cold Flacco he's always been. When Cam Cameron remembers to build the gameplan around Ray Rice, this team can hang with the best in the league – but the Ravens may not stay this high if they keep putting the game in Flacco's hands. (Gur Samuel)
4: Atlanta Falcons (TD = 6; PG = 3; GS = 4)
Last month = 15th

Maybe we were too harsh on the Falcons in pre-season. They did, afterall, have a pretty good 2011 campaign, that was only shadowed by their embarrassing 24-2 loss to the Giants in the playoffs. 2012 has started impressively too, as their now ridiculously high-powered passing offense exploded out of the gates with a thrashing of KC, and Mike Nolan's cleverly disguised defensive packages confused even the great Peyton into throwing three picks on the way to a scoreline of 27-21 on Monday Night Football. Their run game is still a little anaemic, managing a measily 2.96 YPC so far this year (and not likely to improve if the suspected DUI Michael Turner was arrested for yesterday morning leads to a suspension), but when you have Julio Jones, Roddy White and Tony Gonzalez to pass to, will it really matter? (PG)
5: Green Bay Packers (TD = 5; PG = 4; GS = 5)
Last month = 1st
Clay Matthews feasted on Jay Cutler thursday night
This isn't quite the start we had in mind for the Packers. Their offense looks, well, predictable. The ground game is non-existant and they're struggling to keep Aaron Rodgers up. If they don't sort it out quickly then they could be in trouble since the defense has carried on it's 2011 form. The win over the Bears was nice, but not even QB will be as obliging as Jay Cutler nor every OL as weak as Chicago's. The fact that the Packers felt the need to dip into the bag of tricks with the fake field goal is telling that maybe this season the offense just won't be as impressive. Next week they have the toughest road game in the league, travelling to Seattle before facing the Saints on a short week. Interesting times ahead in Title Town. (TD)
6: New England Patriots (TD = 3; PG = 6; GS = 7)
Last month = 2nd
After a terrible 2011 showing, the Patriots' defense has appeared reborn through the first two weeks of the season, in no small part thanks to first round rookies Donta' Hightower and especially Chandler Jones – in fact, their 529 yards given up currently sees New England with the second best total defense, while ranking 4th in scoring defense thanks to only 3 touchdowns given up. Still, the Patriots have fallen in the power rankings, thanks to the lowly stature of the Titans that gave them their only win, and a home loss to the Cardinals. With Brian Waters gone AWOL and Dan Connolly injured, the Pats' OL really struggled in Week 2, grading out at a 7th-worst -0.312 in OLR – that will have to improve if the Patriots want to remain towards the top of the power rankings. (GS)
7: Pittsburgh Steelers (TD = 7; PG = 7; GS = 6)
Last month = 4th

Maybe it was painful memories of their 2011 playoff loss coming back to haunt them, maybe it was Peyton on a high coming back for his first game in over a year, or maybe the Steelers O-Line was just so capitulated by injuries that they couldn't block a drain, but the loss to Denver on the opening Sunday was poor to say the least. Missing safety Ryan Clark (who couldn't play in the altitude of Denver due to his sickle cell disease) was obviously huge, as he came back to league the team in tackles vs the Jets in week two. Like so many other teams in the NFL, the Steelers currently sit at .500, but will be a sure favourite to come away from week 3 with a win as they travel to a truly dire looking Oakland. (PG)
8: Denver Broncos (TD = 9; PG = 8; GS = 8)
Last month = 14th
An early sighting of "The Manning Face" after three early
INT's left the Broncos with too much to do in Atlanta
Peyton Manning's return in week 1 was great, but week 2 bought back some of the old concerns.3 interceptions in the 1st quarter on throws that really seems to lack some zip and precision. If Manning can't be near his best, then the Broncos are going to struggle. Willis McGahee is having a good time with Manning in the backfield, but the offensive line still looks shaky and the defenses much vaunted pass rush looked very poor in the Georgia Dome. Manning's chemistry with his receivers is increasing every week, but he needs to be perfect every week to keep Denver this high in the weeks and months to come.
(TD)
9: San Diego Chargers (TD = 11; PG = 9; GS = 10)
Last month = 13th
Though they currently lead their division at 2-0, it is hard to tell how good the Chargers actually are at this point, with their wins coming against a bad Titans team and an even worse Raiders team. Even against poor opposition, San Diego's stats are far from impressive – Rivers' 494 passing yards are just 18 yards above the league average, ranking 22nd in total yards-per-play and rushing offense. Defensively the team appear to be in better shape, with the 2nd best scoring defense and the best run defense in the league, but again, it's hard to put too much stock in the figures when you take into account the opposition. The 2-0 record is enough to rise in our power rankings, but we will get a much better account of how good the Chargers actually are when they welcome the Falcons on Sunday. (GS)
10: Seattle Seahawks (TD = 16; PG = 10; GS = 9)
Last month = 23rd
Russell Wilson and the Seahawks are flying high
in our Rankings, can they stay there?
Despite being a walkover for a large part of last season, many people didn't realise that the Seahawks actually had one of the better defences in the league. This year, people are starting to take notice. While the linebacking corp is a little weak, they benefit from playing behind a solid defensive line; more significantly, shoring up the back end is the best secondary in the NFL. Yes, really. On the other side of the ball, they have rookie QB – and Toby Durant mancrush – Russell Wilson, who has been incredibly impressive so far, and while he could use more support aerial support outside of Doug Baldwin and Golden Tate – remember that Braylon Edwards is responsible for this team not beating Arizona – while they appeared to have had a lucky escape in Marshawn Lynch avoiding DUI-related suspension, leaving him free to be a battering ram and keep the heat off Wilson. It's early days yet, and we need to see how Wilson will bear up to the responsibility thrust on him early, but so far, Seattle are looking like a team who could shock the league come January – and beyond. (GS)
11: Dallas Cowboys (TD = 8; PG = 14; GS = 14)
Last month = 12th

Opening night bliss was followed by week two hell. As well as Dallas played to beat the Giants at the Meadowlands, it is nothing compared to how desperate they seemed to be to gift the game to Seattle this weekend. A fumble and a blocked punt inside the first 5 minutes gave the Seahawks a 10-0 lead early, and the Cowboys never looked close to coming back. Whether this says more about Seattle's already impressive looking D, or Dallas' hot-and-cold O is yet to be seen, but we've given them enough credit for their opening night win to see them climb 1 place. A week 3 visit from the Buccaneers should tell us a lot. (PG)
12: Philadelphia Eagles (TD = 17; PG = 11; GS = 11)
Last month = 10th

The Eagles are 2-0, winning each games by just a point, but are -3 in the turnover differential. As you can see I'm much lower on Philly than the others, and that has a lot to do with Michael Vick's appalling decision making. 6 interceptions in 2 games is just awful, you can't keep that kind of play up and continue to come away with wins. Their offensive line is starting to look like a mess with Jason Kelce being placed on season ending IR after his knee got shredded on sunday. His absense, along with Jason Peters not being there, has badly impacted LeSean McCoy's affectiveness too. Now their defense looks stellar, all the off-season aquisitions seem to be paying off, but if the offense can't keep a hold of the pigskin it could be another frustrating, and may be the last, season for Andy Reid. (TD)


13: Chicago Bears (TD = 12; PG = 13; GS = 16)
Last month = 8th

Who are the Chicago Bears? A massive win over the Colts and a spanking from the Packers has left this offense in a spin, and losing starting running back Matt Forte to what appears to be an ankle injury (although Lovie Smith is keeping schtum on exactly what it is) will certainly not help. When the offense clicks, it really clicks, as the second half of week one showed; but when it's bad, well, Cutler threw 1-10 to open week one, and 4 picks (admittedly under some duress) in week two. Need I say more? The D is looking pretty decent all round, with Urlacher and Briggs showing they can still ball despite the wear on the tires, and Peppers along with rookie Shea McClellin looking dynamic off the edge. Pre-season, a week 3 visit from St Louis would've looked like a cake walk on paper. Now, you can't be so sure. (PG)
14: Arizona Cardinals (TD = 15; PG = 16; GS = 12)
Last month = 25th
Arizona's defense got a lot of practice rushing punts in
in training camp, and it shows already
Arizona are the most surprising 2-0 team in football, all the preseason panic about their offense, particularly at QB and along the offensive line, seems to have been validated so far. But the defense and special teams play has been spectacular. They man-handled Seattle & New England up front thanks largely to the stellar play of Darnell Dockett and Calais Campbell, Patrick Peterson is fast becoming one of the best cover corners around as well as a spectacular return man. They will have to keep getting big returns, and maybe add to the blocked punt they got in Foxboro, if they are to win games though. The offense really does look stale, Beanie Wells is healthy, for now, but Ryan Williams keeps putting the ball on the ground, and they seemed short of ideas when New England double covered Larry Fitzgerald out of the game. (TD)
15: New York Giants (TD = 13; PG = 18; GS = 15)
Last month = 9th
The Giants of January and February 2012 did a very good job of erasing from people's minds the Giants of September-through-December 2011. Big Blue barely eked out a winning record, and only made the playoffs due to the weakness of the rest of the division; the team is definitely talented, but immensely flawed as well. They are paper-thin at corner, are shaky along the offensive line, and their lone win came from being allowed back into a game by a team with many of its own problems; had they been playin, against any of the better teams in the league, they would currently been winless. The game has been overshadowed by a minor event blown hugely out of proportion in the media, but those who have watched their two games so far know that the Giants could be in a lot of trouble. (GS)
16: Detroit Lions (TD = 10; PG = 22; GS = 19)
Last month = 11th

Is it just me that's starting to wonder whether last season was a bit of a fluke for Matt Stafford? Maybe, despite this being his 4th year in the NFL he's having a sophomore slump (2011 marking the first time he'd played more than 10 games in a season)? What ever is up with him so far, he needs to sort it out. 3 interceptions against the Rams in week one very nearly cost the Lions the win in a game they probably should have won comfortably, and although he only threw one pick against the 9ers in week two, he left a number of other plays on the field, notably towards the end of the game throwing behind Tony Scheffler in the end zone to miss a certain TD. If he doesn't pick apart a weak Tennessee D in week 3, more questions will start being raised. (PG)
17: New York Jets (TD = 14; PG = 20; GS = 17)
Last month = 20th
Raise your hand if you expected the Jets would have a tick in the 'W' column this early on. Be honest, now… that's what I thought. Gang Green shocked everyone with their utter domination of the Bills to open the season – who foresaw the team that almost went the entire preseason without a touchdown was capable of putting up 40+ points on anyone? Now, all the reasons that people doubted the Jets are still valid – they are still struggling mightily for pass rush, their 'ground-and-pound' offense is yielding a distinctly 'blah' 3.6 YPC, and questions still surround Mark Sanchez like 17-year-old girls. All that said, it's hard to ignore how good they looked against a Bills team that many had as a darkhorse for a playoff spot. They looked more as advertised against the Steelers, and they don't have many easy games on their schedule, but for now, the Jets gets a moderate rise up the power rankings. (GS)
18: Washington Redskins (TD = 20; PG = 19; GS = 13)
Last month = 21st
RG3 does a great imitation of those who use him on Madden
Robert Griffin III is flat-out fun. Accurate when throwing down field and as fast and agile as Michael Vick in his hayday. He's quickly become best of friends with Pierre Garcon and the other receivers don't seem too far behind in terms of chemistry. The ground game is, as ever, productive, with rookie Alfred Morris getting the bulk of the work at the moment (but that could change at any moment). The defense was looking good too, but the loss of both Brian Orakpo and Adam Carriker for the season is a big blow to the front 7. They could be 2-0 but for Josh Morgan's crazy decision to throw the ball at Cortland Finnegan after getting the 'Skins into gametying FG range. But these are the breaks, they certainly do look in with a chance of the NFC East title though given the issues the other teams are having too. (TD)
19: Tampa Bay Buccaneers (TD = 22; PG = 15; GS = 18)
Last month = 24th

Tampa's run defense looks all the world like the real deal. Their passing D, not so much. Eli Manning managed to put 510 yards on them in a huge come-from-behind win in week two that will go a long way to overshadow the D-lines dominance against Carolina and Cam the week before. The offense isn't looking too bad, and has shown it is able to score points both through the air and on the ground, but they will clearly need to put up some big leads if they want to win this season, as Eli and co showed that even a 14 point difference isn't enough for them to defend. (PG)
20: Carolina Panthers (TD = 23; PG = 12; GS = 21)
Last month = 17th

After getting beaten up front and really failing to get any sort of ground game going against Tampa they found their feet against a floundering Saints team. If the Panthers hydra of a ground attack can keep ripping off chunks of yards it will make Cam Newton's life a lot easier and relieve some pressure on what looks like a poor run defense again. The decision to draft linebacker Luke Kuechly rather than add a defensive tackle is beginning to look foolish after they gave up 6 yards a carry to the Saints. If they can't keep teams from running all over them then they'll quickly have to abandon their own ground game in order to make up the time lost on defense. That won't be a succsessful plan for this team, which still lacks a viable #2 after Steve Smith. (TD)


21: Buffalo Bills (TD = 19; PG = 17; GS = 26)
Last month = 18th
Ryan Fitzpatrick is the cleanest QB in football right now,
thanks to stellar play from the big guys
Through two weeks,
the Bills have the best OL in the NFL
.
Their backup RB has managed to help them to a league high 192 rushing YPG and 3TDs, and kept Ryan Fitzpatrick as the only QB not yet sacked. This is a big part of why they were able to bowl over the Chiefs, and a major reason for the 2nd half comeback against the Jets (albeit unsuccessful). The worry of course is that Fred Jackon will be down for a while with his LCL sprain, and Ryan Fitzpatrick threw some frankly ludicrous picks in week one whilst under literally no pressure at all. Can this offense maintain their production at this rate? Almost certainly not, but then no team could. The Bills will need to demonstrate that their D can actually contain opposition teams rather than just making the odd big play for their value to move back up again. (PG)
22: New Orleans Saints (TD = 18; PG = 23; GS = 22)
Last month = 7th
"Cut off the head and the body will die". Those words were chillingly used by then-Saints DC Gregg Williams over and over while pointing out the various body parts of 49ers players his players should be intending to injure.
Karma is a bitch.

The head of the Saints' organisation, Sean Payton, has been cut off, and the body is dying. The city of New Orleans famously rallied around their team after Hurricane Katrina, and the support of their community in the face of adversity eventually propelled the team towards a Lombardi Trophy. This year, in the face of adversity, adopting the same "us against the world" mentality, the Saints defence were shredded at home by rookie Robert Griffin III and the Washington Redskins, while miscues on offense, no longer over-seen by Payton, saw the Drew Brees Scoring Machine sputter out when it is needed most. The defensive struggles continued as the Panthers, held entirely in check the prior week by what now appears to be a questionable Tampa Bay defense, had their way on the ground and through the air with New Orleans, while two interceptions by the man in the #9 jersey have led to questions about whether Brees can deal with the weight of having the entire team on his back without Payton there. With games against the Packers and Chargers in Weeks 4 & 5, the Saints could head into their Week 6 bye with a 1-4 record – and the season could already be lost. (GS)
23: Cincinnati Bengals (TD = 21; PG = 21; GS = 23)
Last month = 16th

The young Bengals found themselves, rather surprisingly, in the playoffs last season. It will be interesting to see if they can do it again this year, they were outclassed by Baltimore in week 1 before moving the ball with ease against Cleveland in week 2. The worry is that the defense, which was seen as the strength of this team in pre-season, gave up 27 points to a pair of rookies in Browns uniforms. If they can't keep a lid on the opposing offenses it will put real pressure on Andy Dalton and put him in situations he didn't often have to face last season. Although if they do end up throwing more it will mean we get so see more of AJ Green, who is already looking like a top 10 wide receiver in the NFL. (TD)


24: St Louis Rams (TD = 24; PG = 24; GS = 20)
Last month = 28th
I'm not sure where the 2010 Sam Bradford disappeared to last year, but he appears to have found his way back into the Edward Jones Dome this year. Currently third in the league in passer rating, Bradford has guided a Rams offense that, while not reminding anyone just yet of the Greatest Show on Turf, nonetheless hung in there with Matthew Stafford against a feared Lions' pass rush, and outscored the previous weeks' Second Coming, RG3. They have health issues along the offensive line which could dampen Bradford's play as the season wears on, but with the support of newly-found depth at running back from a pair of rookies, and so-much-better-looking defense to keep the scores close, teams around the league shouldn't consider a game against the Rams and automatic 'W' any more. (GS)
25: Indianapolis Colts (TD = 25; PG = 25; GS = 25)
Last month = 29th

A strange quirk of consensus here at #25. It was always going to be a tough start for Andrew Luck in the NFL, facing two of the best pass rushers in the league in two weeks (Jared Allen and Julius Peppers), but to come away from these games with a 1-1 record is commendable. The Colts manage to climb 4 spots thanks to their win over Minnesota, helped in no small part by the re-emergence of some receivers in Indianapolis. Reggie Wayne looks to building a Peyton-esque rapport with his new QB, and even Donnie Avery looks like he might contribute this season if his knees stay in tact. The problem for Indy, as so often it was, is their run game. 3.3 YPC is not great, and only 1 TD in the first two weeks indicates there is already going to be alot of pressure on Luck's shoulders to carry this team back to the playoffs. (PG)
26: Miami Dolphins (TD = 28; PG = 27; GS = 24)
Last month = 27th
People expecting nothing out of Miami, and in Week 1, they delivered, finding themselves on the wrong end of a 30-10 contest with the Texans. The Dolphins then shocked everyone by absolutely trouncing the Raiders, ploughing through them with 263 rushing yards while holding the Silver & Black to just 23 of their own. Of course, a win against the Raiders isn't saying much, but it proves that Miami does have pieces in place, just not pieces ready yet to contest with good teams. Still, the ability to beat bad teams is a step forward for this franchise. They're not going to scare anyone, and they'll be lucky to not have a top 10 draft pick this year, but they may have more in place for the future then even they realised – although, judging on the number of draft picks they've stockpiled for 2013, that's not saying much. Will the team look as good again this season as they did against Oakland? Doutbful. But if you're a Dolphins fan, at least that one game has given you enough reason to look forward to 2013 with at least a modicum of vague optimism - but not much more. (GS)
27: Minnesota Vikings (TD = 26; PG = 26; GS = 27)
Last month = 31st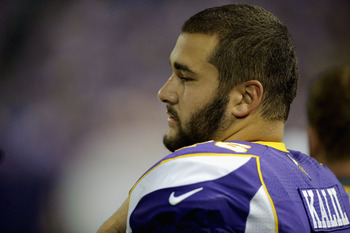 Matt Kalil has greatly impressed us so far
We are all amazed that Adrian Peterson is on the field and playing. After tearing his ACL on christmas eve everyone expected AP to start the season on the PUP list, or at least miss the first few weeks, but nope, not All Day. In he came in week 1 and hammered into the endzone for 2 scores. He doesn't quite look the same as his old self, but that will come with more game work and conditioning. His return so soon is a big boost to the Vikings and Christian Ponder, who continues to mix in moments of awfulness with his good play. At least he has Percy Harvin out there, the only legitimate threat at receiver for Minnesota continues to work himself into space, and they continue to get him the ball in any and all means possible. Rookie left tackle Matt Kalil looks like he's already in discussion for the best LT in football, and while the defense still needs work, Jared Allen will continue to terrorize everyone in his way. This team is unlikely to rise much higher in 2012, but come next season, with the right moves, they could be back to competitiveness. (TD)
28: Tennessee Titans (TD = 27; PG = 31; GS = 28)
Last month = 19th

Urgh. A genuinely horrific start to the Titans season. 2.2 YPC. CJ2K has 1.1 YPC. An absolute disaster. Strangely, he has an average of 1.2 Yards after first hit, which means on average he's getting hit 0.1 yards behind the line of scrimmage on every play! That has to be leveled squarely at the OL. No discernible offense at all has led the Titans to defeats at the hands of the Patriots and Chargers, and their schedule doesn't get any easier with games coming up against Detroit, Houston, Minnesota and Pittsburgh. 0-6 is a very real possibility. (PG)
29: Kansas City Chiefs (TD = 29; PG = 28; GS = 31)
Last month = 22nd

I'm officially jumping off the "Kansas will win the AFC West" bandwagon. But hey, it just makes it easier to drive the Russell Wilson one. After getting blown out by Atlanta in week 1 there were excuses to be had; Atlanta are an elite team, they were missing their 2 best defensive players... Well they had none of those excuses in week 2 and were blown out again, this time by Buffalo. All the promise of a Romeo Crennel-lead Chiefs that was shown in their upset win over Green Bay last year, and with the return of 3 key players from ACL injuries has quickly disappeared. But, we have to remember that Kansas City started 0-3 last year, which included a blowout by Buffalo and bounced back. They have the personnel to do so again, but their next three games of @ Saints, vs Chargers and vs Baltimore hardly give them the best chance to return to form. An 0-5 start is on the cards here, as is a further tumble down our Power Rankings. (TD)


30: Jacksonville Jaguars (TD = 31; PG = 30; GS = 29)
Last month = 32nd
The Jaguars shocked no-one by opening up the season 0-2, but what might be surprising is that they actually came very close to being 1-1. Yes, the opponents they sent to overtime were only the Vikings, but nonetheless, it was a game that the Vikings were expected to win relatively comfortably – but the Jaguars played them close all game. Even in their loss to the Texans, the scoreline – 27-7 – is much closer than at least I would have expected – the Texans should be capable of utter humiliation of a team like the Jaguars – but it speaks to something many people overlook due to the ineptitude of the offense: the Jaguars defense is actually rather solid. Still, the team has major issues on offense, particularly along the offensive line, which has received a negative OLR grade in both games. Still, Gabbert looks better than he did all season, so there is hope for the future, and with the team rising ever so slightly in the power rankings, they may well end up in the high 20s by the team the season is over – something that Jaguar fans should be ecstatic about after how poor they looked last season. (GS)

31: Cleveland Browns (TD = 32; PG = 29; GS = 30)
Last month = 30th

Week 1 was not a great debut for Brandon Weeden. At all. He missed his receivers so badly you weren't even sure who he had intended it to go to. But fortunately he showed some of the promise that made him a 1st round pick in week 2 against Cincinnati, and Trent Richardson showed just why he was considered as the best player in the draft by many. The combo of these two in the backfield could help make up for a lack of talent on the outside. The defense does look impressive, although the loss of Joe Haden for 4 games hurts a lot. D'Qwell Jackson is still a force in the middle though. There are a lot of holes in Cleveland, and you have to think Weeden will continue to have games like he did against Philly, but there's certainly light at the end of the tunnel, just not for this season. (TD)


32: Oakland Raiders (TD = 30; PG = 32; GS = 32)
Last month = 26th
Oakland couldn't contain or tackle Reggie Bush sunday.
It could be a long old season.
Oh Oakland. Oakland Oakland Oakland. That trade for Carson Palmer really looks like a good deal now, right? Not so much. Their OL can't run block, giving them a league low 2.0 YPC, and they can't pass block, with a league high 14 QB hits so far. What can they do? Give away penalties seems just about all. When you're getting routed by a team so roundly mocked as the Miami Dolphins you need to take a long hard look at the direction your team is going and make serious changes. It's a good job Dennis Allen looked so young at the beginning of the season, 'cause at this rate he'll look like an early 2011-Al Davis by the time he's done. (PG)