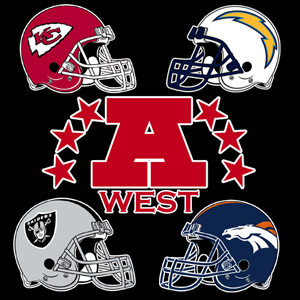 AFC East
|
AFC North
|
AFC South
| AFC West |
NFC East
|
NFC North
|
NFC South
|
NFC West
Few divisions are as up in the air as the AFC West. If you asked 100 neutral fans you'd get a fairly even spread of votes for who might walk away with the division title. For me this it's a 3 horse race this season, but it might not be the 3 you think. Obviously all the talk this off-season has been Denver's transition from Tim Tebow to Peyton Manning, and all the issues that come with a 36 year old fresh off 4 neck surgeries. We'll start with the team I think have the best shot at taking the division...
Kansas City Chiefs (2011: 7-9, 4th in the division)
Whenever you have Tyler Palko starting for you things aren't going to go well. Nor is your season going to be good when you lose 3 of your best young stars to ACL injuries before week 2 is over in the season.
But in 2012 the Chiefs welcome back starting QB Matt Cassel, explosive running back Jamaal Charles, elite safety Eric Berry & young tight end Tony Moeaki. That's like having a windfall in free agency.
After deciding that Todd Haley had had his shot and kicking him out the Chiefs promoted defensive co-ordinator Romeo Crennel mid-year and were instantly rewarded with an upset win over Green Bay. Along with Crennel's change of title a new offensive co-ordinator in Brian Daboll has come in to put what is an improved offensive roster to good use.
As much as I love Romeo Crennel for all the great work he did as part of the Patriots dynasty, he's never come across as a very good head coach. Although it may be harsh to judge him on his days in Cleveland as even a Bill Walsh-Bill Belichick-Vince Lombardi hybrid would struggle to win there!
The return of Jamaal Charles instantly makes the Chiefs offense more potent. But if you think they'll suddenly give him 25+ touches a game, and 350+ on the season, you could be seriously disappointed.
The addition of Peyton Hillis to the backfield means they have a guy to play the Thomas Jones role from 2010 and at the least split the carries with Charles. Something in the region of 18 touches a game for Charles would be what I expect. And with the additional blocking prowess of RT Eric Winston and added threat of Jonathan Baldwin on the outside those touches could be even more productive than they were in 2010.
But as usual, much will rest on the shoulders of the quarterback.
There are still a lot of question marks about Matt Cassel
Matt Cassel is now halfway through the 6-year, $63m deal the Chiefs gave him when he came over from New England for a 2nd round pick. He's guided them to a play-off berth but has also had a 4-11 year as a starter.
Cassel needs to show a bit more consistency, especially in his interception rate. In 2009 Cassel threw 16 picks at 3.2%, but in their play-off run that plummeted to 1.6%. Through the 9 games he playing in 2011 that again bounced up to 3.3%.
If Cassel can just protect the ball the Chiefs have the talent around him to go pretty far. If he starts slinging picks then the rest of the division will be waiting in the wings to pounce. And just maybe the Chiefs will have to start looking for a new QB.
The Chiefs have now invested 3 high-end 1st round picks on their defensive line. 2008 5th overall pick Glenn Dorsey and 2009 3rd overall pick Tyson Jackson, both out of LSU, have been pretty disappointing for just how much the chiefs have invested in them. But that didn't stop them going back to the well in the draft this year and taking Memphis product Dontari Poe 11th overall to play nose tackle between them.
Tamba Hali: The perfect Peyton-Seeking Missile
Poe is a very raw, but talented player. He's been used very sparingly in pre-season and certainly has a lot to learn before he can be trusted every down, but the hope is that he can become the disruptive, penetrative force in the middle that Dorsey & Jackson have failed to become.
If he can be that guy then suddenly KC's defense looks a lot more fearsome. They have underrated outside linebacker Tamba Hali on one side, ready to attack opposing QB's and add to his 26.5 sacks in the past 2 years. His pass-rush is augmented by 2nd year player Justin Houston, and prowling from middle linebacker is Derrick Johnson.
In short, Romeo Crennel has a lot to work with this season in his front 7. And there is work to be done so that the loss of CB Brandon Carr doesn't show too much.
I honestly think that Chiefs have it in them to go from worst to first this year. Partially because they have an awful lot of young talent on their roster but also because, as it will become clear later, I think they have a lot fewer questions about them then the rest of their divisional rivals do. It's also perfectly possible that, with the very tough schedule the AFC West faces this year, their strength of schedule games against Buffalo and Indy will make all the difference and get them to the 9 wins I think it could take to win this division.
Denver Broncos (2011: 8-8, Division winners, lost to New England in divisional round)
Despite Tebow-Mania, the Broncos fans are excited for #18
There really is only one place to start when you bring up the Denver Broncos….
Peyton Manning's return to action in the NFL has been one of the most highly anticipated returns in history. Whether or not you loved or hated him in Indy, it's good to have him back in the league and even better to have him (all being well) face off against Tom Brady and the Patriots once more. What will we do when that rivalry is finally done???
There's an awful lot of speculation as to just how affective Peyton can be on a new team and with 4 neck surgeries to his name. There are worries about his arm strength, about his ability to throw to his right and about just how he'll stand up to a season's worth of hits.
He seemed to put those 1st two questions to bed some what in the 3rd pre-season game against the mighty San Francisco defense, slinging 2 TD's to Eric Decker. But come week one against Pittsburgh he'll be facing the angry, angry man that is James Harrison and his QB-hunting buddies, as well as the mind of legendary defensive co-ordinator Dick LeBeau. They will test Peyton in every facet of the game to see if he's still as shape, mobile and accurate as he used to be. If Peyton can come out of that Sunday night test reasonably well then some of his doubters will have to bite their tongue's, but there's every chance he won't look as good as we all remember too.
There several huge things you have to remember about this Broncos team. Yes, they're a playoff team that have upgraded their QB from a career 47.5% completion rate to a 64.9% one, but it's also a massively flawed team.
Welcome back Manning Face!
While Ryan Clady is much better in pass protection than he is run blocking, the same isn't true for the rest of the offensive line, who's performance will diminish as they move away from the run-first (and second & third) offense to a more pass-orientated offense. That's not to say that Willis McGahee won't get work though. Peyton likes to run it when he gets close to the goal line, and no team can survive by the pass alone (are you listening Detroit!).
The pass protection will not be as good in Denver as it had been for much of Peyton's career in Indy, but if he's retained that quick release (which it seems he has) that might not matter quite so much.
Can you tell that I'm still undecided on just how good Peyton will be!?
In 2011 the defense played very well, it was every bit as responsible for the unlikely wins against the Jets, the Bears and others as king of clutch Matt Prater was. But in 2012 I expect a little regression. They're still very weak up the middle and for as good as their pass rush could be with Dumervil & Von Miller their secondary, particularly at safety, is a mess. Champ Bailey can still be a force but not to the extent he used to be and he's no guarantee to play all 16 games. DJ Williams is a very good middle linebacker but with a draft class that is unlikely to provide much help this season it could well be a disappointing year for those expecting them to keep teams pinned down.
Jeez, anything from 12 wins to 4 is a possibility. It's a very tough schedule with the AFC North, NFC South, Patriots and Texans on the slate, but if Peyton Manning is his old self he can easily get them back to the playoffs. If.
I'm going to middle it and say they'll go 8-8 again. There will be plenty of growing pains as everyone adjusts to a Manning offense, and as the rapport grows between Peyton and his new receivers.
Whatever happens don't expect the Broncos to be any less in the spotlight than they were last year.
San Diego Chargers (2011: 8-8, 2nd in division)
Once again, the Chargers had a very disappointing season, but once again Head Coach Norv Turner and GM AJ Smith managed to avoid the axe. Again.
It's now been 2 full seasons since the Chargers last made the post-season, and for a team that has been so good in the recent past, had so much talent on it's roster, and been in such a relatively weak division, that's just not good enough.
"I'm a good QB, but i'm also a massive douche."
Phil Rivers, as much as I hate his on-field attitude, is the best Quarterback in the NFL without a Super Bowl to his name. But that looks like it's not going to change anytime soon.
Exit Through The Gift Shop
The departures this off-season, be it through free agency or retirement, could cripple the Chargers offense.
As good as Rivers is, and as well as we've seen him do when having very little around him at wide receiver, Vicent Jackson always added an extra dimension to the Chargers offense. He had the speed to get deep and the physicality to be simply too much for corners on jump balls. When Jackson was on the field the Chargers were as threatening as anyone. With his departure in free agency to Tampa Bay, coupled with Vincent Brown's ankle injury, the Chargers passing game looks a lot worse. Especially if the signing of Robert Meachem doesn't work out as expected (I suspect it won't) and Antonio Gates continues to have injury problems (I hope he won't).
The main changes however, come across the offensive line.
Former left tackle and left guard Marcus McNeill & Kris Dielman have had to retire due to injuries, centre Nick Hardwick has had issues with injuries before and has been sidelined due to a concussion. Even Jared Gaither, who filled in well at left tackle for 5 games last season, has been hurt in camp and could be doubtful for week 1.
Such turmoil and change across the offensive line, especially in the line's Pro Bowl talent, is never conducive of good offensive play.
And when you peer into San Diego's backfield the situation is hardly any rosier. Perennially injured running back Ryan Mathews is nursing a broken collarbone. When he's healthy Mathews is a 4.7 yards a carry back, but he's made just 22 starts in just 2 years in the league. His back-up last year, Mike Tolbert, had moved to Carolina leaving them with a washed up Ronnie Brown and little else.
Jarret Johnson adds some beef to the Chargers front 7
On this side of the ball, at least, there have been additions rather than subtractions.
Bringing Jarret Johnson in from Baltimore is a smart move. Johnson is an underrated player with great all round skills. Stout against the run and useful in pass rush he'll team up with Shaun Phillips and begin to cause some serious havoc. As will versatile rookie Melvin Ingram who is capable of playing up as an OLB or a penetrating DE in San Diego's 3-4.
The Chargers D-Line will need last year's No. 1 pick Corey Liuget to pick up his game and make a few more plays but Antonio Garay is a good player in the middle and they've added rookie Kendall Reyes who has the athletic ability to contribute well as a 4th lineman.
The secondary, particularly Eric Weddle, doesn't get the credit it deserves for some excellent play. Yes, Quentin Jammer and Antoine Cason can get caught out from time to time but they're reliable enough and Weddle might just be the best safety in the NFL these days.
"Yes! I still have a coaching job somehow!!"
Yes, there are holes on the Chargers roster, but there's also a lot of talent. They've long had Peyton's number on defense so I wouldn't be surprised if they took both games against him this year (then again, the mastermind of those performances, Ron Rivera, is now in Carolina, so maybe not!).
In a division as close as this, it's often the best QB who wins out, so why am I not predicting the Chargers to win? Norv. Frickin'. Turner. The guy is a menace and it's a miracle he still has a job as an NFL head coach. I simply don't trust him to put this squad in a position to win the division, or to make a wildcard spot. It wouldn't surprise me too much if they did manage to end up on top, but nor would I be shocked to see Norv kicked to the curb by week 10.
Oakland Raiders (2011: 8-8, 3rd in division)
This Oakland team are reaping what the late Al Davis sowed. Bad contracts have been dumped, talented players have had to leave and the roster is very thin thanks to the god-awful Carson Palmer deal, last years draft day trade with the Patriots and the crazy decision to throw a 3rd round pick away for supplimental draft choice Terrelle Pryor. (Admittedly the Palmer deal was executed after Al Davis' death).
Stanford Routt and Kamerion Wimbley had to go, leaving big holes at corner and in the front 7. Wimbley's versatility and pass rush have disappeared to Tennessee while Routt is now in Kansas. In fairness to the new regime, they've done fairly well with what they've had to work with. Bringing in Aaron Curry to give a disappointing but talented young player a shot. Picking up Ron Bartell after an injury-plagued year with the Rams and being able to hold on to veteran talent like Richard Seymour.
If only he could find that lost contact lens....
Ugh. I hate Carson Palmer. It's been a long, long time since he was even an above average QB and to pay a first & second for him is utterly ridiculous. Especially when you consider what Jason Campbell was doing in Oakland before his injury.
But here we are, and the Raiders are stuck with #9 under centre.
Around him there's actually some good talent, Denarius Moore has big play potential, Darrius Heyward-Bey was actually a decent player last season. Then of course there's Darren McFadden in the backfield.
Through the first 6 game McFadden was a potential MVP candidate. The Raider were 4-2 and he had 767 yards from scrimmage & 5 TD's. But then, as usual, McFadden picked up an injury and was done for the year, as were the Black and Silver.
Now Palmer is yet to play a game with Run DMC behind him, It might be that McFadden's presence in the backfield could open up some windows for Palmer's noodle arm, but I'm not sure it'll have that great an affect. The Raiders did the right thing and bought some fresh backups in. Mike Goodson joins from Carolina, where he showed flashes of skill behind DeAngelo Williams and Jonathan Stewart. Taiwan Jones, who last year with the Raiders had just 18 touches for 98 yards, has also pushed himself up into the conversation for #2.
The Raiders O-Line also has a lot of positives along it. Jared Valdheer is a very underrated left tackle, Stefen Wisniewski had an impressive rookie year and will look to push on, and they've added ex-Texans guard Mike Brisiel. Talent like that on the offensive line will really help open up gaps for McFadden and his inevitable injury replacements and look after Carson Palmer's slow behind.
As I said, the Raiders defense has seen a lot of turnover this off-season, but the departure of Wimbley and Routt give newcomers and former back-ups a chance to break into the starting line up.
LaMarr Houston & rookie Jack Crawford have a chance at playing opposite Matt Shaughnessy, while the young linebacking corps of Rolando McClain and Aaron Curry are 2 of the only guys there who actually have NFL experience.
The DB's, despite a strong(ish) safety position with Tyvon Branch, Michael Huff and Matt Giordano have a big hole at cornerback. Having lost Nnamdi Asomugha and Stanford Routt in two years both starting spots are very much up for grabs, it could be youngsters like DeMarcus Van Dyke and Chimdi Chekwa or the new veterans of Shawntae Spencer and Ron Bartell.
In short then, don't expect great things from this unit. They were poor down the stretch, particularly against the run, and I only expect the defense to get worse in 2012.
The only way I can see Oakland competing in the division is if Darren McFadden has an MVP year and can finish all 16 games. Which is unlikely in itself. They have a much thinner roster than the rest of the division and the worst QB, which never helps. 4-6 wins is the kind of return I expect this season. Sorry Raider Nation.
-
Toby Durant (@TDonSport)