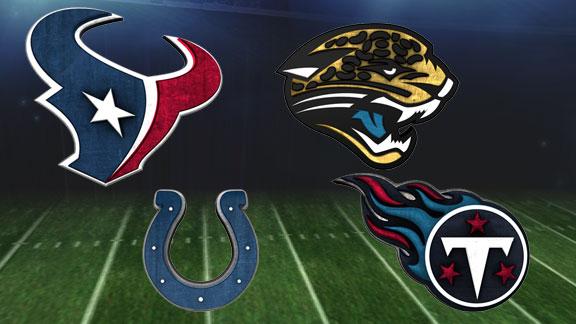 AFC East
|
AFC North
| AFC South |
AFC West
|
NFC East
|
NFC North
|
NFC South
|
NFC West
The AFC South is considered by many to be the weakest division in the NFL. And they might be right. 3 of it's teams will be starting a quarterback in either his 1
st
or 2
nd
year in the NFL. Star running backs have held out for 2 training camps in a row now, and the great Peyton Manning has departed from Indianapolis.
But it also plays host to a fearsome running attack, a team who were perhaps the best in the AFC last season, 2 of the best defenses around and the next Peyton Manning.
So what does the AFC South have in store for us this season? Have a look and find out...
Houston Texans (2011: 10-6, 1st in division, #3 seed, lost 20-13 to Baltimore in divisional round)
Looking back, 2011 might have been Houston's chance. The AFC was relatively weak, and throughout the season they looked, at several times, to be the best team in the conference by a wide margin. But injuries hampered them throughout the year. Arian Foster missed time, Mario Williams missed almost all of the season, Andre Johnson was plagued all year by hamstring issues. That's 3 pro-bowl players, among the very best at their position, missing significant amounts of time.
A guy named TJ lead Houston to their first ever playoff win
That would be hard enough, but then Matt Schaub got struck down by some girl called Liz Frank. They went into a play-off game with TJ Yates under centre. AND WON!
But this off-season has been one of loss. First Mario Williams was allowed to walk in free agency, then to make cap room to re-sign Foster and centre Chris Myers the outstanding RG/RT duo of Mike Brisiel and Eric Winston were allowed to leave.
So after these losses, the question people are asking is…
A 1 year window seems very narrow, but when you add up those losses of personnel, a continued lack of depth at receiver and other issues it might just be true.
The Texans are going to continue to be a run first team, the contract they gave to Foster this off-season is evidence of that. But just how successful can they be with an entirely new right side of the line?
Part of the beauty of Gary Kubiak's zone blocking system is that it uses undersized linemen to great affect and is extremely simple. But it's a fine balancing point. Everyone needs to buy in, everyone on the line needs to have superb technique and read the push and flow of the defense the same way. The running backs have to read their keys and hit the gaps at full speed. And with 2 new players on the offensive line that could be trouble.
The beautiful simplicity of the "wide zone" run play
The Texans have, to their credit, taken a chance on oft-injured tackle Ryan Harris, who is extremely familiar with Kubiak's zone blocking schemes from his days in Denver. But he only signed with the team a week ago and the rapport may not be there yet to be effective straight away. With Rashard Butler out for the year now that leaves only 2nd year player Derek Newton as only other tackle (starting LT Duane Brown aside) currently on the roster, which if Harris goes down again could be a huge issue. The hole at right guard has a less obvious plug though. Rookie Brandon Brooks, a 3rd round pick out of Miami (Ohio) has a good shot at seeing time this season, but it looks like they'll be rolling with Antoine Caldwell who's been with the team for some time now.
Can this new look right side be as good as the Brisiel/Winston combo? Maybe, but certainly not straight away. If they can't get their wide zone play working against Miami in week 1 then niggling doubts may begin to creep into their minds. There's a good chance that Derek Newton could get the start in week 1 too, making that right side an even lesser known quantity.
Looking past the offensive line issues, the Texans continue to be thin at wide receiver.
When Andre Johnson is healthy, they have one of the best wide outs in the game and a serious player who makes every other receivers job easier on the field. But without him, as we saw in 2011, they have a real lack of quality. 3rd round rookie DeVier Posey comes in from Ohio State and will compete with long-time number 2 Kevin Walter, fellow rookie Keshawn Martin and 2nd year players Lestar Jean and Trindon Holliday for that starting spot. With Owen Daniels turning into an injury-case at tight end now, the Texans passing game is looking worse than ever. Can they really put up the points to compete with the big gun-slinging QB's that are out there?
Well fortunately they might not have to. Despite only getting 5 games from All-Pro Mario Williams, the Texans finished 6th in the league with 44 sacks, thanks to a great season from OLB Connor Barwin (11.5 sacks) and big time production from impressive rookies J.J. Watt (5.5) and Brooks Reed (6).
I'm a huge fan of all 3 of these guys. I wanted my Patriots to draft them when they came out of college and so far they've shown off their talents with great affect in the NFL. The Texans drafted another front 7 player I was big on this year, in Nebraska DT Jared Crick. After a torn pectoral meant he missed the majority of his senior campaign Crick slid down the draft boards to the 4th round where the Texans snagged themselves a potential monster to play at DE opposite Watt and cause serious problems for opposing offensive lines and help free Brian Cushing to make even more big plays.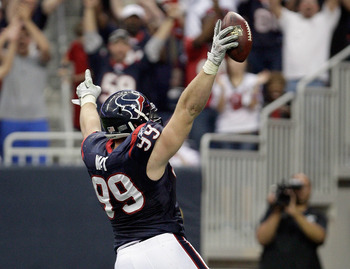 JJ Watt had a big rookie year at DE, can Jared Crick do the same?
The loss of Mario Williams was somewhat offset by the 1st round selection of pass rusher Whitney Mercilus, and the loss of inside linebacker DeMeco Ryans by the addition of veteran Bradie James.
The defensive backfield remains the same and is lead by the outstanding Jonathan Joseph.
The Texans defense as a whole was greatly improved in 2011. Going from 31st in Football Outsiders rankings in 2010 to 6th last year. A lot of that has to do with a hugely improved pass game thanks to the Joseph signing, but also the change in scheme from 4-3 to Wade Phillips' 3-4, which was better suited to their personnel.
Now such a big improvement often suggests some regression the following year, and I wouldn't be surprised to see the Texans defense come down to earth a bit in 2012, but they should still be a fearsome opponent for a lot of teams, and if the offense can run the ball well, control the game and get the lead in time of possession, then this defensive unit can cause some real havoc as teams chase games.
A lot of people are talking #1 seeds and Super Bowls, even more are talking regression, closed windows and no play-off win.
Personally I see something in between that. Their division appears to be easily winnable, and provided they don't get obliterated by injuries again they should be a force to be reckoned with for any team in the league. But I'm just not sure you can survive in today's NFL without a top passing game. Any aerial attack that has just 1 good receiver is always going to be limited. The Texans rely heavily on play-action in their passing game and that's only good as long as the ground game possess a substantial threat.
They have 5 tough games against the Packers, Bears and Lions from the NFC North and then the Ravens and Patriots. They close the season with 2 games in the last 3 weeks against Indianapolis and what will be either a seasoned and confident or battered and bruised Andrew Luck, which could be far from guaranteed wins.
10 or 11 wins is where I expect the Texans to end up, and take a #3 seed, and probably win that wildcard game again. It's tough to see them making much headway against the pass happy Patriots as I'm not convinced of their nickel defense, and if the Ravens are heading that way too then that's 2 AFC teams who can exploit a lack of depth at corner.
Then again, maybe we'll see throughout the year that the Texans are still the best team in the conference. I certainly don't think that their window has closed though.
Tennessee Titans (2011:9-7, 2nd in division)
2011 started badly, losing at Jacksonville to a Luke McCown lead Jaguars. They also gave Indy their first win of the year in week 15 too.
In between those poor performance Chris Johnson struggled all year after his holdout, averaging just 4 yards a carry and really hampering an offense that was focused around the run game and his big play threat.
But this year CJ's been in camp, and the offense has been turned over to 2nd year player Jake Locker.
Locker can make plays with his feet, but will need to use his
arm more in 2012
What can we expect with Locker under centre in 2012? In his 5 appearances last year Locker put up 542 yards with 4 TD's and no INT's, but he only had a 51.5% completion rate which really isn't good enough. His accuracy was a question coming out of college and it will have to improve if he's to put the Titans in a position to win.
He does have the weapons around him to do well too. Kenny Britt is an extremely talented, if troublesome, receiver. He'll be suspended for week 1, and has some niggling knee issues from his torn ACL last season, which required a second surgery in the summer. And his problems could be others gains.
During Locker's play last season his most targeted receiver was Nate Washington, and with the addition of rookie 1st rounder Kendall Wright, Britt's leash might be shortening more and more. They also have talented young tight end Jared Cook who could surprise a few people with just how much he gets involved in the passing game.
But the offense will still rely heavily on Chris Johnson, hoping that a full pre-season & training camp can restore him to MVP form. But that will require superb blocking for a line that is definitely worse that his 2,000 yard season.
They've bought Steve Hutchinson in to play left guard, but he's a bigger name than he is performer now, with 12 years in the league having taken its toll on the big guy. The Hutch's presence will move LeRoy Harris across to right guard to replace the departing Jake Scott and with Eugene Amano still playing centre, I think the middle of the O-Line will be weaker than a lot of people think.
This unit is actually better than a lot of people think, in 2011 they were in the top 10 against the run.
Kamerion Wimbley really doesn't like quarterbacks
They weren't great against the pass, and losing Cortland Finnegan may hamper them there, but the addition of Kamerion Wimbley to play defensive end will provide a big boost to their pass rush and greatly improve their 2nd worst 28 sacks from 2011 as well as hopefully help out Jason McCourty and Alterraun Verner on the back end. They also have a young and very talented linebacking corps lead by middle linebacker Colin McCarthy.
McCarthy is a very good player, he can be guilty of over-pursuit on occasion, but when he gets it right he's a hugely impactful player, and by the end of this season you'll have heard a lot more about him. Around him is fellow 2nd year player Akeem Ayers and speedy rookie Zach Brown, giving them an extremely athletic 2nd level and a group of players who can perhaps slow down the running game of Houston and cover the best tight ends around.
Tennessee are young in the secondary and have had a lot of turnover there from previous years. Verner steps up into a starting role and reliable back up Chris Hope has gone too, their potential holes there will need to be filled by the likes of rookie Markelle Martin who has a lot of raw potential as a playmaker.
Tennessee open up with a very tricky schedule. Hosting New England, going to San Diego, hosting Detroit and then a 2 game road trip that includes Houston before coming home for the Steelers. That is not the sort of opening slate you want for Jake Locker. They could easily open 1-5 and then what do they do? This was one of the many arguments put forth in favour of starting Matt Hasselbeck. He's a seasoned vet who can handle the pressure of starting against elite teams, and if he does do badly you can bench him for the younger Locker. If Locker starts off poorly, gets battered by an improved Patriots front 7 and San Diego pass rush then where do you go from there?
Personally I feel you have to test Locker straight away. He's had a year as a back-up, has looked pretty good in his appearances in 2011 and if you're ever going to make the move it really ought to be at the start of the season so he's had a lot of time to work with the 1's and he feels that he has the organisations full support.
Anything from a 9-7 to 5-11 season seems possible for the Titans this year and it's really hard to call, I don't think they'll be challenging for a play-off spot, especially with that early slate, but if they can get through it (I think they have a shot against San Diego and maybe Houston) with 2 or 3 wins then look out.
Indianapolis Colts (2011: 2-14, 4th in division, 1st overall pick)
The Peyton Manning era came to a screeching halt in 2011, and it was really sad (or fantastic depending on who you support) to see the Colts flounder without
#18. But, from the ashes of a disastrous season, comes another phoenix.
Luck is perhaps the best QB prospect since #18 himself
Some Teams Get All The Luck
Indianapolis have had the 1st overall pick 5 times since 1983. From that they've taken John Elway, Peyton Manning, and now Andrew Luck.
Luck enters the NFL with as much hype as any college prospect has ever had. Under the tutelage of Jim Harbaugh at Stanford Luck looked impressive, but when Harbaugh left for the NFL before the 2011 season there was some questions about how Luck would cope. Well he coped extremely well and was the #1 pick in waiting straight away.
All the reports from Colts camp are extremely positive about Luck, as you'd expect. Extolling his work ethic, his ability to take in the new playbook and lead the huddle. His arm in preseason has looked very impressive and it seems like he could make a mockery of the rookie learning-curve.
He's also very mobile and can be a threat with his legs to extend plays and rush for first downs much like Jay Cutler and Aaron Rodgers.
While no rookie can ever be considered "Can't Miss" Andrew Luck is probably as close as you can get.
So who has Luck got around him? Well this offensive unit has seen a lot of turnover since it's glory days. Long time centre Jeff Saturday has gone, as have Dallas Clark and Jacob Tamme. Reggie Wayne has come back though, after testing free agency this off-season, giving Luck an established threat at wide receiver, even if he's past his peak now. He'll also have Austin Collie, who can be a great receiver if he can stay healthy, but his problem with concussions reared its ugly head again this pre-season and you really have to worry about his future in the game.
The Colts hope Coby Fleener can continue the success
he had with Luck at Stanford
The Colts were able to add Luck's favourite college target in the draft, taking tight end Coby Fleener in the 2nd round. A 6 foot 6, athletic player, Fleener looks very much in the mould of the new wave of TE's to enter the league and the Colts will hope he has similar success.
The offensive line does look a little shaky, 2nd year left tackle Anthony Castonzo is probably their best player, and he'll need to improve his play if the Colts want Luck to succeed.
In the backfield is former 1
st
round pick Donald Brown, taking over from Joseph Addai and looking to carry his 4.8 yards a carry form over from last season. If they can find success on the ground Brown and his backup Delone Carter, then it will take
lot of the pressure off Luck to win games by himself, because the other side of the ball is looking very weak.
Yes, they still have the master pass-rushers Dwight Freeney and Robert Mathis, but the change of scheme to a 3-4 will see them both move to outside linebacker for the first time. If new head coach and defensive co-ordinator Chuck Pagano keeps them playing downhill then they could cause problems, but just how they will cope if asked to work backwards in coverage we simply don't know.
The change to a 3-4 will take time to be effective. They lack the big bodies and talent on the defensive line, and are rather small at linebacker. While that means they will have good lateral quickness you could see a lot of teams overpower them up the middle.
The defensive backfield isn't that great either. Antoine Bethea is a nice player at safety, but it looks like they'll be relying on a change of scenery to push Vontae Davis back towards his top level of play at corner after acquiring him for a 2nd round pick from Miami. Davis can be good cover corner, but looked lazy and sluggish in Miami this pre-season.
I can't see a scenario where Indy get over .500 unless Andrew Luck breaks all rookie QB records and plays like a top 5 quarterback. The defense is going to give up a lot of points and struggle to get off the field. Their schedule is a little rough with the NFC North and AFC East but they don't play Houston until week 15 which will give them the hope of at least playing spoiler.
Jacksonville Jaguars (2011: 5-11, 3rd in division)
It wasn't exactly the best year for Jacksonville in 2011. Despite a very good defense they managed just 5 wins. They finally waved goodbye to Jack Del Rio as head coach and have now given former Atlanta Falcons offensive co-ordinator Mike Mularkey the reins.
With consistent local blackouts, rumours of the team moving, and an agreement to play in London once a year from 2013 to 2016, there are an awful lot of people looking for Jacksonville to play some good football and get back towards competitiveness.
Gabbert picked a lot of grass from his
facemask in 2011
2011 was a miserable year for the Jacksonville passing game. It was easily the worst in the league, they were adrift at the foot of every passing category worth talking about thanks to a truly horrible rookie season from QB Blaine Gabbert.
He was very skittish in the pocket, his eye level was very low and with just a 50.8% completion rate he was horribly inaccurate.
Gabbert needs to improve and fast if he's going to stick around the NFL for long and keep himself off the list of 1st-round busts.
Credit to the Jags front office though, they recognised that his receiving corps was far from good last year and have gone out and gotten him people to throw to. They used their very high first round pick on Oklahoma State wide out Justin Blackmon, the best receiver in the draft and then paid free agent Laurent Robinson handsomely to come over from Dallas where he excelled in 2011, but in a 3rd receiver role. They should be able to get open far more reliably for Gabbert than last year's leading receiver Mike Thomas.
They also have useful TE Mercedes Lewis and, despite a 38-day contract holdout, Maurice Jones-Drew in the backfield.
After a rushing title, in which he averaged just over 100 yards a game, MoJo wanted a new contract, but the new owners refused seeing as he still had 2 years left on his current deal. Just how the month-long absence will affect him is tough to say, we saw Chris Johnson be really badly affected by his holdout last year, and the same is possible of MoJo here, which would be a really big blow to an already poor offensive unit.
The modern "no name" defense
The Jaguars defense was rather impressive in 2011, but I bet you couldn't name more than 3 of their starters.
After a shocking 2010 they became a top 5 defense against both run and pass in 2011, despite a somewhat low sack count. Well they bought in Andre Branch in the draft to play opposite Jeremy Mincey to provide greater pass rush, they still have the impressive interior combo of Tyson Alualu (proof that a perceived reach in the draft can pay off) and Terrance Knighton. They have a solid group of linebackers lead by Paul Posluszny and Daryl Smith and despite advancing age Rashean Mathis continues to be a corner you'd rather not throw against. The safety position isn't great but they have some nice depth at corner after bringing in Aaron Ross from the Giants.
As I said with Houston's greatly improved defense, it's hard to make such a big improvement and not see some regression the next year. But I think this unit, provided it doesn't get given awful field position every game, will keep Jacksonville in with a chance.
They won 4 games behind the play of Blaine Gabbert last year, and he can hardly be any worse in 2012. If MoJo can keep his form, which given his work ethic and consistency so far I think he will, then Jacksonville could top last year's win total.
I certainly don't see them as a threat to take the #1 pick in April, but if Gabbert, who lost the most yards in sacks last year of any QB, can't improve his pocket presence and keep his eyes downfield then it's going to be a long year for Jacksonville and their 4 loyal supporters.
-
Toby Durant (@TdonSport)