You can see the rest of Brian Huntington's logos here
AFC East
| AFC North |
AFC South
|
AFC West
|
NFC East
|
NFC North
|
NFC South
|
NFC West
Welcome to the AFC North. In 2011 it was home to 3 play-off teams. And the Browns. It's a division where the 2nd oldest starting QB is a rookie. It's sent 4 representatives to the AFC Championship Game in the last 4 years and houses one of the hot favourites for this year's Super Bowl. It hosts one of the most brutal rivalries in sports with 2 of the fiercest defenses in the league. It has one of the best young teams around, oh yea, and the Browns!!!
So how will it all break down? My pick for the top of the division may surprise some of you, but I think it's going to be extremely close at the top.
Pittsburgh Steelers (2011: 12-4, 2nd in division, lost 29-23 in OT of Wildcard round to Denver)
2011 ended disappointingly for the Steelers, allowing an 80 yards TD to Demaryius Thomas at the start of overtime in the playoffs. With a hobbled Ben Roethlisberger and Rashard Mendenhall on the sidelines, it's maybe not that surprising that the Steelers were unable to repeat 2010's trip to the Super Bowl, but at the same time such a loss, to a team who were far less talented than them, would have stung and their rematch with the Broncos in week 1 will have been circled as soon as the schedule was released.
Sacking Big Ben is one of the toughest tasks in the NFL
It also started disappointingly, getting run over by the Ravens 35-7 in week 1, they'd go on to be swept by their bitter rivals in the season, and also lose to Houston and San Fran. But with only those 2 out-of-division losses, to teams they won't be playing this year, the Steelers did put together a very good 2011 season and are my tip to win the division this season.
The draft broke very kindly for them in the first round, picking up stud guard David DeCastro late on in the 1st. But the curse that has afflicted their offensive line for so long struck in pre-season and made a ruin of DeCastro's knee. He'll certainly miss the first half of the year, and maybe all of it. Meaning that the biggest upgrade they made in the off-season has completely vanished. As has some of our enthusiasm for the team, DeCastro is a monstrously talented player and had the potential to play at an All-Pro level straight away, couple his absence with missing Mendenhall and the Steelers run game could be a bit of a mess this year. But…
The return of Mike Wallace
Wallace finally strolled through the doors and signed his tender, and now the Steelers passing attack looks all the more potent. No receiver in the league can stretch the field quite like Wallace does. His blazing speed forces teams to sit deep against him, and yet he still has the ability to get behind them. His mere presence on the field will allow players like Antonio Brown, Emmanuel Sanders and Heath Miller more space underneath and give them more favourable match-ups. With Todd Haley on board as the new offensive coordinator Wallace might have a steep learning curve, but I doubt Haley will alter the "just go deep" plan that makes Wallace such a big threat.
James Harrison has his check book ready for 2012
There's been something of a changing of the guard in Pittsburgh. James Farrior and Aaron Smith were pushed out the door. Veteran nose tackle Casey Hampton has survived the cuts but has rookie Almeda Ta'amu breathing down his neck. Replacing the outgoing veterans will be a mixture of youth and experience. Larry Foote will get more playing time at Interior Linebacker now, and rookie Sean Spence could see work, although Pittsburgh have a habit of leaving defensive rookies on the bench for a year and letting them learn the system.
At defensive end 2nd year player Cameron Heyward seems set to take a starters job after being a 2011 1st round pick and a player I really liked coming out of Ohio State. But despite all the turnover they still have the outstanding linebacker corps of James Harrison and his QB-hunting buddy LaMarr Woodley plus the hyper-athletic Lawrence Timmons. This year's defense might look a little different from previous versions, but with Dick LeBeau still at the helm it's going to be mighty tough to beat.
There's a lot of talk about the Ravens taking that next step, and I'll come on to that in a moment, but that talk goes hand in hand with knocking the Steelers. Yes, their offensive line is a bit of a mess, but it has been for as long as Big Ben's been there, and he's done pretty damn well with it. If there's anyone built to cope with it it's Roethlisberger. And with that defense, and not having to play the Patriots or Texans, I think the Steelers are still big time competitors in the AFC North and are my pick to take the division.
Baltimore Ravens (2011: 12-4, 1st in division, #2 AFC seed, lost 23-20 in AFC Championship Game)
If. That's the one word that sums up Baltimore's 2011 season. If Lee Evans had just held on a second longer… If Billy Cundiff had just made that kick to send it to overtime…
But all that has to be put behind them if the Ravens are to take that extra step and make it to the big game. And all the talk is that they very well could.
Joe Flacco's break-out season?
There's been an awful lot of talk about this being the year that Joe Flacco breaks out, becomes an elite Quarterback and finally wins an AFC Championship Game. Personally, I don't see that as being likely, but not because of Flacco himself.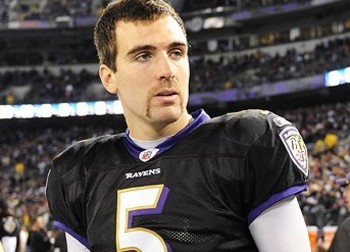 If Flacco becomes an elite QB, will his facial hair make the step up too?
I've never been a fan of Cam Cameron's offense, nor am I a fan of the receivers Flacco has to work with (or his facial hair). I think they'll all hold him back. Now they've been experimenting and trying out a new no-huddle offense, which will allow Flacco to call a lot of the plays himself and generally take Cameron's hands off the wheel and let Flacco go. The big question is will continue to use his best weapon in Ray Rice or just launch bombs deep to Torrey Smith. Flacco is one of the best deep ball throwers in the league, but his all round game still needs a lot of work. Football Outsiders super-stat DVOA (Defense-Adjusted Value Over Average) gave him a 0.0% for his work in 2011, making him an exactly average QB.
Personally, I think it would be foolish in the extreme to start taking the ball out of Ray Rice's hands. Ray Rice is such a threat any time he touches the ball, 4.7 yards a carry last season with only 9 of 20+ yards, showing just how consistent he was. Moving to a pass-first offense, at the loss of Rice's touches, would be counter productive in my opinion.
Can Flacco really go from average to elite? Flacco's best season, by DVOA, was 2010 where his 62.6% completion rate, 3349 passing yards, 25 TD's and 10 INT's was good enough to get him a 9.4% DVOA, but that was still only 15th best in the league.You'll never be concidered elite if you can't even break the top 10 at your position.
I don't see all this breakout talk personally. Flacco is a good QB but I don't think he's got the pieces around him in the passing game to break out and put up elite numbers. Smith is unreliable, Boldin struggles to get open these days and while the TE combo of Dennis Pitta and Ed Dickson are useful, they're by no means stand-out players. Flacco's also lost Ben Grubbs from his offensive line and there are still questions about the tackles. Much like 2011, I expect the Ravens offense to be dangerous, but to have the kind of terrible performances mixed in like they did last year, when they just simply don't turn up
Sergio Kindle (94) & Courtney Upshaw (91) have big shoes to fill
So there's no Terrell Suggs, at least for the first two months. And there's no Jarret Johnson either. All of this means that the youth infusion the Ravens OLB position has had in the last 2 drafts is going to have to step up. Sergio Kindle's rookie season was lost after a freak accident, but the talented pass rusher is back now and will be joined by 1st round talent in a 2nd round pick Courtney Upshaw. Yes, that's a downgrade from a tandem of the reigning Defensive Player of the Year and a very underrated all-rounder, but at some point these young guys are going to have to get blooded anyway. There are, of course, other excellent players on the Ravens defense. Haloti Ngata, despite some stiff competition, continues to be the best 3-4 defensive lineman in the league and young Lardarius Webb, coming off of an outstanding sophomore year, has a legitimate chance of getting himself into the elite cornerback group if he can repeat last year's performaces.
The Ravens will continue to bemuse people with their defense. Ray Lewis will continue to be a pre-snap general even if his skills have fallen off, and Ed Reed is still the best ballhawk in the game. They're going to be a fearsome and tough unit even if the pass rush is a little lessened this year. Remember what they did to San Fran last year? That kind of dominance up front is the threat that they bring every game, and every game they'll put the Ravens in a very good position to win.
They're going to make the play-offs. Yes I have the Steelers as taking the division, but the Ravens are the majority of people's pick this year to be the AFC representative in the Super Bowl. That wouldn't surprise me at all, they have all the potential to do it. But their lack of talent at receiver worries me, the way the offense just disappeared at times last year worries me. 10-12 wins is my range, and at least 1 playoff win. But some people may be a little disappointed with how this season goes for Balitmore.
Cincinnati Bengals (2011: 9-7, 3rd in division, #6 seed, lost in wildcard round 31-10 to Houston)
It's never nice to lose a play-off game to a team that's QB'ed by someone called TJ, but when getting to the play-offs is a huge surprise you can kind of get over it.
Not a lot was expected of the 2011 Bengals team, with a ginger rookie helming the offense, Marv Lewis still coaching, questions all over the skill players and defense. But they scrapped their way into the play-offs. You can put that down to the Jets imploding, the Peyton Manning injury or whatever you like, but they steered through a tricky division, lost only to other play-off teams (24-22 to pre-Tebow Denver, 13-8 to San Fran, 20-19 to Houston & their 4 games vs Pittsburgh and Baltimore) and were in with a chance in a lot of those losses.
So can they find their way into the play-offs again? Should that even be the aim of a team who's starters could be so young? Surely the name of the game for 2012 will be…
Youth Development: Offense Edition
Can Dalton build on an impressive rookie season?
The aim this season is bringing along their young stars. There's a potential 6 starters, on offense alone, that are under 25. That is young. Andy Dalton and AJ Green set QB/WR tandem records for rookies last year and are looking to push on this season. There's a lot of talk about AJ Green moving into the elite tier of wide outs already, can he do it? I don't doubt that he has the talent, but can he put the hype to one side and truly take over games like the very best do? We'll have to see. The battle for #2 behind Green is truly open, rookie Mohamed Sanu and ex-patriot deep threat Brandon Tate seem to lead the way, but don't think the Bengals won't roll with a lot of 2 TE sets this year, Jermaine Gresham is now joined by rookie Orson Charles and could form a tough to handle duo over the middle.
They were able to turn a "retired" Carson Palmer into the latest graduate of lineman factory Wisconsin Badgers, Kevin Zeitler, and add him to a guard position that features just 1 player over 23. The offensive line will be anchored by the extremely underrated left tackle Andre Whitworth who is almost ancient for this team at 30.
While there was no room for my favourite rookie Dan "Boom" Herron in the backfield, it's hardly old after getting rid of Cedric Benson in favour of younger free-agent BenJarvis Green-Ellis.
This could be a unit that, provided the coaches don't try too many "exotic" or complicated plays, could surprise a few people. I really liked Andy Dalton coming out of TCU and his rookie season showed he had a talented arm and a calm head. If he can continue to grow then those close losses to play-off teams last year could suddenly turn into wins…
Youth Development: Defensive Edition
Cincy's defense could be a match for anyone this season
Carlos Dunlap, Geno Atkins, Devon Still, Rey Maualuga, Dre Kirkpatrick and George Iloka are going to play a big part on this defense and are all 25 or under. Throw in top cornerback Leon Hall at 27, Manny Lawson and Thomas Howard at 28 and 29 respectively and Domata Peko at 27 and you get the feeling that what was an impressive unit in 2011 could get even better in 2012 as these players progress.
While the Bengals defense were one of the more consistent units all season, they did begin to tail off towards the end of the season, which can be put down to the young players struggling to maintain their performance levels during a gruelling season. If the added depth of Still, Kirkpatrick and others can provide good positional depth then we could see this Bengals team really push on to be an annual top-10 defense.
Play-offs shouldn't be mentioned. Improving week to week should still be the mantra of the Bengals, but given all the issues out west, the lack of competition in the south and the awful, awful Jets in the east there really is a chance for the Bengals to get back to the play-offs. Sure, they might be a one-and-done 6 seed again, but play-off experience is never a bad thing.
I expect the Bengals to just miss out on that #6 seed, but come 2013 or 2014 they could be a legitimate threat for a divisional crown. I think this team has that kind of potential. It just comes down to whether or not the coaches are good enough both schematically and as player developers to get every last drop of skill out of these guys.
Cleveland Browns (2011: 4-12, 4th in division, 4th overall draft pick)
Cleveland show off their 1st round picks
Yuk. That's how you sum up Cleveland, in pretty much everything. 2011 was as bad as expected. Colt McCoy, despite his awesome QB name, showed he very much wasn't an NFL QB. Mind you it didn't help that all his receivers had a bad case of the dropsies either. Greg Little managed to drop 18.67% of the 75 catchable balls that came his way, "good" enough for 4th in the league. I dnot care that he was a rookie, that's just not acceptable.
So in has come some new blood. 2nd year Head Coach Pat Shurmur has new toys on offense to play with, but it might not be all good.
BOOOOOOO!!!
Starting a rookie at quarterback in week 1 is never easy. Starting a 28-year old, who spent 4 years out of football in the Yankees farm system just seems crazy, especially give the horrific play of the last guy, Drew Henson, who tried to be a Yankee and an NFL quarterback.
Taking him from an exclusively spread offense in Oklahoma State, with receivers like Dez Bryant and Justin Blackmon, to an under centre, run-first one with Greg Little and err… not much is almost asking for trouble.
I like Weeden though. He seems like a smart player and has a good arm. Maybe he can be the guy to make Cleveland respectable again.
Behind him is the super-talented rookie running back Trent Richardson. The former Alabama running back was taken 3rd overall after the Browns moved up a spot to guarantee getting their guy. With Peyton Hillis failing to repeat his 2010 performance last year and moving on in this off-season there was certainly a big hole at running back. But is it really worth spending a 3rd overall selection on him, when they could have added talent at other, harder to find, positions? They could have added superb tackle Matt Kalil, potential stand out WR Justin Blackmon, an elite defender like Mark Barron or Luke Kuechly or even taken Ryan Tannehill to be their franchise signal-caller. In the era of passing, where committee backfields are common place and 3 teams ranked dead last in rushing have made the super bowl in the last 4 years is it really wise, no matter how talented they are, to make a big investment in a running back?
The rest of the offense, outside of elite left tackle Joe Thomas and good centre Alex Mack, is seriously lacking. The wide receivers really need to step up and show they can get open and keep a hold of the football, otherwise it's going to be a tough time for Weeden and Richardson, coming off 2 knee surgeries in 6 months, will be facing 8 man boxes far too often.
There are actually some really nice pieces on the defense for The Browns. But as ever, the Sporting Gods spit on Cleveland.
D'Qwell Jackson can only fill so many holes on defense
Super talented big boy Phil Taylor is on the PUP list with a torn pectoral, which will probably keep him out all year, seriously weakening their run defense. Cornerback Joe Haden, who was playing very close to an elite level, is facing a 4 game suspension for PED use. Their outside linebacker Scott Fujita has been suspended as part of the Bountygate scandal. It could only be worse if they had someone with an absurd name like, I dunno, Frostee Rucker.
They do have tackling-machine D'Qwell Jackson back after a pre-season shoulder injury, and promising 2nd year defensive end Jabaal Sheard too, but it's surely only a matter of time before something befalls them too.
As a unit the Browns weren't too bad last year, but they were generally below average, and the loss of all these players from their starting lineup is going to hurt.
It won't be fun this season. After the huge disappointment and hilarious youtube videos in the wake of failing to move up for Robert Griffin, the fan base could give Brandon Weeden a very short leash. And the new owner could have Pat Shurmur and Mike Holmgren on a short leash too.
I don't expect much of an improvement from their 4-12 mark last year, in fact it's very possible that they go backwards and could well find themselves "on the clock" as it were after week 17 and starring longingly at USC's Matt Barkley.
There are pieces in place that could begin to pay dividends in the win column in 2013 or '14 though. Trent Richardson is extremely talented, they have a franchise left tackle and a potential lockdown corner which are two of the hardest to find pieces on the NFL chessboard. There's certainly light at the end of the tunnel, but whether or not they get any closer this season will have a lot to do with Weeden's development and if the new ownership can keep faith with the current front office. Constantly chopping and changing coaches, general managers and VP's of Player Personnel never result in good things for the team. It's consistency of philosophy & scheme that will, eventually, bring the Browns to a competitive level. Unless there's a 3rd Harbaugh brother out there they can bring in….
-
Toby Durant (@TDonSport)