The NFL season has officially started, and what a first week it was! We saw some huge upsets in New York (Jersey) and New Orleans, we saw playoff-favourites in the Lions and the Eagles struggle to narrowly eke out wins against bad teams, and we saw #18 play as if he had never been injured at all.
As Week 2 kicks off, we check in on our inaugural Inter-Blog Prediction Game... or, as it's now known, the D'Pickashaw Ferguson League. As a whole, we must be doing something right, as seven of eight unanimous picks won their games, with only Braylon Edwards letting both the Seahawks, and all five blogs, down. Individually, the guys from v2journal are bringing up the rear as the only blog with a sub-.500 record so far, but, of course, it's still early days yet. On the other side of the spectrum, we have a tie between Until Kickoff and our own Gur (who finished last among the blog in 2011) at 11-5, with Phil just a step behind at 10-6. You can find all our picks after the jump, but first, here's our Games of the Week, which this week features Second City Fanatics' Olly Dawes in the guest slot...
Phil's Game Of The Week: Kansas City Chiefs (0-1) @ Buffalo Bills (0-1) - Sunday 1pm EST
Before week 1, this match looked very much like the battle of the dark horses. The Chiefs are/were many people's favourites to rise to the top of the competitive AFC West, with the Bills tipped to leapfrog the Jets as the number two team in the AFC East and challenge the rest of the conference for a Wild Card slot. After their respective thumpings in week 1, at the hands of the Falcons and Jets, this matchup could be very revealing as to whether either will live up to their billing come seasons end, or if it's going to be another year-long struggle to a sub .500 record.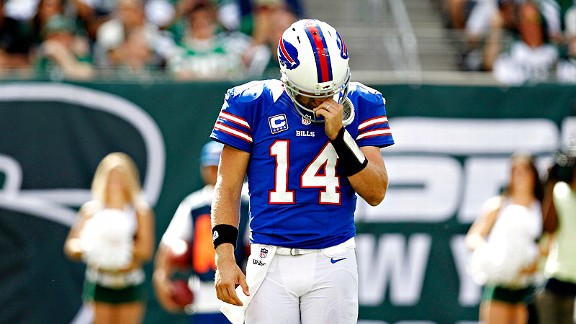 Can Ryan Fitzpatrick improve on his three-pick performance?
The Chiefs were lacking two of their key defensive players in week 1, pass rusher
Tamba Hali
and starting corner Brandon Flowers, and it really showed, with the Falcons scoring points on their opening 8 drives of the game. That's pretty ridiculous. Both should hopefully back in the lineup for week 2, and will look to put as much pressure on the Bills O as the Jets managed to in the first half of week 1. Ryan Fitzpatrick was a big reason for the Bills collapse against NYJ early on, throwing 3 poor interceptions despite having a good pocket and plenty of time to throw behind a Bills OL that
ranked #2 in OLR
for week 1 for at least two of the picks. Fitzpatrick did have a good latter part of the game, however, throwing 3 TDs, but it was too little too late. Now, without
Fred Jackson
for 4+ weeks with a sprained LCL (an injury I know personally, it's not very nice), the team will rely heavily on Fitzpatrick to make more plays, as CJ Spiller surely can't rush for 165 yards every game...
This is an almost impossible one to call (reflected by our picks below being split right down the middle), but both teams will feel they need the W to stop their season ending before it's even got going.
Toby's Game Of The Week: New Orleans Saints (0-1) @ Carolina Panthers (0-1) - Sunday 1pm EST
There are no "must win" games in week 2, let's just get that straight right away. But, if you're the New Orleans Saints you have to be extremely worried about how last week went. Giving up 40 points to a rookie QB, showing a complete inability to stop anything on defense and also the failure of receivers to get open consistently on the offense has to be worrying. Adjustments certainly need to be made and it will be very interesting to see if the interim interim head coach can make them this week.
As good as they are, the Panthers linebacking corp will
struggle without solid play on the DL ahead of them
As for the Panthers, well I don't think losing last week is such a shock, but it's more the manner of the defeat. Their offensive line was utterly miserable, and when you have
Jordan Gross
and
Ryan Kalil
on it that is simply unacceptable. They failed to get anything on the ground (10 yards on 13 carries) against what was the leagues worst run D last year. Now that could be the rust getting knocked off, it could be that Tampa have greatly improved their defense or that Carolina are on the decline as a running force, we'll have to wait and see, but if they struggle on the ground against the Saints then you can inch your finger closer to the panic button.
The Panthers defense too looked very poor, despite a great set of linebackers. The main weakness is in the interior defensive line, still, and we could see the Saints show off their fearsome power run game behind
Jahri Evans
and Ben Grubbs.
I expect the Saints to win fairly comfortably, after all Drew Brees is still Drew Brees and Jimmy Graham is still an athletic freak. But if they have the same issues as they did against the Redskins then the volume will only increase from the talking heads about them being nothing without Sean Payton.
Gur's Game of the Week: Detroit Lions (1-0) @ San Francisco 49ers (1-0) – Sunday 8:30pm EST
This week's Sunday Night Football matchup features two teams who are on a similar trajectory; after years of playoff banishment (San Francisco not having made the playoffs since 2002, the Lions since 1999), both made the post-season in 2011 on the back of very, very good play on one side of the ball, compensating for mediocrity in the other.
Having drafted
Matthew Stafford
with the #1 overall pick in 2009, last season saw the first real return on their investment, being the first season Stafford played through all 16 games. After two seasons of question marks, the Lions finally appeared vindicated in their selection, as Stafford become one of only four QBs to ever pass for over 5000 yards in a season, throwing 41 TDs to 16 INTs on the league's most pass attempts for a 97.2 passer rating, good for fifth in the NLF last year. With Stafford's arm (and, of course,
Calvin Johnson
's hands, height, speed and the rest of him too), the Lions ended up with the 6
th
seed in the NFC, despite a defense that, for all the pre-season hype about the fearsomeness of their front four, finished 23
rd
in the league in both total yards and points allowed. With a bunch of injuries in their secondary, they will need to lean heavily again on Stafford and the offense to make the playoffs.
Unfortunately for them, the Stafford we saw in Week 1 looked nothing like the Stafford we saw in 2011. Playing behind a very good O-line display (finishing third in OLR, our exclusive new stat for rating offensive lines), Stafford threw three interceptions with no real pressure. With his injury history, it's perhaps unsurprising that he is feeling a little jittery, and as last season was his first full season, perhaps Lions fans should expect some sophomore slump-type symptoms from Stafford; but if he was prone to phantom pressure against the Rams, how is he going to cope against the 49ers?
And how bout those 49ers? They have the most dominant front seven in football beyond question – they will make Sunday's game a nightmare for Stafford. Unlike last year, their offense actually looked threatening last week, with efficient and effective quarterback play from Alex Smith and a powerful run game that racked up 186 yards last week. Still, it was the defense that was the star of the show, picking off Rodgers once and dropping another potential pick, dropping the Packer QB three times, whiled holding what little run game the Packers had to just 3.2 yards-per-carry.
While, after Week 1, the 49ers are the clear favourite heading into this game, you cannot count the Lions out completely. Stafford did still have a phenomenal season last year, and has the best weapon in the game at his disposal; the Lions' defensive line can still cause disruption against an offensive line that graded negatively in OLR last week, and if Stafford can remain calm in the pocket, the game might be a lot closer than people expect going off of Week 1. Both teams, having the sweetness of the postseason in 2011 after so long, are desperate to get back straight away; in a stacked NFC, knocking off a rival contender for a playoff spot will be a huge statement of intent.
And if that didn't give you enough incentive to watch, just remember what happened the last time these two coaches faced off...
This. This happened.
Guest Game of the Week: Denver Broncos (1-0) @ Atlanta Falcons (1-0) - Monday 8:30pm EST
By Olly Dawes, Second City Fanatics (@OllyDawes)
I'm looking forward to the Bears-Packers rivalry on Thursday night, but my game of the week comes from the Georgia Dome as the Denver Broncos take on the Atlanta Falcons.
Both teams won their opening games of the season in style, with the Falcons hammering the Kansas City Chiefs 40-24, whilst Peyton Manning showed what he is still capable of with an assured performance in Denver's 31-19 victory over the Pittsburgh Steelers.
This is a tasty looking fixture, so much so that it will the featured Monday Night Football game – which you can of course catch on the red button on BBC if you're in the UK.
The Falcons have suffered playoff heartache in each of the last three years, prompting question marks over quarterback Matt Ryan's ability to lead the team in the crunch moments. With a new offensive co-ordinator in place, Ryan will now be placed in a pass-happy offense and with receiving options like Roddy White, Julio Jones and Tony Gonzalez, they clearly believe Ryan has the ability to take them on a deep playoff run.
Sunday's thumping of the Chiefs saw Ryan throw for for 299 yards and 3 touchdowns – as well as one rushing touchdown too. It's obviously just one game, but if Ryan can keep up that kind of pace then the Falcons will be hard to stop.
Meanwhile, the Denver Broncos have undergone a total change in the summer. The Tim Tebow Roadshow has moved on to New York with the Jets, and in his place comes Peyton Manning, one of the greatest quarterbacks in the history of the game.
Of course, Manning was available for a reason – his much publicised neck surgeries meant the Indianapolis Colts decided to go in a different direction. Denver stepped in to take the 36 year old to Mile High Stadium, and Sunday's win over the Steelers was the perfect start.
Manning showed little signs of his neck injuries, executing his famous no-huddle offense to perfection. With Brent Grimes missing for the Falcons at cornerback, the depth in that position is weak. If the Broncos run 3 or 4 wide sets, they could get some joy.
I'm expecting something of a shootout on Monday with each offense taking centre stage, and despite Peyton looking near back to best, I'm taking the Falcons with home advtanage to grab the win.
Second City Fanatics was created by myself and a friend in January 2012, but he unfortunately passed away from a cardiac arrest. I tried to get the site more well known because it would've disappointing to let it go. At the moment, we have a writer for each team and content going online daily.
=====================================

Here's all our picks for Week 2. Be sure to check back next week and see how we did, and to check out our Games of the Week, which will feature TomTom Sports in the guess slot. Enjoy!
| | | | | | | | |
| --- | --- | --- | --- | --- | --- | --- | --- |
| | Toby | Phil | Gur | Until Kickoff | v2journal | | TomTom Sports |
| Bears @ Packers | Packers | Packers | Bears | Packers | Bears | Packers | Bears |
| Buccaneers @ Giants | Giants | Giants | Giants | Buccaneers | Giants | Giants | Giants |
| Raiders @ Dolphins | Raiders | Dolphins | Raiders | Raiders | Raiders | Raiders | Raiders |
| Texans @ Jaguars | Texans | Texans | Texans | Texans | Texans | Texans | Texans |
| Browns @ Bengals | Bengals | Bengals | Bengals | Bengals | Bengals | Bengals | Bengals |
| Chiefs @ Bills | Chiefs | Bills | Chiefs | Bills | Chiefs | Chiefs | Chiefs |
| Ravens @ Eagles | Ravens | Ravens | Ravens | Ravens | Eagles | Ravens | Ravens |
| Saints @ Panthers | Saints | Saints | Saints | Saints | Saints | Saints | Saints |
| Cardinals @ Patriots | Patriots | Patriots | Patriots | Patriots | Patriots | Patriots | Patriots |
| Vikings @ Colts | Vikings | Vikings | Colts | Colts | Colts | Vikings | Colts |
| Redskins @ Rams | Redskins | Redskins | Redskins | Redskins | Redskins | Rams | Redskins |
| Cowboys @ Seahawks | Seahawks | Cowboys | Seahawks | Cowboys | Cowboys | Seahawks | Cowboys |
| Jets @ Steelers | Steelers | Steelers | Steelers | Steelers | Steelers | Steelers | Steelers |
| Titans @ Chargers | Chargers | Chargers | Chargers | Chargers | Titans | Titans | Chargers |
| Lions @ 49ers | 49ers | 49ers | 49ers | Lions | 49ers | 49ers | 49ers |
| Broncos @ Falcons | Broncos | Falcons | Broncos | Falcons | Broncos | Falcons | Falcons |
| Last Week | 8-8 | 10-6 | 11-5 | 11-5 | 7-9 | 9-7 | 9-7 |
| Season | 8-8 | 10-6 | 11-5 | 11-5 | 7-9 | 9-7 | 9-7 |