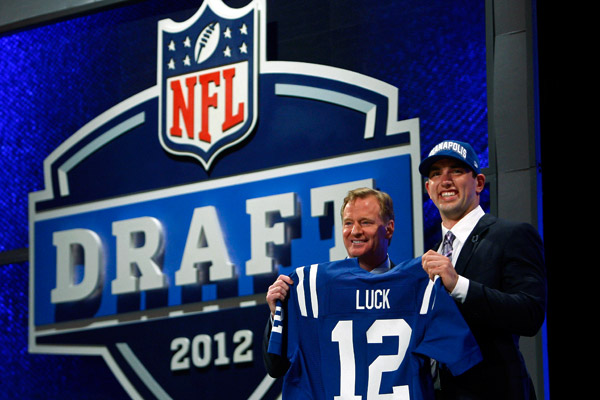 Starting a rookie Quarterback in week one is a decision that should not be taken lightly. Pushing the future of your franchise into the spotlight too soon can be damaging beyond repair. But at the same time, how can he get better and grow if he's no getting any live game time?
In 2012, as many as 5 rookies are likely to start under centre for their new teams on opening week. First and second overall picks Andrew Luck and Robert Griffin III have been shoe-ins to be handed the reins the moment they were drafted. Fellow first-round selections Ryan Tannehill and Brandon Weeden have been declared as their teams starters, and following his excellent showing in pre-season third rounder Russell Wilson has won the starting job in Seattle.
But is it a wise choice to throw your young prospects straight to the wolves like this?
The thing with the NFL, is that there's no minor league system for your draft picks to be moulded and developed at your desired pace. In the NHL & MLB most draft picks spend a lot of time working through the minor league systems so that they are as ready as they could possibly be before joining the big boys. In the NFL you get one pre-season and then it's Trial By Fire.
For every rookie success story there's 3 failures. Times where the speed of the NFL game is simply too much, where playing behind a terrible O-Line results in taking hit after hit until they are a shell of themselves (Poor David Carr).
David Carr's rookie season broke the NFL record for most sacks taken
Cam Newton and Andy Dalton's astonishing rookie campaigns of 2011 might have you thinking that these days, with the college game being so advanced and coaching having improved so much, that rookie flops are less likely. But Newton was surrounded by Pro-Bowl talent like Jordan Gross, Ryan Kalil, Steve Smith and the two-headed monster at running back (admittedly so was Jimmy Clausen before him, but he was a disaster from day one, as shown by his draft day slide.). Not every rookie QB is as lucky as Cam was in having that sort of supporting cast around him.
This season it could be argued that the least proclaimed and discussed QB, Russell Wilson, has the better situation around him. From a young O-Line that's full of potential, to Marshawn Lynch behind him and one of the best home field advantages in the league. He's also well out of the spotlight in Seattle and in a division that's in constant flux.
Andrew Luck and Robert Griffin have the pressure of "saviour" status and huge expectations on their shoulders. As good as they are that can crush anyone, and they don't have half of the talent around them that Cam Newton did last season. Luck inherits an Indy team in full rebuild mode, while the offense around Griffin has a lack of #1 targets.
Brandon Weeden has little time to learn the ropes if he's to make it in the NFL
The Browns really have little option but to start Brandon Weeden straight away. At 29 he doesn't have the time to sit on the bench for a year or two and develop. If you're going to get anything like a good return for him, you have to throw him straight in and see what he's got, and if he doesn't produce then there's every chance the Browns could end up with the #1 pick in 2013 and bring in another QB.
As for Ryan Tannehill, the former WR has had just 20 NCAA starts as a QB. And the some of those were iffy to say the least. He had 4 games at Texas A&M where he threw 3 interceptions. By contrast Russell Wilson has started all but 1 game in his college career at NC State and Wisconsin. Wilson threw just 4 interceptions all year with Wisconsin in 2011.
While their NFL situations seem very similar they are a completely different kettle of fish. Tannehill comes in as a high 1st round selection with a new head coach and new offense in Miami for everyone to get used to, and with last season's starter Matt Moore still in town after guiding the Dolphins to a 6-3 record to close the season out.
Russell Wilson walked into Seattle as a 3rd round pick and an open QB competition with last years starter Tarvaris Jackson and free agent acquisition Matt Flynn, and it was one that he was expected to lose. Expectations couldn't have been any different for the two of them and yet they have both been made week 1 starter for 2012.
Tannehill was seemingly anointed from day 1, and it didn't take long at all for Joe Philbin to announce him as the #1 guy. Wilson had to earn it the hard way with 2 great performances with the back-ups and then his stellar performance as a starter against Kansas City before he was officially given the reins.
Wilson's experience and calm head have shone through in training camp and game time. His decision making skills were obvious during his time at college and never even called into question through the draft process, his lack of height (he stands at 5 foot 11, very small by NFL QB standards) was all people talked about. But Tannehill showed an awful lot of questionable decision making during his time under centre for The Aggies, but his prototypical body and big arm made him a better prospect in the draft.
Tannehill (left) is the picture of a ideal QB body
Tannehill needs time to smooth the edges and polish his game, Wilson is far more the finished article. As a result I'm all for Wilson being named the starter and very much against Tannehill, especially since I think Matt Moore can do a good job steering the ship while Tannehill is allowed to mature a little more.
But in the end, you're always taking a huge risk starting a rookie QB straight out of the gate. There are no guarantees with QB prospects in the NFL, and the pressure on coaches and front offices to win now is huge. The need to see some immediate return from your high draft pick is what can drive the starting of QB's before they are ready. And nothing can kill confidence & composure like being thrown to the wolves before you're ready to fight back.
-
Toby Durant (@TDonSport)