Can you smell that? The aroma of sweat and hard work is coming from 32 training camps around America, and can only mean one thing: The 2012 NFL season is mercifully near. The long days of summer, eased this year by the Olympics, are finally breaking into that which we all love the most, The NFL season. With the Hall of Fame game already behind us it's time for what we know you've all been waiting for, The Pulling Linemen's pre-season power rankings!
Once again this will be in the same format as last year. We each put together our own rankings and the highest average position won out. There might be a few surprises in there, some shocks for those of you not used to our unique, and awesome, way of looking at the National Football League. As ever we encourage comments both here and to our twitter or facebook and we shall endeavour to answer them.
We hope you enjoy the read and are as excited about the start of the 2012 season as we are.
1: Green Bay Packers (TD = 1; PG = 2; GS = 4)
Some will ask why the defending champs aren't at #1, after all they were the guys who knocked the Packers out of the play-offs. But that was last year and this is now. The Packers have had a quiet, low-key offseason. They've not lost much and have added to the defense in the form of pass rush talent Nick Perry. They still have reigning MVP Aaron Rodgers under centre and a myriad of weapons around him. And their defense can hardly play any worse in 2012 than they did in 2011. This is an incredibly potent team who can keep score with anyone and have huge turnover potential on defense. To discount their 15-1 regular season effort due to 1 bad day in January would be foolish in the extreme. (Toby Durant)
2: New England Patriots (TD = 2; PG = 1; GS = 5)
Despite reaching the Super Bowl , the Patriots were undeniably a flawed team in 2011, particularly on defense; so bad, in fact, that Bill Belichick acted very un-Belichickian in the draft, moving up twice in the first round to grab Chandler Jones and Dont'a Hightower, though how soon they can begin to contribute remains to be seen. On offense, the team have loaded up on TEs, but retirements along the offensive line has left question marks along the front five. Still, as long as Brady and Belichick are in place, none of these problems are enough to prevent New England being AFC favourites again in 2012. (Gur Samuel)
3: Baltimore Ravens (TD = 4; PG = 4; GS = 3)
It was a tale of what could have been for Baltimore in 2011. An almost TD in the corner of the endzone for Lee Evans would have sent them into SB XLVI, and only a missed Billy Cundiff field goal kept them out of overtime in the AFC Championship game. They've locked up Ray Rice this offseason, avoiding an awkward Flacco-vs-Rice franchise tag situation next year, and only lost one really notable starter in OG Ben Grubbs. Drafting Kelechi Osemele will hopefully fill that hole on the OL, and Courtney Upshaw will be relied upon early to help cover for the huge loss of Terrell Suggs through injury. (Phil Gaskin)
The Ravens - Steelers rivalry won't go away any time soon,
And we're very thankful for that.
4: Pittsburgh Steelers (TD = 3; PG = 5; GS = 6)
An overhaul on defense, a new offensive coordinator and a contract holdout from one of your best players is hardly a recipe for a successful start to the season. And yet we all have the Steelers high after they put together a strong draft to do what has long been needed, improve their offensive line. The addition of the monstrous David DeCastro and talented young Mike Adams should see big improvement in both run blocking and pass protection. The removal of some of the older defensive players like Aaron Smith and James Farrior means bigger roles for top young players like Cameron Heyward who have been in the system for some time now. Despite Rashard Mendenhall's ACL injury the Steelers should be in good shape with Antonio Brown under a long term contract now, and I have faith that Mike Wallace will be in camp before the season begins proper. (TD)
5: San Francisco 49ers (TD = 8; PG = 6; GS = 1)
Some people say there is no such thing as miracles. To those people, I point to Alex Smith leading a team to 13 wins in 2011. With arguably the best defense, and unquestionably the best front-seven, in the league, and a plethora of new toys at the skill position, Smith has never been in a better position to succeed. If the Alex Smith we saw facing the Saints in the playoffs shows up consistently in 2012, San Francisco will be your Super Bowl XLVII champions; if not, the defense are good enough that they should be back in postseason contention – possibly with Kaepernick under center. (GS)
6: Houston Texans (TD = 6; PG = 9; GS = 2)
Injuries derailed a promising 2011, but
the Texans have lost a lot since then.
As much as I like the Texans in 2012, ranking them 9th personally, looking at their offseason moves it's actually pretty hard to justify why. In 2011 they were a team that was arguably just an injury away from the Superbowl, but with more losses than gains since their loss to the Ravens in January, can we rally have the Texans in our top 10? Mario Willims and DeMeco Ryans and gone, and the biggest loss in my opinion, Eric Winston, is now in KC. The Texans ground game has been phenomenal with Arian Foster earning a sport amongst the league's elite RBs, but that was built on the foundation of a dominant zone blocking OL - for which Winston was the perfect RT. With him out, the Texans will need to hope their running game can hold up. Especially as they didn't manage to bring in a decent #2 receiver to go opposite Andre Johnson, and in fact let Jacoby Jones go. (PG)
7: New Orleans Saints (TD = 5; PG = 7; GS = 7)
No one had a worse offseason than the Saints. No Sean Payton for the entire 2012 season, no Johnathan Vilma (courtcase pending) etc etc. But the crucial thing was that they got Drew Brees signed and into camp to help put together the offense, which actually looks very strong. The loss of Carl Nicks has been offset well by the addition of Ben Grubbs, their running back depth chart is very strong and Jimmy Graham will continue to be a huge match-up problem for every defense the Saints play. How the defense can adapt to a new, less malicious, coordinator is yet to be seen, but there is talent a plenty including new signing Curtis Lofton. (TD)


8: Chicago Bears (TD = 10; PG = 3; GS = 8)
Arguably no team last year had their momentum killed off as suddenly as the Bears. Losing both Jay Cutler and Matt Forte to IR within the space of three weeks turned a team that seemed guaranteed of a playoff berth into .500 mediocrity. The good news for Chi-town is both are back (with good depth at RB should Forte go down again), Cutler has been reunited with Brandon Marshall, and Mike Martz, always allergic to keeping in extra blockers, is no longer running the offense, meaning Cutler shouldn't get hit quite as much. Throw in rookie Shea McClelin to double up with Julius Peppers in terrorising opposing QBs, and the Bears could be real contenders in the NFC North. (GS)


9: New York Giants (TD = 7; PG = 8; GS = 13)
Last years' Superbowl champs come in at #9, and look good for another good season in 2012. Their team is experienced, talented, and has a solid veteran leadership, even when in comparison to the always tough NFC East. For all that they've lost in the off-season, NYG have attempted to replace them. Jacobs out, so draft David Wilson. Manningham out, so draft Reuben Randle. All their TEs have significant knee injuries, bring in Martellus Bennett and draft Adrien Robindon. The concern for the Giants towards the end of the season was their LB corp, so they also added Keith Rivers, plus NT Shaun Rogers will help protect the guys behind him. None of these additions individually have set the world on fire, but collectively, and added to a Superbowl winning roster, well, it looks pretty rosy!
(PG)
10: Philadelphia Eagles (TD = 11; PG = 10; GS = 10)
With Peters sidelined for 2012
more than a few plays will
have to be re-worked.
First and foremost, all our thoughts are with Andy Reid during this awful time for him and his family. But focusing on the team, the Eagles remain the incredibly talented, but slightly shallow, enigma of the NFC East. If Michael Vick can stay healthy (unlikely) and DeSean Jackson can remain focused (also unlikely) there's enough talent to see the Eagles into the playoffs at least. The loss of Jason Peters for at least this year can not be understated. He was a huge piece of the offense who opened up huge lanes for LeSean McCoy as well as provided great protection. Adding Demetress Bell is a good replacement, but still is something of a drop-off in play. A good draft saw a lot of defensive talent come in to try and fix what was a bit of a leaky run defense. If they can be more consistent on defense then they stand a good chance of wrestling the division away from the Giants. (TD)
11: Detroit Lions (TD = 9; PG = 12; GS = 14)
Playing all sixteen games for the first time last season, Matthew Stafford showed just why he was picked #1 overall in 2009. But therein lies the rub – can Stafford stay healthy again? One season is not a trend; Stafford still needs to prove he can stay on the field before he can be fully freed from the "injury prone" label. With a running back stable whose collective health is as precarious as Stafford's, and Calvin Johnson having to avoid the subconcious psychosomatic pressure of facing the dreaded "Madden Curse", those expecting Detroit to return to the playoffs this year may be disappointed. (GS)
12: Dallas Cowboys (TD = 12; PG = 15; GS = 12)
I've heard it said a lot this offseason that the Cowboys are the most talented team in the NFL at the moment. Whilst I certainly don't agree with that, I can see where people are coming from. The potential for this team is there in bucket-loads. With Miles Austin and Dez Bryant at WR (at least for the first half of games, before Dez's mind drifts towards getting banned from more malls), a potential star in DeMarco Murray in the backfield, sack beast DeMarcus Ware on the outside and new CB duo of Brandon Carr and Mo Claiborne, this team is full of names that *might* allow Dallas to make that final push. The problem I have is that whilst they have these massive names, their depth scares me. Real championship contenders have great players who can make each other better and cover for one another if someone is having a bad day. This Cowboys roster has some great players, but it doesn't make them a great Cowboys team. Yet. (PG)
13: San Diego Chargers (TD = 16; PG = 13; GS = 11)
Another year of Norv Ball doesn't exactly inspire confidence in us that the Chargers can get back to the elite team they used to be. Their potent passing game could be somewhat blunted with the departure of Vincent Jackson and the forced retirement of the excellent Kris Dielman. However, the continued improvement of young runner Ryan Mathews should help push the offense forward if he can avoid injury. And there's always the slim chance that Antonio Gates could get fit and prove he's still the daddy of pass-catching TE's. On defense the need for a pass rusher was addressed with the addition of the super-versatile Melvin Ingram but will that help their 29th ranked defense (according to Footballoutsiders.com)? (TD)
14: Denver Broncos (TD = 14; PG = 18; GS = 9)
#18 can instantly make Denver a (legit) playoff team. But is he
the Peyton Manning we all remember?
Denver landed the biggest name to hit free agency for years in Peyton Manning. If Manning is even 60% of the player he used to be, the Broncos should have a relatively straightforward path to the playoffs on the back of a solid D, complete with two fearsome pass rushers in Von Miller and Elvis Dumervil, who is threatening with* or without a gun. The great unknowable is just how Manning will respond to the first time he gets sacked. Will he be able to stand back up and continue as if nothing happened? Or will his career end on the spot? Time will tell, but the Broncos are hoping their big FA signing will be more reminiscent of Montana signing with the Chiefs, than Favre with the Jets. (GS)
*Allegedly.
15: Atlanta Falcons (TD = 13; PG = 11; GS = 17)
At the beginning of last season we were concerned about the state of the Falcons OL. We were kinda right. Whilst they only allowed 26 sacks (6th
in NFL), they also allowed 84 QB hits (26th
), and although Michael Turner finished 3rd
in the league in rushing, the Falcons recorded a total of 59 runs for a loss – putting them bottom of the entire NFL in that category. Fortunately, the Falcons front office has highlighted this problem, and attempted to address it in the off-season, adding Pete Konz and Lamar Holmes in the draft to sure up the OL. They've made very few other moves this off season, although Asante Samuel should prove a good pick up at corner. They had added Lofa Tatupu to sure up the LB corp, but he was cut after suffering a season ending pectoral injury. With Julio Jones and Roddy White, the Falcons will hope their passing game can carry the team this season, especially as the aging Turner, and the loss of veteran FB Ovie Mughelli will undoubtedly hurt their running game. (PG)
16: Cincinnati Bengals (TD = 17; PG = 16; GS = 16)
The big question for the Bengals is if all this youth can push the Bengals into serious contention with the Steelers and Ravens, or will their inexperience limit their success in 2012. With a staggering 8 potential starters on offense alone with under 3 years of NFL experience under their belt the Bengals are definitely one of the more intriguing teams in the league right now. And even if some of this youth doesn't quite shine through AJ Green, entering his 2nd season, looks like an amazing talent and could well become the best WR in the NFL in a few years. On defense one of the major issues is at cornerback where Leon Hall, recovering from a torn achilles, is in camp but could well face a set back, and it's not like there's much solidity behind him. rookie Dre Kirkpatrick could well start there in week 1 with competition coming from semi-washed up veterans Terrance Newman and Nate Clements. As our 7th overall AFC team we clearly think that the Bengals could be right there come crunch time in december. (TD)
17: Carolina Panthers (TD = 18; PG = 14; GS = 19)
Gur thinks Cam will have a big
sophomore slump. Do you agree?
The "Sophomore Slump" beckons for Cam. As incredible a rookie season as he had, he is still human, and so you have to forgive him if all accolades and hype the media are bestowing upon him goes to his head just a little. Don't be surprised if that leads to Cam taking his foot just that tiny bit off the accelerator pedal – the NFL media have already said that the 'next step' for Newton is to make the playoffs, despite the fact that the Panthers haven't had a winning record since 2008. Despite my prediction that The Slump will claim him a victim, a monstrous three-headed running attack, and a healthy defense, mean that the Panthers will be able to compete in what will be a lacklustre NFC South in 2012. (GS)
18: Buffalo Bills (TD = 15; PG = 21; GS = 15)
Mario Williams was a big name addition in the off-season, but now he's been paid, is he going to bother to play? Just in case, they also added Mark Anderson from the Patriots. For the Bills, it will be interesting to see where their offence starts 2012. To begin 2011 they were explosive, averaging 31-PPG through week 8, including a Patriot-beating 34 points. Injuries of course derailed their season, but with the return of Fred Jackson, Stevie Johnson hopefully over his groin strain issues, and the Amish Rifle still under centre, the Bills have a good chance to fight for, well, second place in the AFC East. (PG)
19: Tennessee Titans (TD = 19; PG = 19; GS = 20)
The big questions around the Titans are almost exclusively around Chris Johnson. After missing camp due to a contract holdout, CJ2K looked slow and sluggish all year and just creeping over 1,000 rushing yards with a paltry 4.0 yards a carry. If he can, with an entire pre-season to get in shape and knock the rust off, get back towards his 1,400yd/4.8+ ypc potential then the Titans offense suddenly becomes a different, and more potent, beast. With a QB battle between the reliable Matt Hasselbeck and the young talent of Jake Locker, together with a defense lead by the young beast of a linebacker Colin McCarthy shouldn't be overlooked either. With the non-Texans part of their division looking weak a wildcard spot couldn't be out of the question for the Titans either. (TD)
20: New York Jets (TD = 23; PG = 17; GS = 22)
J-E-T-S-MESS! MESS! MESS! Rex Ryan seems intent on causing his team to implode. Appointing Santonio Holmes a captain in 2011 was disastrous for team chemistry, so how does Ryan attempt to rectify the situation? By introducing the most polarizing element the NFL has seen in recent memory into the locker room. Tebow will do nothing but wreck any chance Mark Sanchez ever had of developing the confidence to be a starting quarterback, which will inevitably see Tebow take over the starting role by mid-season. Of course, with a season's worth of game film on him, the single wing/spread hybrid that appears to be the only offense Tebow can run successfully will go the way of the wildcat offense – nowhere. The defense is arguably the team's only saving grace. (GS)
21: Washington Redskins (TD = 20; PG = 22; GS = 21)
The story in Washington is all about RGIII. He will probably be the difference between a 5-11 season and perhaps 9-7. The Redskins D is good, and will be able to keep the 'Skins in a lot of games, giving RGIII the chance to go and win them, just like the Broncos did for Tebow last year. The difference here being that RGIII is a good quarterback. Whether the Redskins have enough weapons to help him or a good enough OL to protect him are questionable, and may prove to be their downfall, but the Skins have done all they can to prepare by bringing in Garcon and Morgan at WR and drafting LeRibeus at OG. There is much hope in Washington. (PG)
22: Kansas Chiefs (TD = 21; PG = 20; GS = 23)
A year removed from his ACL injury,
Jamaal Charles should be back to his
terrifying best.
The return of Eric Berry, Jamaal Charles and Tony Moeaki from ACL injuries is a HUGE boost to this team. As is the signing of right tackle Eric Winston to bolster both facets of the offense. If they can get Matt Cassel back to his efficient best with the tandem of Dwayne Bowe and Jonathan Baldwin out wide should see a few more openings now that the threat of Charles has returned. The addition of Dontari Poe is something of a role of the dice. Having thrown 2 high picks at the D-Line already in Glenn Dorsey and Tyson Jackson Poe, a raw talent, HAS to hit or their defense is in real trouble. Tamba Hali remains one of the more underrated pass rushers in the NFL and if Justin Houston can get it going along side him then the entrance of Peyton Manning to the division might not hurt them quite so much. (TD)
23: Seattle Seahawks (TD = 22; PG = 25; GS = 18)
The Seahawks have one of, if not
the
most underrated defense in the NFL, particularly their secondary. Offensively, however, there are no real certainties whatsoever. No-one can say with any particular confidence who the starting quarterback will be; young wideouts Baldwin and Tate are coming on, but the signings of grizzled vets Antonio Bryant, Braylon Edwards and potential T.O. throw up huge warning signs about Sidney Rice; the supposed strength of this offense, the O-line, struggles to stay healthy- James Carpenter already looks to be sidelined the whole 2012 season; and one-trick pony, Marshawn Lynch, is almost certain to face some sort of suspension from the league office for a DUI charge. I fully expect Seattle to rise up the power rankings as the season progresses, and possibly be in position to contend for a wildcart spot come December; but at the present time, their offensive questionmarks stops them being ranked any higher. (GS)
24: Tampa Bay Buccaneers (TD = 24; PG = 23; GS = 26)
Some big names have arrived in Tampa. Vincent Jackson, Carl Nicks, Dallas Clark. Each of these guys should do wonders to help Josh Freeman rebound from a disappointing season in 2011. Their D-line also has the chance to be great, with young players like Gerald McCoy and Adrian Clayborn primed to break out. So why are we so down on the Bucs? Well mostly because their D in 2011 was shocking. Last against the run, second to last against the pass. They will hope that the additions of Lavonte David and Najee Goode to the LBs will help rectify those issues, but there are still holes in this D that opposition offences will be able to exploit. (PG)
25: Arizona Cardinals (TD = 26; PG = 24; GS = 24)
Man, Arizona's offensive line is a horror show (except friend of the blog Daryn Colledge obviously). It won't matter if it's Kevin Kolb or John Skelton under centre, Beanie Wells or Ryan Williams in the backfield, the 'Zona offense will continue to struggle. Everyone at TPL would have taken David DeCastro or Riley Reiff on draft day over WR Michael Floyd. Levi Brown is a liability at left tackle, he had a horrendous holding in the endzone that went unseen by the replacement officials in the Hall of Fame game against the Saints. Patrick Peterson can only bail them out of so many games with his punt returns before teams decide to put him in the "Devin Hester" zone. (TD)
26: Oakland Raiders (TD = 25; PG = 26; GS = 25)
The Raiders found themselves in what I like to call a "Kolb conundrum" - having to put their support behind a higher-priced QB, over a better QB. In Oakland's situation, this meant having to release Jason Campbell, who was doing a very nice job of keeping the silver 'n' black in contention before he got hurt, in favour of Carlson Palmer, who didn't do nearly as good a job as Campbell. The Raiders also had to let two of their better defensive pieces go – Stanford Routt and Kamerion Wimbley – due to being tight against the cap, and while Darren McFadden gives them a fighting chance, if he goes down again, the RB depth is looking a fair bit worse than last year. Yet another new head coach means another offseason without stability, leaving the Raiders trailing far behind in the AFC West. (GS)
27: Miami Dolphins (TD = 27; PG = 27; GS = 27)
Chad Johnson is the more and more
the butt of NFL jokes than he is the
star of game day.
Hard knocks, indeed. So much uncertainty surrounds Miami at the moment. Who will their QB be? Is Chad Johnson Ocho-Cinco Johnson past the point of contributing? Do they have any fans left at all? These questions all link together quite nicely. The QB in week one will probably be Garrard or Moore, because 1st
round pick Ryan Tannehill won't be ready, and may never be ready according to a number of scouts around the league. So why did the Dolphins take him at #8? Because they had to. The few people left that care about them would've turned their backs if Tannehill hadn't been selected by Miami in the draft. So what have Miami done to help their new QB out? Got rid of their best receiver and replaced him with one receiver who keeps changing his name, and one who announcers wish would (Legedu Nannee). At least it'll be fun to watch the Dolphins fall apart in prime time TV. (PG)
28: St. Louis Rams (TD = 28; PG = 28; GS = 28)
One of the important things to remember about the Rams is just how snake-bitten they were last year. 9 corners were placed on IR and only Harvey Dahl started every game on the offensive line, that's never going to lead to good or consistent play. Nor is it going to lead to a healthy QB, and Sam Bradford was NOT a healthy guy last year. If they can avoid such injuries in 2012 then hopefully Bradford can improve on the potential he's flashed before. One of the biggest things for the Rams in 2012 is the quiet break-out of former bust Chris Long. After a very slow start to his career a 13-sack 2011 pushed Long towards the top of the sack leaders and a 4 year extension. Should he continue this level of play the Rams defense is suddenly a lot less shaky. (TD)
29: Indianapolis Colts (TD = 29; PG = 29; GS = 32)
Once it was clear that the Colts would be getting the no.1 overall pick, there was never any question over who they'd be drafting with the selection. Luck may well live up to the hype of being the most pro-ready QB since Peyton Manning, but it will be very hard to prove that with the dearth of high-quality skill position players in Indy. Luck may have some familiarity with his college TE Coby Fleener, but it will be Donald Brown who Luck will be relying on heavily this year, as Reggie Wayne's skills are diminishing with age, and Austin Collie may be one concussion away from being benched permanently. The defense will not be able to provide much support as they transition from a 4-3 to a 3-4 scheme, and you shouldn't be surprised if the Colts find themselves leading off the draft again next April. (GS)
30: Cleveland Browns (TD = 30; PG = 30; GS = 31)
Last year, I quite liked how the Browns looked preseason. I gave McCoy the benefit of the doubt, I thought Hillis could continue to rumble behind a decent OL, and I thought the D would at least be serviceable. I was pretty wrong there. The Browns were horribly uninspiring last year, and gave no one any reason to be excited. Trent Richardson, finally, might ignite something in Cleveland, but unless Brandon Weeden can provide some sort of threat through the air, the Browns can expect to see 8 in the box every down. (PG)
31: Minnesota Vikings (TD = 32; PG = 31; GS = 29)
Eesh, where to start? The pick of Matt Kalil is good, and necessary, one. The guy is a monster of a left tackle who has the potential to dominate the edge for a long time. He was a much needed addition to an offensive line that has declined rapidly over the last few years. With Steve Hutchinson gone and Adrian Peterson still recovering from his torn ACL in december the offense looks in dire straights. Christian Ponder will need to increase the frequency of those glimpses of competency he showed last year. The defense is a mess as well (outside of the ever-awesome Jared Allen) too. Even Marshall Eriksen would find it hard to be positive about the 2012 Vikings. (TD)
32: Jacksonville Jaguars (TD = 31; PG = 32; GS = 30)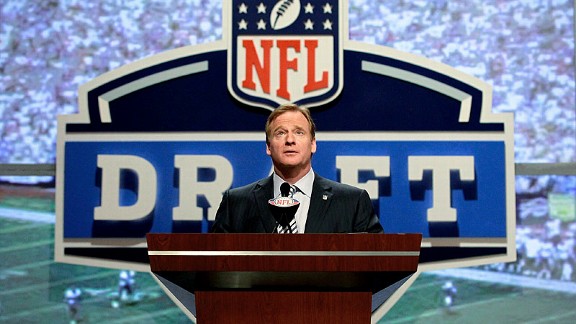 With the 1st pick in the NFL Draft, the Jacksonville Jaguars select...
If Shahid Kahn was expecting any kind of immediate return on his investment, he sorely misjudged the acquisition of the Jaguars. Blaine Gabbert was considered to be in the discussion for the #1 pick in 2011; instead, he might deliver that pick to the Jags in 2013. Gabbert was almost comically afraid of opposing pass rush last year, and the team have done nothing to bolster that offensive line to give him any more confidence this year. Even if he had enough faith in blockers to settle in the pocket, it becomes a huge question as to who he would pass to. Mike Thomas has all but disappeared; Marcedes Lewis has an incredibly disappointing 2011 campaign; Justin Blackmon is not as talented as A.J. Green or Julio Jones, so it would be a mistake to expect a similar level of output from the rookie; and Laurent Robinson is a one-year wonder who just got paid – never an encouraging mix. The defense has some talent, but let's make one thing clear: the Jacksonville Jaguars rest solely on the shoulders of one man. And that one man is refusing to attend training camp. Maurice Jones-Drew is holding out for more money, and while new owner Kahn has said that he will refuse to meet MJD's demands, Jones-Drew knows that, ultimately, they will crack before he will. They have to; he is the only thing that the Jags have going for them. At this point, even if they cave, the damage might be done – you can ask Chris Johnson how holding out while a new OC installs a brand new offense affects your output. If Jones-Drew is similarly affected by missing out on learning a whole new offensive system, then there might not be a worse team in football this year than Jacksonville. (GS)