Introduction
|
#100-91
|
#90-#81
|
#81*-#71
|
#70-#61
|
#60-#51
|
#50-#41
|
#40-#31
|
#30-#21
|
#20-#11
|
#10-#1
With Aaron Rodgers being crowned our #1 player for 2012 we thought it was time to answer dip into our bulging mailbag, sift through the pleas for help from Nigerian princes and answer some questions from our
devoted
readers regarding our rankings!
So let's start with what has been the most asked about subject since we published our list:
"I realize it's all about who you would want if the season started today, but with that said, how could you still leave out Ray Lewis? Ray Lewis still TODAY is a dominant player and even if he only had one season left in his career, TODAY, I would want him on my team." - Scott Rossow
Ray Ray can dance all he wants, but this is the NFL
not "Dancing With the Stars"
TD: For the record, Phil ranked Ray Lewis 74th on his list, which was good enough for 115th in our overall rankings. And I still say that's too high.
Ray Lewis has had a dominant career, there's no getting away from that. He's a first ballot hall of famer and it doesn't even need a moments thought. But this is NOT about how great and illustrious a career someone's had. As Scott says, it's about the 2012 season, and in that regard I have serious doubts about Ray's "elite" status, and that's what a top 100 is, it's the elite of the NFL.
Ray Lewis is 37, he missed 4 games in 2011 and the Ravens defense didn't miss a beat. Lewis is a complete liability in coverage these days, having to blitz or QB spy every play. Yes, he's still an extremely sure tackler, and his ability to read the game gives him the extra step he needs to get to outside plays (as well as the presence of the beast Haloti Ngata) but Lewis is far more average these days than he is elite, and he's not a dead-cert to play all 16 games. His feel for the game makes him valuable in the pre-snap chess game but from snap to whistle there are many other linebackers, let alone players, that I would want on my team in 2012.
PG: I did indeed place Ray in my top 100, but it was purely due to his intangibles rather than his skill level in 2012. If a rookie entered the league today with Lewis' physical attributes, coverage skills and durability, there is a good chance he wouldn't make an NFL roster. Add in Lewis' tackling skills he makes someones 53. It's only when you take his reading of the game and the influence he has on the players around him into account that for me he makes it onto the list.
"Nice top 100, only one problem, where's Cam [Newton]! Only had one season but you couldn't ask for more than what he's done!" - Sam, Nottingham
Gur: I left Cam off because I am thinking strictly for 2012. I have no doubts whatsoever that, from 2013 onwards, Newton will be one of the better QBs in the league... but his 2012 campaign will be a disappointed. As Toby mentioned below, there were questions about his maturity coming out of college. Toby says that those questions were answered, but I'm not so sure. By his own admission, Cam considered himself to have been a "bad teammate" last season. Now, by all accounts, he definitely did have a fantastic rookie campaign - no-one can deny that; but Newton will not find it as easy a ride this season. Firstly, we saw all over the league that defenses struggled coming out off the lockout far more than offenses did - look back at how many offenses were on pace to smash records all over the place; defenses in general will be a lot less rusty next season. Secondly, Newton took all DCs by surprise by being a better passer in the pocket than anyone was really expecting - but I believe that was down to DCs needing to scheme against Newton's rushing first and foremost.
What ever Cam's selling, Gur's not buying - at least for 2012
Now with a season's worth of gametape, do not be surprised if DCs shut down Newton's rushing early in the game, forcing him to go pass-first - and therefore allowing the defense to play more pass-focused coverage. Thirdly, Newton smashed so many records in his first year, and has received such high praise... we don't yet know how he'll respond to that, especially with the aforementioned maturity issues. Newton is human. ANYONE would take their foot off the pedal, at least a little, with all the praise they've gotten. While Newton will develop this offseason, I think his development will be outpaced by the scheming of opposing DCs; this will, in turn, mean that things will not come to Newton as easily as last year. How will he respond? You see even the most experienced quarterbacks have games where they are so frustrated at not being able to move the chains as they want, they start making riskier throws, their decision making gets clouded by frustration; if that happens to the most experienced QBs, why would Newton be immune?
The good thing for Panthers fans is that I fully expect Newton will respond to this by attacking the 2013 offseason in the most obsessive and aggressive of ways, and from that season onwards, he will be one of the top QBs in the league, much to my chagrin - but that will come as a response to his 2012 season, which, as I said above, I expect to be a huge disappointment. And that is why I did not feel he was a top 100 player for 2012.
TD: I was somewhat surprised when Gur left Cam Newton off his list. Newton ranked 71st for me and just missed the cut, coming in at 107th overall.
Newton answered several pre-draft questions about his maturity and ability to be a pocket-passer. Not only that but he bought a real excitement into the league, and more importantly to Carolina, as well as re-invigorating Steve Smith. I think he can be a genuine challenger for the "elite" status in a few years. 2012 might not see a repeat of the 14 rushing TD's, but given the weapons around him, and the line in front of him, those TD's should find there way across to his passing stats.
Gur's stance is an understandable one, but I think Cam will be able to stay ahead of the curve, especially with the help of a potent rushing attack in Carolina. He made every Panthers game a must-watch last season, and I expect it to be the same way this season too.
"No Cam? Outrageous! Any particular reason Steve Smith is missing from the list?" - Lego, Scotland
TD: It's not that I don't think Steve Smith is good, but he just didn't make the cut for my list, the lowest receiver on my list was Dwayne Bowe at 98.
I worry a little about Smith as he continues to age. He's not got the physical frame to be one of the top receivers when his speed starts to decline. It was fantastic to see him come back to something like his former greatness in 2011 when he finally had a good QB, i'm just not sure how long that can continue at 33.
GS: For me, as explained above, I expect Newton to struggle - and that will translate to a let-down year for Smith. He had a resurgence in 2011, but look at how he did when he had struggling QBs throwing to him in 2010; if Newton falters, so will Smith, and personally, come 2013, I'm not sure if Smith will have enough left in the tank to have another season like last year's again.
"Gronk is way too high. He's a good blocker not an excellent one (great by the standards of receiving TE's, but not special or really that big by the standards of the no-name blocking-specialist 6th OL style TEs).






I'm skeptical of TE's, that we've had a number of TE's all make this jump at the same time makes me think that the rules and style of play have just opened them up a lot more, and to that Graham, Gronk, Finley etc are all somewhat overrated right now because they've all come into the league with elite QB's just at the right time when rules have opened things up but before defenses have really reacted and adjusted to new things.






If you look at all the TE records that have gone (often broken by multiple guys) in the last couple of seasons and the comparative performances by all TE's that are so much higher than they have been in past years. To me it just shouts that we should adjust our expectations of TEs generally, and so Gronk should be lower." - Corporeal
TD: An essay-question! Well you can blame me for the high ranking of Gronkowski, having put him much further up than the other two.
You are right in that the current NFL seems to be a perfect storm for TE's. The current crack-down on defenses crushing receivers as they go up for the ball, and on safeties decapitating receivers coming over the middle, has opened up the passing game for TE's to flourish. But if that's today's NFL, just why shouldn't we take advantage of the rules and take the best TE in the game higher than he might have gone 10 years ago?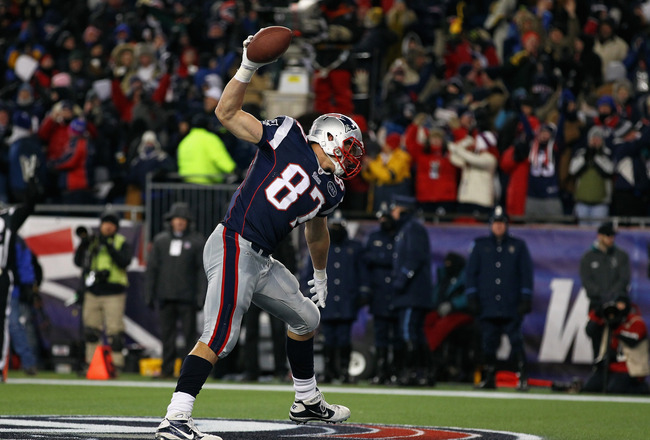 Gronk's ankle injury was hugely detrimental to the Patriots
plans in Super Bowl XLVI
You only have to look at the 4 QB's to break the 5,000 yard mark in 2011 to realize that this NFL is all about passing. Sure, you might get the occasional 49ers-type, who make a run based off great defense and running the ball. But to win you need a passing attack these days, and Gronkowski gives the Patriots an edge over every defense in the league now. He might not be as good as the blocking TE's in the run game, but his presence on the end of the line of scrimmage is not a give away of run or pass like that of a blocking specialist. He allows a lot of formation and play flexibility for New England. For those reasons alone he's a top 10 player in my eyes.
PG: I'm pretty much 100% in agreement with the comment. The ability of TEs to make an impact has been increased by rule changes and the evolution of the passing game in the NFL - With teams forced to use more nickel and dime sets against WRs, it leaves TEs with a physical advantage inside. Of course, Gronk is a true elite player and fully deserves to be on this list, but perhaps #9 is a little high.
GS: Look at Rob Gronkowski's statline - 1327 yards, 90 receptions, 17 TDs. That's not very far off Calvin Johnson at all. Now, Megatron is a physical specimen unlike any other... but is Gronk really that far off? Yes, he has an easier time making receptions as he's not going against #1 CBs, but the flip side is that far more is asked of Gronk than any WR in the league when it comes to passing downs - making him a more well-rounded and more useful weapon than any other WR, since he succeeds so well in both aspects of the offense. You can be sceptical of Gronk as a top-10 player, but with the rule changes making it so much easier for receivers in general, thanks to the liberal interpretation of the word "defenseless", if you take issue with a TE being this high, you can't not have an issue with us having three WRs in the top 20. And since we didn't receive a single complaint having a wideout at number five, I don't see why it's such a stretch to accept a TE at number nine.
"Wait, Ryan Clady in the top 40. WHAT???? And I'm a Denver fan. He's a very average left tackle." - Danny, Scotland
TD: For me Ryan Clady is perhaps the best pure pass-protecting left tackle in the league. He can struggle in run blocking, especially against larger D-Linemen, but as a blind-side protector he is elite. His long reach and great athleticism allow him to control the vast majority of pass-rushers one on one.
PG: This one is my doing, having voted Clady as the best LT in the NFL. It's no coincidence that Clady's play has dropped off since his rookie season and the loss of Jay Cutler at QB. It's an often quoted stat that Clady allowed a career high in sacks in 2011, despite the Broncos throwing the lowest % of passes in the NFL; but this stat is warped by the Tebow factor. For an OL to succeed, the QB behind them needs to know what they're doing, be able to read a defence quickly, and get the ball of in a reasonable amount of time. Tebow doesn't do any of these things. Peyton Manning on the other hand does (did?) all of these things exceptionally well, and I fully expect Clady to have a vastly improved 2012 and to justify his selection here.
GS: This was another guy who I left off my list while he made the others'. He had an amazing rookie season, but I think there's more to the dropoff than just the change in QB... I have my doubts about whether he will bet back to his rookie form with a better QB, but one thing's for sure - if Phil's theory is correct, you can expect him to rank even higher on next year's list.
"I can't understand your decision in placing Brian Cushing and Sean Lee below the likes of Brian Urlacher! If this is the team I want to start the 2012 season with I am taking those two over an old, injury prone Urlacher anyday." - Anon
At 34, is this the last we'll see of Urlacher in a top 100?
TD: Urlacher might be getting old now, but he's hardly injury prone. Apart from a freak break-and-dislocation of his wrist in week 1 of 2009 that put him out for the entire season he's played every game since 2004. He does suffer from back problems, but they don't keep him off the field or stop him playing at an elite level.
Urlacher's instincts are still incredible, he's still good in coverage and is a crushing tackler. In my rankings Brian Cushing took a bit of a hit for the steroids thing, I need to see him play at this level a little longer before I can put him into the elite group. Sean Lee comes under the same banner (but without the steroids thing!).
PG: For me, Urlacher and Cushing are very much on a par if you're looking for a top ILB for the 2012 season. Both have benefited in recent years from having excellent teammates in their front 7's (Peppers and Briggs in Chicago, Ryans and Mario Williams in Houston). What 2012 will tell us is just how well Cushing can perform now 2 of his main partners in crime have gone on to new things. It could also be a massive year for Sean Lee, but as yet he's not shown the body of work to make it onto my list. Ask me again in 12 months and it might be a very different story.
GS: We explained that, if we felt a player's injury will have a considerable effect on their playing for the rest of their career, we took that into account. With Urlacher's age, I'm wary of how well his MCL might heal up - there have already been reports that he's not yet taken part in any on-field drills at the Bears' OTAs. Still, he is a beast of a player, even if the MCL doesn't heal up fully - but for that reason, I had Urlacher ranked behind Sean Lee, who I expect to have a fantastic year this season.
"Why is Lardarius Webb not on this list? QB's rated 56.2 when throwing at him and he didn't give up a single TD all season" - Anon
Lardarius Webb made a lot of good plays in 2011, but
can the young corner repeat that in 2012?
TD: The variability, year to year, for young cornerbacks is extremely high (Devin McCourty is example 1A recently). As a result I need more than 1 good year from a young corner like Webb, who made huge strides forward in 2011 compared to his 2010 season, before I'm prepared to put him into a top 100. All the corners I voted for have a longer track record that Webb does, except for Patrick Peterson but that has a lot to do with his punt return skills.
PG: I love Lardarius Webb, and he made my initial shortlist (which was 137 players long for the record), but he was just edged out of the top level due to his short career. I fully expect him to be a consensus top 100 player next year.
(Of Marshawn Lynch) Last year he led all backs in the second half of the season. Didn't you have Fred Jackson in for his one half of the season? Not saying he's top 20 but surely breaks the top 100?

- James, Nottingham
Marshawn Lynch can be incredibly tough to tackle, and yet
hasn't put up elite numbers yet. Is 2012 his year?
TD: I want more than 4.2 yards a carry (Lynch's 2011 number, and a career high) before I consider anyone an "elite" back. I don't like backs that aren't a threat in the passing game either, which is part of the reason Michael Turner didn't make my list either. Fred Jackson, since you bring him up, has had 4 seasons (out of 5) with over 4.4 yards a carry, including 2011's 5.5, and he's a threat in the passing game too.
PG: My problem with Lynch is really his consistency. Before his "Beast Mode" run for the Seahawks in the 2010 playoffs he'd had an average at best season that was forgiven and forgotten based on 1 run. The second half of his 2011 season was excellent, but personally I would say Darren McFadden had a better first half of the season, and he only snuck onto our list in the 90s. Lynch is another player who made my shortlist, but fell at the final cut, although if he gives another 10+TD season this year then he'll be impossible to exclude.
GS: I agree with the others that Lynch's problem is consistency, I think he definitely wasn't helped by the fact that Seattle had almost no passing game to speak of - something I factored in my voting (I was the only to have him on their individual top 100). If he can prove to be consistent, I think there's no question he's one of the top 100 players - and with (presumably) Matt Flynn at QB, I'm expecting Lynch to have his best season yet this year.
Thank you all for the input and feedback throughout the series, it's greatly appreciated. Keep an eye out for upcoming fantasy tips as well as more interviews. As ever you can follow us on twitter (@PullingLinemen) as well as our writers Toby Durant (@TDonSport), Phil Gaskin (@sosayitisaid) and Gur Samuel (@FredTheGur) for opinion, reaction and general discussion.
- The Pulling Linemen