Introduction
|
#100-#91
|
#90-#81
|
#81*-#71
|
#70-#61
| #60-#51 |
#50-#41
|
#40-#31
|
#30-#21
|
#20-#11
|
#10-#1
Welcome back, you lovely people, to part 5 of our Top 100 series.
Today is an equal opportunities edition, with players ranging from the very, very big right the way to "too small for the NFL". So sit back and enjoy...
#60 - Maurkice Pouncey, C, PIT [TD = 81, PG = 29, GS = 83]
Today's count-down begins with a young centre who has quickly become the anchor of his offensive line. A 1st round pick in 2010, Maurkice Pouncey moved straight into the starters spot and producing. Pouncey started all 16 regular season games in 2010 and helped take the Steelers to the play-offs. He was a key component of their run to the Super Bowl, while his injury and subsequent missing of the game against Green Bay really hurt the Packers chances.
Moving into his 3rd season now, and with fresh reinforcements coming via the draft, the Steelers offensive line is beginning to move from weakness to strength.
#59 - Wes Welker, WR, NE [TD = 31, PG = 56, GS = --]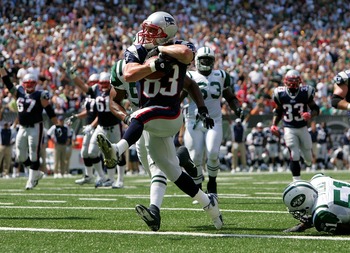 First, let me just go and slap Gur round the face with a herring for not ranking Welker.
With that done let's talk about the best inside receiver in football. Undrafted, cut by San Diego and a bit part player in Miami, the Patriots traded 2nd and 7th round picks for Welker in 2007 and unleashed him on the league. Welker has compiled 4 1,000+ yard seasons (only failing to do so when recovering from an ACL tear in 2010), he's lead the league in receptions 3 times and picked up a 1st team All-Pro place in 2009 and 2011. Welker has 18 catches and 163 yards in his 2 Super Bowl appearances so he certainly doesn't disappear on the big stage either.
He's been generally uncoverable from the slot, in part due to the fantastic rapport he has with Tom Brady. Welker runs almost exclusively option routes which rely on him and Brady reading the defense with the same eyes, which they do 99% of the time.
Throw in the fact that he's a great blocker and a solid punt returner and an emergency place kicker and you've got a top 100 guy in anyone's eyes. Except Gur's...
#58 - Justin Tuck, DE, NYG [TD = 74, PG = 73, GS = 41]
Who wouldn't want to hit Tony
Romo for a living?
Justin Tuck broke onto the scene as the 3rd man in New York's DE rotation in 2007. Starting only 2 games and being a situational rusher, Tuck compiled 10 sacks, as well as being a key part of the Giants 2007 Super Bowl victory where he lined up inside and terrorized Logan Mankins on passing downs.
Since then Tuck has become an every-week starter and racked up the sacks, when healthy. And that's been the problem with Tuck so far. Niggling injuries that prevent him from really being the sack machine he can be. He had a career high 12 in 2008 before dropping to just 6 in 2009. It picked up again with 11.5 in 2010 before injuries hampered him once more in 2011, resulting in just 11 starts and 5 sacks. When he puts it all together he's a QB's nightmare, but too often he just can't.
#57 - Jon Beason, LB, CAR [TD = 88, PG = 35, GS = 64]
Another player who has been dogged by injuries is Panthers middle linebacker Jon Beason.
at 26 years old, after 4 years of good-to-great performances, 2011 should have been the time for Beason to stamp his authority on the league as a dominant force in the middle of the Panthers defense. Instead he suffered a season-ending achilles injury in week 1 against Arizona.
Now at 27, Beason needs to have a strong off-season program to regain the speed that was one of his key assets and really separated him from a lot of the competition . Achilles injures are rarely uncomplicated and are one of the more difficult ones to completely recover from. We, and all fans of football, should hope that he does.
#56 - B.J. Raji, DT, GB [TD = 57, PG = 28, GS = --]
B.J. Raji is listed on pro-football-reference as 334lbs. Well if he's 334 then I'm 180lbs wet through. B.J. is a BIG man. But don't let his size fool you, Raji has excellent explosion off the ball.
He was slowly bought into the team during the 2009 season after the Packers used a 9th overall pick on the Boston College monster. This soft-release paid dividends in 2010 when they unleashed him on opposing offensive lines with devastating affect. Raji racked up 6.5 sacks in the regular season, starting every game. He also got a vital, and now famous, pick 6 in the NFC Championship Game in Soldier Field.
Raji has been bought in as a Jumbo full back at the goal line too, getting a carry, and 1 yard Touchdown. Against Tampa in 2011.
#55 - Joe Staley, T, SF [TD = 32, PG = 88, GS = 63]
Staley began his college career at Central Michigan as tight end, catching 11 passes for 130 yards his freshman year before being moved onto the offensive line his sophomore year, starting all 11 games at right tackle before moving to the left as a Junior. His performances there quickly turned heads and the 49ers traded back into the 2007 1st round to get their franchise left tackle.
Since then Staley has simply gotten better and better. Consistently dominating opponents in both the pass and ground game. He was able to show off his hands and 4.70 40-yard dash time in 2011 when, from a tackle eligible formation he caught a 17 yard pass against the Browns. This is the kind of thing that we here at The Pulling Linemen fully endorse!
#54 - Matt Forte, RB, CHI [TD = 86, PG = 54, GS = 42]
Forte's knees have been an issue for him since his days at Tulane. They're the reason he dropped out of the first round in 2008, and now after his 3rd significant knee injury they are what are keeping the Bears from making the kind of contract offer Forte feels he deserves. He's just 26, but the NFL is an unforgiving place for injury prone running backs.
#53 - Hakeem Nicks, WR, NYG [TD = 62, PG = 46, GS = 72]
In 2011 Nicks, and the UDFA gem Victor Cruz, became one of the very best tandems in the NFL. Nicks added 76 catches, 1192 yards and 7 touchdowns to his name, becoming a focal point for opposing defenses. When, in the playoffs, teams started to roll their coverage towards Cruz, Nicks reminded teams just why they had been focusing on him in the first place. First he torched Atlanta for 115 yards from 6 catches and 2TD's, before embarrassing Green Bay with 7 for 165 yards and 2 more scores. At just 6 feet tall Nicks doesn't have the physical advantages of a Calvin Johnson, but he's able to get very similar results thanks to his fantastic athleticism and sure hands.
2012 could well be a big year for the Giants passing game and teams pick their poison in doubling Cruz or Nicks.
#52 - Chris Myers, C, HOU [TD = 73, PG = 72, GS = 35]
Sleeves are for "skill" players
Chris Myers has a shiny new 4 year, $25 million contract from the Houston Texans, reward for some superb play in recent seasons.
Myers is a little undersized for your ideal centre, but quick. In other words, he's perfect for Gary Kubiak's zone blocking system, so it can be no surprise that when Kubiak moved from Denver to Houston he traded for Myers as soon as he could.
Myers is one of the big reasons that Matt Schaub is so well protected and that Houston seem to be able to slot almost anyone in at running back and have him churn out 1,000 yard season.
#51 - NaVorro Bowman, LB, SF [ TD = 56, PG = --, GS = 22]
NaVorro Bowman comes in for a rough time given just how good he is. A lot of his detractors say that playing linebacker next to Patrick Willis is easy. That the opposing offense concentrate so much on staying away from Willis that he is able to just fall into 150 tackles in 2011.
Well maybe, i'm sure you do make a few easier plays with Willis next to you, but I bet the Beast takes even more away from you. Bowman is a phenomenal athlete in his own right. He eats up ground when chasing down plays and is an extremely sure tackler, something that is missing in today's NFL.
He's a little undersized, but that just serves to make him the perfect partner to Willis in San Fran's 3-4 defense. As Bowman, just turned 24, continues to grow in the NFL he should get more and more stand-alone recognition and move up rankings such as these.
So there you have it. We're half way through our top 100, and seeing as Her Majesty didn't send us an invitation to any of her diamond jubilee celebrations we'll continue to bring you more names over the next 5 days, plus an assortment of wrap-up pieces as we right the wrongs made by the NFL in their list.
Make sure you're back for tomorrow's installment, featuring two of the commissioner's favourite players! And remember, any comments and questions are more than welcome.
- Toby Durant (@TDonSport)
- The Pulling Linemen