Introduction
|
#100-#91
|
#90-#81
|
#81*-#71
|
#70-#61
|
#60-#51
|
#50-#41
|
#40-#31
| #30-#21 |
#20-#11
|
#10-#1
Welcome back you hardy souls! We're well into the "superstar" phase of the top 100 now, those rare few who can win games by themselves and wreck havoc on their opponents. Often teams have to try and scheme or game-plan against them, but even that rarely works.
30. Clay Matthews, LB, GB [TD = 42, PG = 9, GS = 66]
Because he's worth it
We begin today with a Super Bowl winning sack-master. Clay Matthews, a walk on at USC, turned himself into a stud pass rusher and worked his way into a 1st round selection in 2009 with Green Bay. After a 10 sack rookie season much was expected from Matthews in 2010, and he didn't disappoint. The Clay-maker racked up 13.5 sacks and considerable Defensive Player of the Year consideration as a major part of Green Bay's turnover-producing-machine of a defense.
2011 was a down year in production for Matthews, as teams concentrated almost solely on stopping him, to such an extent that he would often face triple teams. As a result Green Bay have drafted another USC pass rusher, Nick Perry, to open up opportunities for Matthews. 2012 could be a return to form for the man they call "bloodline".
29. Jake Long, T, MIA [TD = 58, PG = 24, GS = 34]
2011 was a bit of a rough year for Jake Long. He struggled with a back injury and then a torn bicep, affecting his usual level of performance.
But since entering the league as the 1st overall pick in 2008 Long as been as good as it gets from a left tackle. At 6 foot 7, 317lbs Long simply eats up those who try to get to his QB. He uses leverage well and has an enormous reach. Long has been an ever-present on the Pro-Bowl roster since entering the league, and has a 1st team All-Pro selection (2010) to his name. If Ryan Tannehill is going to succeed as a QB in the NFL he'd to well to make sure Jake Long is healthy and happy in Miami.
28. Ryan Kalil, C, CAR [TD = 35, PG = 32, GS = 48]
It's rare to see interior linemen get the credit they deserve, but one place they will is right here!
Not as physically impressive as his younger brother Matt, who just entered the league as the 3rd overall pick, Ryan had to work hard to get to where he is today. Solid play at USC was aided by a great workout at the Combine, pushing him up the draft boards to be a 2nd round selection by the Panthers in 2007 he started just 3 games before earning the starters spot for the 2008 season. From there Kalil has gone on to become one of the very best centres in the game, being good enough to get the franchise tag from Carolina before agreeing to a 6 year, $49 million contract that made him the highest paid centre in the NFL. Kalil has been a big part in the impressive nature of the Panthers backfield. From DeAngelo Williams and Jonathan Stewart both having 1,000 yard seasons in 2009, to Mike Goodson's performances in 2010 and Cam Newton's record-breaking rookie season, it all starts up front with Kalil.
27. Jason Pierre-Paul, DE, NYG [TD = 20, PG = 82, GS = 12]
Coming into the NFL as a very raw but gifted 1st round pick, Pierre-Paul spent most of 2010 on the bench, only seeing time as a situational pass-rusher. But even in those glimpses it was clear JPP was something special, and what he did in 2011 proved it.
Pierre-Paul is a very rare kind of athlete. At 6 foot 5, 270lbs he simply shouldn't be able to be THAT athletic. He showed off his skills in the Combine with a 30 inch vertical jump and a 4.71 40 time. Put that together with his year of learning behind Osi and Tuck and you've got a serious threat to the safety of every NFL QB. Pierre-Paul racked up 16.5 sacks in just his second season in the NFL, including 1 safety and 1 vital blocked field-goal against Dallas. While he registered just 0.5 sacks in the Giants play-off run his presence alone was enough to hurry QB's and open up lanes for his team mates to rush.
At just 23, Pierre-Paul should be a threat in the league for many, many years to come.
26. Carl Nicks, G, TB [TD = 33, PG = 39, GS = 27]
Another interior linemen getting his due respect. Carl Nicks just signed a 5 year, $47.5 million deal as a free agent with Tampa Bay. Not bad for a 5th round pick.
a 2 time Pro-Bowler and All-Pro (2010, 2011) Carl Nicks has excelled in the left guard spot after getting his chance to prove himself when then-starter Jamar Nesbit was suspended, just goes to show that you should always be ready to come in in the NFL.
Nicks' dominating play has really shown itself in his pass protect. He rarely concedes ground and opens up fantastic passing lanes for Drew Brees to get a good view of his receivers. Needless to say then that Josh Freeman is a lucky, lucky boy.
25. Vince Wilfork, DT, NE [TD = 21, PG = 6, GS = 67]
At last we get to the biggest man in the NFL. For as bad as New England's defense has been at times (all the time), the problem does not lie with #75 up front. Wilfork is the very definition of a nose tackle, a giant of a man who comfortably eats up space in the interior, dominating all but the very best centres. But it's not just in the middle where Wilfork can make an impact. As is his want, Bill Belichick moves Wilfork up and down the line of scrimmage, creating match-up problems wherever he places the beast. Deceptively quick off the ball, and extremely smart, Wilfork requires double teams at all times or he will wreck your plans.
Big Vince provided perhaps the most memorable moments of 2011, first with a 28 yard interception return against San Diego after he diagnosed a HB screen and then again 2 weeks later against Oakland, doling out a stiff-arm for good measure during his 19 yard rumble up field.
Wilfork is capable of taking over a game and winning it almost single-handed, as he did in the 2011 AFC Championship game against Baltimore. There's a reason he's one of the very few players that the Patriots actually pay big bucks to keep around.
24. Johnathan Joseph, CB, HOU [TD = 28, PG = 33, GS = 32]
While all the 2011 free agency hype was focused on just where Nnamdi Asomugha would land, the Houston Texans very quietly came in and snapped up a supremely talented, younger, cornerback.
Johnathan Joseph, after plying his trade successfully in Cincinnati for 5 years, signed a 5 year, $49 million deal with Houston and was charged with fixing what was a horrendous secondary. He didn't just fix it, but helped in turning it entirely around. In 2010 the Texans ranked last in passing yards allowed, and 31st in yards per attempt (8.2). 2011 saw the Texans finish 3rd BEST in pass yards against, and 2nd in yards per attempt (6.2). That's just how valuable he was in Wade Phillips' new 3-4 defense.
Joseph's presence is a big reason why the Texans are viewed by many as the best team in the AFC coming into 2012.
23. Julius Peppers, DE, CHI [TD = 22, PG = 41, GS = 29]
Since entering the league as the 2nd overall pick in 2002 Julius Peppers has been nothing short of a pain in the side (and back) of QB's everywhere.
5th in active sack leaders with 100, Peppers doesn't look like slowing down any time soon. Despite several injury scares, Peppers started all 16 games in 2011, totaling 11 sacks, his highest with Chicago in 2 seasons after his sought-after free agent move away from Carolina.
Peppers blend of speed and size, honed by his days on the basketball court with the Tarheels, is a huge reason why he continues to be such a threat to QB's on every down. He also holds up well against the run and has a nack nose for the ball, racking up 37 forced fumbles and 8 interceptions as well as several blocked kicks (Peppers wikipedia entry credits him with 12). Put simply, this guy can do it all.
22. Mario Williams, DE, BUF [TD = 25, PG = 30, GS = 30]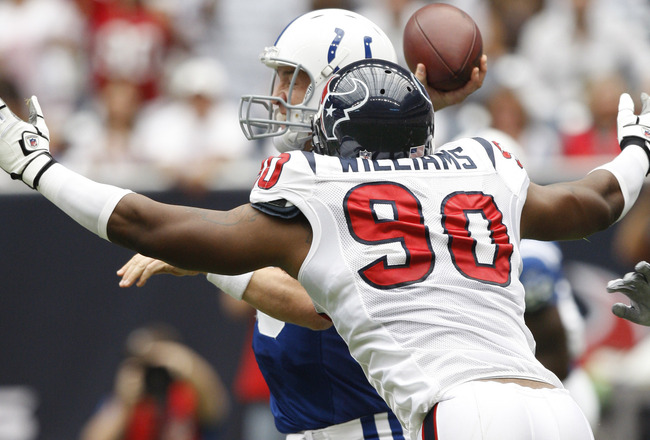 Mario Williams entered the league with a LOT of expectation. Many laughed when the Houston Texans selected him 1st overall in 2006 over Reggie Bush or Vince Young, both of whom had been absolute studs in college. Well it was Houston who had the last laugh. As Bush and Young turned in less than desired performances in New Orleans and Tennessee, Williams became a stud defensive end in Houston.
As a 21 year old rookie Williams only managed 4.5 sacks, despite starting every game. But much like Jason Pierre-Paul, his sophomore year was a breakout one. 14 sacks in 2007, followed by 12 in 2008 turned Williams into the focal point for all blocking schemes when facing Houston. His sack totals decreased, but the respect afforded him spoke volumes of the guy's talent.
Houston's change to a 3-4, and his resultant move from DE to OLB didn't seem to phase "Super Mario" at all, picking up 5 sacks in his first 5 games before a torn pectoral, suffered while sacking Jason Campbell against Oakland, landed him on IR.
As it turned out that sack would be his last contribution as a Texan. With the team hard up against the cap the Texans couldn't even afford to franchise Williams, let alone sign him long term. So Mario got himself paid by the Buffalo Bills to the tune of 6 years, $96 million. After all, how often to elite pass-rushers entering the prime of their physical peak come on the open market?
21. Ben Roethlisberger, QB, PIT [TD = 17, PG = 50, GS = 18]
Ben Roethlisberger is perhaps the toughest, grittiest player in the NFL. Perennially stuck behind an injury-prone sieve of an offensive line Roethlisberger takes more hits than a boxing gyms heavy bag, but the guy just keeps getting up.
2011 was probably the greatest "tough it out" performance of Roethlisberger's career. After suffering a nasty ankle sprain in the 2nd quarter against the Browns, Big Ben looked done for the game. But he came back out in the 2nd half and hobbled his way to a compelling 14-3 win. The next week he was out there again to take on the ferocious 49ers defense and try to give his team a shot at a division crown, but with no success. Ben took 3 sacks and countless shots in a 20-3 loss.
a 1st round pick in 2004 out of Miami (OH), Big Ben has won 2 Super Bowls, and appeared in a 3rd. At 6 foot 5, 240lbs and mobile, he's possibly the hardest QB to sack in the league. No one makes more plays with defenders draped over him than Mr. Roethlisberger. Despite his off-field incidents, Ben Roethlisberger gives the Steelers a good chance to win every game with his play.
Come back tomorrow for an offensive-heavy 20-11 as we near what would definitely be the crowning moment of achievement of any NFL player, being named in #1 in our Top 100!
- Toby Durant (@TDonSport)
- Pulling Linemen