Introduction
|
#100-91
|
#90-#81
|
#81*-#71
|
#70-#61
|
#60-#51
|
#50-#41
|
#40-#31
|
#30-#21
|
#20-#11
| #10-#1
So here it is; the top 10, the cream of the crop.
These are the players that are consistently the very best at what they do. Players who no matter what scheme or technique you try to employ against them will influence the game with MVP-calibre performances week in, week out.
#10. Ray Rice, RB, BAL [TD = 18, PG = 14, GS = 13]
There are few elite running backs in the NFL – and Ray Rice may very well be the best of them all. Used relatively sparingly as a second-round rookie out of Rutgers, Rice beat out incumbent Willis McGahee for the starting running back job as a sophomore, and hasn't looked back since. Rice is the epitome of what is rapidly becoming the new prototype for the NFL RB – possessing top speed and incredible shiftiness and agility, yet showing immense toughness when it comes to lowering their shoulder and just pounding the rock. As a running back alone, Rice is one of the league's best, averaging over 1300 yards a year in the three seasons since he became a starter, while adding twenty four touchdowns on the ground – twelve of which came just last year. But the thing that marks Rice out over and above the other running backs in our countdown is what he contributes to the passing attack of the Ravens. Yes, there are other 'complete RBs who can catch the ball out of the backfield or can stay in to block on passing downs, but in many of them, it is a mature of compromise – rushers who are decent-enough as blockers, or can catch the ball if it's a dink-dunk checkdown or screen pass. With Rice, there truly is no compromise. Despite his more diminutive stature when compared to other running backs, Rice is fearless in taking on pass-rushers twice his size, showing both the aggressiveness and technique needed to keep Joe Flacco upright. This alone marks him out as one of the more superior RBs in the league, who often lack true pass-protecting prowess – but Rice offers so much more. As a pass catcher, Rice puts up astonishing numbers, having 78, 63 and 76 receptions for 702, 556 and 704 yards in '09, '10 and '11 respectively. That's the sort of statline you might expect from a number 3, maybe even a number 2 wideout – for Rice to contribute that sort of production as an added bonus to what he does on the ground, it's simply astonishing. Despite Joe Flacco's claims that he considers himself the best quarterback in the league, Baltimore is one of the teams described yesterday, whose offense relies so very heavily on their running backs.
If you want to see what a Ravens' offense would look like without Rice being a major part of the gameplan, I would point you to their MNF game against Jacksonville last season, when one of the NFL's most laughable teams embarrassed the Ravens with a 12-7 victory on national, and international, television. Much has been made of Peyton Manning's true value being shown by his absence in 2011, and the resulting car crash season for the Colts. Well, I would put it to you that as important as Manning was for the Colts, that is how important Ray Rice is to the Ravens. The difference between Rice being the main feature of the Ravens' gameplan, and being a complement to Flacco's aerial 'attack', is the difference between the Ravens making it to the AFC Championship game, and losing to the freaking Jaguars. Unhappy with being slapped with the franchise tender, Ray Rice is holding out of OTAs until he gets a long-term deal. Ozzie Newsome: pay the man what he wants. His value for your team's success is innumerable and unmeasurable, and whatever you pay him, you will be getting a bargain. To label Ray Rice a "running back" is almost to do him a disservice, underselling what he does on the field, for he is so much more than that – rusher, blocker, receiver, gamechanger; Ray Rice is all these things and more. To put it concisely: there is no better player in the world right now at the running back position than Raymell Maurice Rice.
- Gur "Fred" Samuel
#9.

Rob Gronkowski, TE, NE

[TD = 6, PG = 27, GS = 10]
If it's diving to make a catch or barreling over opponents,
Gronk appears unstoppable in the red zone
Since entering the league Rob Gronkowski has been nothing short of unplayable for opposing defenses. A back injury suffered during his senior year in college saw Gronk slide down draft boards into the second round, and even off some boards entirely. The Colts have gone on record as saying that Gronkowski was simply undraftable for them due to concerns about just how long he could last with the physicality of the NFL. But the Patriots rarely follow consensus opinion on things, and spent a 2nd round pick on him in 2010. So far, Gronkowski hasn't just survived, but thrived in the league.
Listed at 6 foot 6 and 265lbs, Gronkowski isn't just big for a tight end, he's big full stop. He's on record as saying his playing weight can be as much as 15lbs higher than that listed figure, meaning he is an intimidating presence at the line of scrimmage. But it's not just his size, but how he uses it. Gronk is deceptively athletic, posting a 4.68 40 time at the combine with a 33 inch vert and nearly a 10 foot broad jump. In other words, his combination of size, speed and explosion make him an incredible threat in the passing game. Throw in that he's a fantastic blocker with huge hands to latch onto either his opponent or the ball and Gronk is one of the toughest cover assignments in the league. During 2011 the Jets even moved Darrelle Revis away from Welker to try and control Gronk, but with little success.
In his 2 years in the NFL Rob Gronkowski has caught 27 touchdowns, including a new TE record 17 in 2011, to go with setting a new TE record for receiving yards in a season too. Sure, Gronkowski gets more notoriety for off-field "activities" than you're used to from Patriots players, which down the road could get him into trouble with the Mr. Belichick, but Gronk is such an important cog in the Patriots offense, as shown in the Super Bowl when he could only hobble around the field, that the front office should look past his "indiscretions". - Toby Durant (@TDonSport)
#8. Justin Smith, DE, SF [TD = 12, PG = 10, GS = 5]
As with many of the entries I've written for this list, I begin this entry about the 49er, ex-Bengal Justin Smith in esoteric fashion – in this case, by talking about my beloved Buccaneers. If you ask any Bucs fans who the greatest player in the entire history of the franchise, they will almost certainly answer "Derrick Brooks" without a moment's hesitation. There is no doubt that Brooks was an absolutely phenomenal player, one of the greatest ever to play outside linebacker, and a surefire lock for the Hall of Fame the moment he becomes eligible; but taking a wider view of the glory days of the Bucs defense in the late 90s and early 00s, it is undeniable that Brooks' greatness did not exist in a vacuum; rather, he was freed up to play to his strengths, roaming sideline to sideline and seemingly shutting down any and every player who the opposition could throw at him, because playing in front of him was the most dominant defensive lineman of his era, Warren Sapp. Sapp's dominance demanded such attention from opposing offenses that the teams had to scheme for the DT, leaving Brooks to roam free in the middle of the field, knowing that any extra blockers
had
to be used to deal with Sapp. At this point, you might be wondering what the hell this has to do with Justin Smith. You might be asking why I'm drooling over my own team rather than doing what I'm meant to do and talk about the San Francisco DE. You might very well be screaming at your monitor for me to get the hell on with it. Which is fair. But I there's a reason I started off with talking about the Bucs, for you need to bear in mind that even though Sapp isn't considered the best player in Buccaneer history (though he's top three without a doubt), Brooks might never have come close to what he was if it weren't for Sapp – and this brings us to Justin Smith. To talk about Justin Smith by only talking about Justin Smith is to miss out on talking about a huge part what makes Justin Smith, well, Justin Smith. Sure, I could talk about how he's had 29 sacks in the four years since joining San Francisco as a 3-4 defensive end, or how he's coming off his third consecutive Pro Bowl, or that his 2011 season was so phenomenal that his two All-Pro selections
both came in the same season
, being selected as a second-team defensive end
and
a first-team defensive tackle, showing how unbelievably dominant he was both in the 9er 3-4 base formation and in their 4-2 nickel package. I could point out that teams had to use double teams and even triple teams just to try and
minimise
his impact, not even to stop him. All these would be fair to talk about, and would go some way to explaining his impact in what is the league's most dominant defense. But here at The Pulling Linemen, we like to believe we go deeper than other blogs, so I ask you to look beyond what Justin Smith does in and of himself.
Think about the players the 49ers have. Think about that most ferocious and gifted of all linebackers, Patrick Willis. Think about sophomore sensation NaVorro Bowman, whose play last season would, on any other team, have marked him out as their best defensive player. Think about even rookie manbeast Aldon Smith, who had 14 sacks despite only being a being a role player in sub packages. Quite the collection of defensive talent, isn't it. Now, think about this: every offensive co-ordinator has to think about how these devastatingly dominant players can completely tear apart their gameplans, such is their raw talent and superior skillset. And yet, these players are still free to be in position to be the kind of players you might see once in a decade. Why? Because there is not a single offensive coach in the league who would dare,
dare
give Justin Smith anything less than the utmost respect and attention a player can demand. This upcoming season, when you are watching the 49ers defense destroy everything in their paths, just remember that they
only
do so because of Justin Smith.
- Gur "Fred" Samuel
#7. Darrelle Revis, CB, NYJ [TD = 7, PG = 11, GS = 7]

There are few defensive players that influence a game plan as much as Darelle Revis does, and there are no corner backs who can shut down opposing wide receivers as well as "Revis Island" does.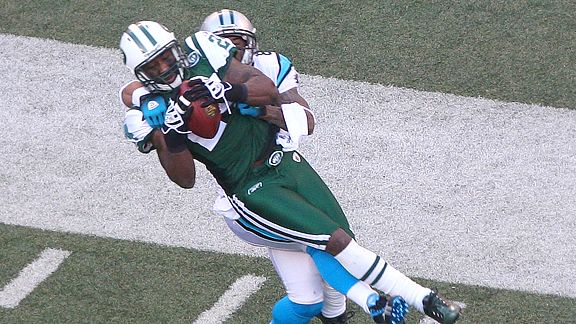 Revis is actually playing cornerback here, but you wouldn't
know it from his outstanding positioning
The surface numbers on Revis, 4 interceptions and 67 tackles over the last 2 seasons, don't come close to telling the whole story. Football Outsiders show just how good Revis is in their cornerback charting. By their "success rate" stat, (percentage of passes that don't manage to get 45% of needed yards on 1st down, 60% on 2nd, or 100% on 3rd down) for 2009 and 2010 Revis lead the NFL, finishing at or above a 70% success rate both seasons. His 2011 stats were right on pace too until he suffered, but played through, a knee injury for the last 2 months of the 2011 season. This dragged his stats down some what, but he was still well above league average. Even on one knee Revis is impressive. No corner has so successfully shut down the very best WR's in the game in man to man coverage since Deion Sanders, and it's his man coverage prowess that makes Revis so valuable to Rex Ryan's defense. The Ryan brothers loves to blitz, and that tends to leave your cornerbacks isolated, it showed up in Dallas where Rob Ryan's secondary simply wasn't up to the task and required a huge overhaul this off season. Well Rex's needs no such thing with Revis able to tuck the best receivers into his back pocket for 60 minutes on a sunday afternoon. Revis will be 27 when the season starts again, and there are rumblings that he may hold out at the start of the year for a better contract. It would be his 2nd such move after holding out in front of the "Hard Knocks" cameras in 2010. Revis is extremely aware of just how good, and just how important to the Jets, he is. With plenty more top-level football left in him, the Jets would be fools to let him miss even a day of practice. - Toby Durant (@TDonSport)
#6. Haloti Ngata, DE, BAL [TD = 11, PG = 4, GS = 8]
According to TPL, Haloti Ngata is the best lineman in football. On either side of the ball. And it's a crown he wears well. Drafted with the #12 overall pick by Baltimore in 2006, Ngata became the first defensive lineman selected by the Ravens in the 1st round in their history, and despite a short holdout started all 16 games his rookie season. It's hard to judge Ngata by statistics alone; as a DE in a base 3-4 defence, his role is not necessarily to make big plays or rush the passer alone, but to eat up space, control offensive linemen, and allow the linebackers working behind him, Ray Lewis, Terrell Suggs etc, to make the big plays around him. Despite this, Ngata has recorded at least 1 sack in each of his 6 seasons, including 10.5 over the last 2.
It's no secret that Ngata is a major reason for Ray Lewis' career continuing – Ray Ray said it himself – and it's due to Haloti's unrivalled ability to dominate OL at the point of attack, to force double- teams between OTs and OGs, and to push the pocket back into opposing QBs giving the backers behind him free reign.
Scarily, Ngata thinks his best is yet to come. He's consistently played at a weight of 330lbs through his NFL career, but thinks that being closer to 340 to start the 2012 campaign will give him even more force at the point of attack. Having already garnered 3 straight Pro Bowl and 4 straight All-Pro votes, Ngata being better than he already is will having his opponents quaking in their cleats.
- Phil Gaskin
#5. Calvin Johnson, WR, DET [TD = 5, PG = 7, GS = 6]
When you give someone the largest contract the entire eighty-eight year history of the NFL, it's clear he'd have to be something special. In the case of Calvin Johnson, "special" is an insult. There are no words that can do Megatron justice. Arguably the most ridiculous physical specimen in the league, Calvin Johnson is simply uncoverable. His 4.3 speed lets him outpace most DBs in the league; he possesses incredible strength, which allows him to out-jostle anyone attempting to pick off any passes intended for him, and to fight through the strongest corner or safety to come down safely with the ball; and his towering 6'5" frame, coupled with his 43-inch vertical leap and seemingly human reach, means that he can out-jump
anyone
– no pass is too high, or too far outside, that Johnson won't be able to make the grab. You can put as many defensive backs on him as you can spare, and it won't help you – there is no-one who has the combination of size, speed and strength that Calvin does (just ask the three Dallas defenders who had Johnson completely surrounded in a contest in 2011, offering them the best view in the house to watch Johnson out leap all three, stretching his arms out way above and out of the reach of any of them, grasp a ball delivered so high that no-one else in the league could have caught it, and rein the pass in for a touchdown). Finally getting the opportunity to play a full season with Matthew Stafford for the first time, Johnson had the best season of his career, gaining a lead-leaguing 1681 receiving yards while grabbing sixteen touchdowns, a career-high.
I once read somewhere on the internet (apologies to whomever wrote it, if I remember where I read it, you will of course be credited) that Andre Johnson is what Calvin Johnson would look like if he had consistent quarterback play. Certainly, he wasn't helped by constant uncertainty at the position for the first few years of his career, with a very, very good 2008 campaign bookended either side by respectable, but not particularly special seasons; but the past two years have shown Johnson absolutely demonstrating exactly why he was widely considered to be the top prospect in his draft class – and only the Raiders acting all Raiders-y (lol, JaMarcus Russell) meant he fell to #2 in the draft. With that consistency at QB, it turns out that Calvin Johnson did not look like Andre Johnson – he looked like how Andre Johnson would look like if he played out of his skin every single second he was on the field, had never had a single injury, and then had a spell cast on him by a passing benevolent warlock that made his talents 10% greater than they already are. To call Calvin Johnson 'elite' does not do justice as the label has been bandied about so frequently that we need to come up with a new word to describe him. The best receiver in the NFL by a country mile, possibly the most freakish, god-like collection of physical attributes the league has ever seen, words and accolades are meaningless – there's just no word in the English language that can justly describe "Megatron"; so instead, we'll just have to settle for describing him the greatest receiver in the league, and might be the first receiver who, when it's all said and done, might one day genuinely challenge for the title of the greatest of all time.
- Gur "Fred" Samuel
#4. Patrick Willis, LB, SF [TD = 4, PG = 2, GS = 3]
It's hard to believe that Pat Willis has already been in the NFL for 5 years, but he's been so dominant in that time he could almost retire now and still be considered one of the greatest. Joining the 49ers out of Ole Miss in 2007, Willis earned a start straight away, helped by coach and fellow linebacking great Mike Singletary. His rookie year was huge, with a league best 174 combined tackles, 4 sacks, and 5 passes defended, including an unbelievable week 16 performance against the Buccaneers where he recorded 20 tackles, 2 sacks and a forced fumble. He was a very deserving winner of the AP NFL Rookie of the Year, and the NFL Alumni Linebacker of the Year.
Willis didn't miss his first game until 2010, playing exceptionally throughout 2008 and 2009, again earning Pro Bowl honours and leading the league in tackles again in '09 (152). He also garnered 49 out of 50 possible votes for the All-Pro team in '09, missing out on the '08 to Jon Beason by just 1 vote.
Despite all these impressive performances, Willis was not part of a winning season until 2011, when the 49ers shocked everyone by going from an unfancied NFC West team to NFC Championship contenders. A major factor in the 49ers evolution to one of the league's best was their defence (having 2 of the TPL 100 top 10 in your starting front 7 helps!), which did not allow a rushing touchdown until week 16, and ranked 4th in the league overall. Willis' partnership with fellow ILB NaVorro Bowman is quite possibly the best tandem in the NFL at any position, but to my mind Willis is the undoubted and unrivalled senior partner. In the words of Matt Williamson, "Nobody in the NFL plays their position better than Patrick Willis, and that is saying a lot. He is as good a linebacker as Peyton Manning is a quarterback, as Andre Johnson is a receiver, as Adrian Peterson is a running back. He has no weaknesses." It is for this reason that I personally ranked Pat Willis #2 overall, ahead of the likes of Rodgers and Brees. QBs may be the most important players on the team, but Pat Willis is good enough to trump that.
- Phil Gaskin
#3. Drew Brees, QB, NO [TD = 3, PG = 5, GS = 1]
Do you know how hard it is to both love and loathe a player in equal measure? Try being a Bucs fan who objectively loves superior football play, no matter who that player is. The very reasons I love him as a fan of the sport are the very same reasons I hate him as a lover of the Bucs. To put it simply, there is no-one who I think is better in the league than Drew Brees. What can I say about Brees that isn't already known? Three times he has led the league in passing yards, smashing Dan Marino's single-season record in 2011; three times he has led the league in number of completions; three times he has led the league in completion percentage, setting a new NFL record in 2009 and breaking it himself in 2011; three times he has lead the led the league in passing touchdowns; he has also led the league once each in percentage of throws that resulted in TDs, and passer rating. And it's not as if that just describes a small three-year window, but actually all those occasions where Brees led the league in those various categories have occurred through the entirety of his career with the Saints, beginning with leading the league in passing yards in his first year with the team. Every season since, he has led the league in at least one category. The scariest thing is that there's not even any indication whatsoever that Brees isn't still improving – 2011 marked career-highs in touchdown passes, passer rating, touchdown percentage, number of completions, and of course passing yards and completion percentage, which, as mentioned aren't just career-highs but all-time NFL highs. Seriously, if the fact that last year might have been his best season as an individual is, in fact, indicative of the possibility that he is
still getting better
, then can you imagine what Brees might go on to do?
Now, that said, Aaron Rodgers also had one of the best seasons a quarterback has ever had in the history of the game, which is why he comes in a very close second in my personal Top 100 – what gives Brees the edge? Let me refer you back to the question that our Top 100 list is trying to answer: If the 2012 season began tomorrow, who would you want on your team? As this is the question we are answering, then there is more at stake than just the statistical side of things, at which Brees excelled at least as much as Rodgers did. No, for a
quarterback
to be the one player I want more than any other in the league if I was building a team for the season, I want someone who will do more than be an outstanding, incredible football player. I want someone whose intelligence is unrivalled by anyone else in the league, whose conception and understanding of all aspects of the game of football – not just know to the most infinitesimal level every single detail of his own offense, but the knowledge, comprehension and analytical ability to diagnose any and every defensive front, pattern, scheme that any of the other thirty one teams can throw at him, and find the weaknesses and soft spots – is as complete as the greatest minds to have ever coached the sport, let alone played. I want someone who defines the word "leader", who will inspire the rest of my team to do anything and everything asked of them as if their lives depended on it, who will lead by setting the highest example anyone could have; and simply, to have absolute mastery not just of the game of football, but of his team, of his franchise, of his community. As a Bucs fan, I hate that he is a Saint, and it truly does pain me to admit it – but there is no-one I would want on my team more for the 2012 season than Drew Brees.
#2. Tom Brady, QB, NE [TD = 2, PG = 1, GS = 4]
At #2 overall, and my personal choice for #1, is Tom Terrific. What can you really say about Brady that hasn't already been said? He's got 3 Superbowl rings, 2 Superbowl MVP trophies, 7 Pro Bowl nominations, 2 NFL MVP awards, he's a member of the NFL All-2000s Team of the Decade, and he's married to a Brazilian supermodel. That pretty much covers it, so there's little point telling you all about why he is deserving of his #2 position. I think most (if not all) would agree he is in the highest echelon of NFL players. What I can tell you, and what is up for more debate, is why I think Brady is worthy of the #1 slot over our other top nominees. The simple fact is that Brady has more big game experience and a better track record than the other top QBs. He's been through so many seasons, and in so many playoff runs, that if I had to choose a QB to lead my team for a season, I would not have a question mark in my mind over him. Many would choose Aaron Rodgers as their #1 player, but in his 3 seasons in the playoffs he's been 1 and done twice. The only season in which he's won a playoff game is 2010 when the Pack went all the way to the Superbowl. Admittedly in the Packers 2009 loss he threw 4 TDs and 423 yards, but in 2011 we all saw him have a mini-meltdown vs the eventual Superbowl champs NYG. Brady on the other hand has won playoff games in 7 different seasons, and over the 9 years in which he's made a playoff appearance he's thrown for 38TDs and a QB rating of 86.0. Considering these numbers come in what for many will be the biggest games of their careers, they are formidable.
Brady is also not someone who relies on others around him to make plays. Although he has been blessed with a consistently good OL, he is able to make average receivers great, and make great receivers record-breaking. Just look at Randy Moss' NFL record- 23TDs in 2007 and Rob Gronkowski's record for tight ends in 2011 (17TDs).
Perhaps the biggest argument for Brady being #1, however, is the fact that I really dislike the Patriots. Not a week of NFL football goes by when I don't root against New England, but despite this I have to concede that Brady is the best player in the NFL, and to me is almost untouchable in that position.
- Phil Gaskin
#1. Aaron Rodgers, QB, GB [TD = 1, PG = 3, GS = 2]
As much as I love Tom Brady, and admire Drew Brees, my number one pick, and our overall #1 player is the reigning NFL MVP, Aaron Rodgers.
The shadow of Brett Favre was a long, wrangler-clad, one over Lambeau Field when in 2008, after 3 years sitting on the bench, Aaron Rodgers was finally given his chance. After a difficult "rookie" season the Packers finished 6-10, but it was a good season from Rodgers: 63.6% completion, 4038 yards, 28 TD's and just 13 INT's. From there it all took off, 28 is his career-low for TD's, 13 his career high for INT's. Despite an offensive line that hasn't kept him clean, Rodgers takes 38 sacks a year compared to Brady's 25, A-Rod has been able to increase his completion % and TD% every single season, to career highs of 68.3 and 9.0 respectively in 2011. He set a new NFL record with a Passer Rating of 122.5 after slinging 45 TD's and just 6 picks on his way to a 14-1 record as a starter, getting the "Peyton Manning" treatment in week 17. Rodgers post-season record looks mighty impressive too, at 4-2 he's compiled a 105.5 passer rating.
One of the keys for Rodgers, and something lacking from Brady and Brees, is his ability to scramble, run and extend plays. Rodgers has put up over 200 yards rushing every season as a starter, and a total of 16 rushing touchdowns. His ability to pick up 3rd and longs with his feet as opposed to his laser-accurate arm makes him uniquely placed to give defensive co-ordinators nightmares.
At 28, and without the serious surgical history of Brady, Brees or even Peyton Manning, Aaron Rodgers looks set to be an elite player for a long time to come.
- Toby Durant (@TDonSport)
==================================================
And there you have it: the one hundred players we would most want on our team for the 2012 season. No doubt, many of you out there will disagree with our list - we'd love to hear from you, and explain to you why you're wrong, so hit us up on Facebook, Twitter or in the comments below. Keeping checking back in with us for some extra bonuses about our Top 100 - including a list of all the players who received votes for the Top 100, but failed to make the final list - and, of course, for our response to the best comments & insults we get for our list.
Our Top 100 is now fully counted down, but we've still got a lot of exciting things coming very soon to The Pulling Linemen, so make sure you keep checking in; we've got plenty of analysis on loads of aspects of the game, we've got more interviews with NFL players lined up, and we'll be returning to our Pulling Linemen Previews from last year, to see how much we got right and how badly we got stuff wrong. So keep it here with TPL, and we'll do our best to satisfy your football cravings until September rolls around.
We hope you've enjoyed the countdown - plenty more good stuff soon.
- Toby Durant (@TDonSport)
- Phil Gaskin (@sosayitisaid)
- Gur "Fred" Samuel (@FredTheGur)
- The Pulling Linemen