Introduction
|
#100-#91
| #90-#81 |
#81*-#71
|
#70-#61
|
#60-#51
|
#50-#41
|
#40-#31
|
#30-#21
|
#20-#11
|
#10-#1
Welcome back to part 2 of TPL100, our answer to the NFL's top 100 of 2012.
Today's installment features a bevy of young stars who have every chance of shooting up this ranking were we to do it in 2013 rather than falling out.
As ever, any comments and questions are welcome either on-site or via twitter (@PullingLinemen). The best and funniest will make it to our TPL Top 100 mailbag. Enjoy!
#90 - Earl Thomas, S, SEA [TD = 68, PG = 83, GS = --]
We kick off today with one of the best young safeties around. The 14th pick in 2010 earned himself a Pro-Bowl spot and 2nd team All-Pro honours in 2011 thanks to an impressive display, building on a 5-interception rookie season. The 3 year starter for the Longhorns already looks to be a leader in Seattle's defense, and especially in their young secondary. Last season Seattle ranked 10th best in DVOA (footballoutsiders.com's super-stat) and 9th best in pass defense. Look for that to improve as Thomas gets more and more experience.
#89 - Joe Haden, CB, CLE [TD = 93, PG = 58, GS = --]
Haden was the first ever true freshman to make an opening day start at corner for the Florida Gators, and his stellar college career propelled him to the top of draft boards in 2010, leading him to be a 7th overall pick by the Cleveland Browns (poor guy). So far he's lived up to that billing.
6 interceptions as a rookie was impressive, but the even more impressive feat was that teams began throwing away from him in his rookie season. An honour normally only bestowed upon the very, very best corners/Islands. The habit of throwing away from Haden showed up in his 2011 stats as he failed to record a single interception but the numbers on Cleveland vs. opponents #1 WR's were well above league average. Haden should continue to grow and become one of the league's premiere cornerbacks.
#88 - Eric Berry, S, KC [TD = --, PG = 49, GS = --]
The 3rd DB in a row from the top of the 2010 draft. Berry had an awful lot of hype coming into the league but hasn't yet had much of a chance to live up to it, missing almost all of the 2011 season with a torn ACL. And that came after having something of a Jekyll and Hyde rookie campaign; He lead the Chiefs in interceptions and was 2nd in tackles but also missed 11 tackles, allowed 58% of passes against him to be completed and gave up a league-leading (for safeties) 7 TD's.
There's little doubt that Berry has all the tools to be a top safety in the future and could well be in for a stellar 2012, provided he's fully recovered from the ACL injury of course.
#87 - Fred Jackson, RB, BUF [TD = 82, PG = --, GS = 65]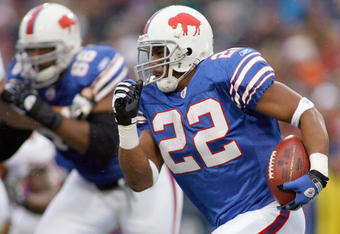 But for a broken leg during last season Fred Jackson could well have won a rushing title in 2011. In 10 games (9 starts) he amassed nearly 1,000 yards, ripping off runs at 5.5yards a carry. He was also a huge threat in the passing game, getting an amazing 11.3 yards a catch.
2011 was something of a breakout season for Jackson, who's only topped 1,000 yards once in his career. The issue for Jackson, who was given a 2 year extension which will keep him in Buffalo through 2015, is that in his absence CJ Spiller was able to show off his talents. Just how will that affect Jackson's productivity in 2012?
#86 - Jordy Nelson, WR, GB [TD = 97, PG = --, GS =51]
Jordy Nelson was something of an afterthought in the Packers passing game from when he entered the organisation as a 2nd round pick in 2008 up until Super Bowl XLV when he broke out for 9 catches, 140 yards and a TD. That increased production carried through to 2011 where he reeled in 68 balls for 1,263 yards and 15 TD's. A huge increase from previous career highs.
Surprisingly, those numbers weren't enough for Pro-Bowl or All-Pro considerations in 2011, but the Packers thought it good enough to hand him a 3 year, $13.35 million contract extension. With the dangerous Greg Jennings still lining up opposite him, Nelson should continue to get favourable match-ups in 2012.
#85 - Jerod Mayo, LB, NE [TD = 45, PG = --, GS = --]
So it seems like the others don't agree with me about Mayo's talents. Well that's understandable, given how poor the Patriots defense has been the last few years.
Mayo, the 10th pick in 2008, has already had himself a great career. Winning defensive rookie of the year as an athletic tackling machine next to vet Teddy Bruschi, Mayo went on to lead the NFL in tackles in 2010 en route to a 1st team All-Pro selection. The one thing that had been missing from his game were interceptions. Despite consistently getting in great position Mayo's stone hands had kept him off the INT board until 2011 when he was finally able to hold onto 2 of them.
Mayo is the QB of Bill Belichick's defense, and with the addition of young talent on that side of the ball in the 2012 draft it should improve a lot.
#84 - Brent Grimes, CB, ATL [TD = --, PG = --, GS = 43]
Brent Grimes has been a thorn in Josh Freeman's side ever since the latter entered the league, which is probably why Gur has him rated much more highly than the rest of us.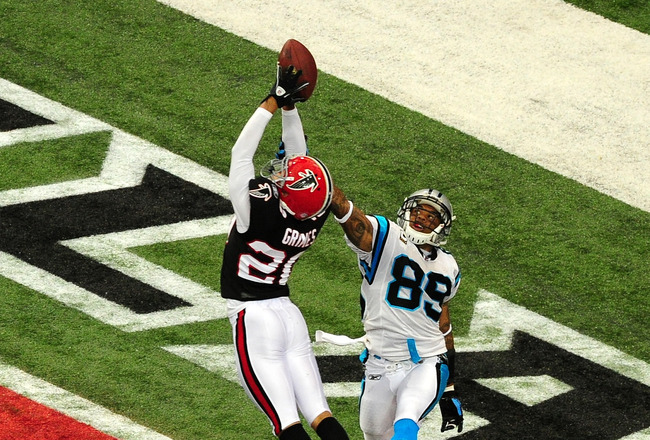 Grimes slips under radars because of the rather un-exciting style of football in Atlanta these days, as well as his quiet, "all business" nature. But there's little doubt he's a top player who is just beginning to enter his peak.
Grimes was given the franchise tag by the Falcons this off-season, so clearly they like his production. And with 6 interceptions and 37 passes defensed in the last 2 seasons you can see why. He has also been in the top 10 of various cornerback charting done by footballoutsiders.com over the last 2 seasons.
Publicity and hype around Grimes should pick up as his level of play, and that of his teams, increases.
#83 - Mike Iupati, LG, SF [TD = 52, PG = 92, GS = --]
Finally I get to talk about a lineman!!! Iupati is an absolute tank of a man at 6 foot 5, 331lbs. A first rounder in 2010; Iupati has superb athleticism for his position, allowing him to get up to the second level and make blocks in space. It also greatly aids the 49ers power run game as Iupati is able to pull down the line with devastating affect.
San Fran's 4.1 yards a carry, plus Alex Smith's 44 sacks in 2011 don't reflect well on Iupati, but the fact is that a lot of those sacks came around the rather disappointing right side of the offensive line while the poor quality of the 9ers passing attack lead to a lot of 8 man boxes and heavy defensive fronts. Iupati is one of the best young linemen, let alone guards, in the NFL today, and together with Joe Staley forms a near-impenetrable wall on the left side.
#82 - Frank Gore, RB, SF [TD = --, PG = 68, GS = 75]
To go along with the Iupati selection is perhaps his biggest fan in the NFL right now, 49ers running back Frank Gore.
Gore has been an absolute hammer of a back since entering the league in 2005. His only problem has been staying healthy, Gore has only played all 16 games just twice in his career. But even with that in mind 5 1,000+ yard seasons, at 4.6 yards a carry to go with 8.4 yards a catch isn't anything to turn your nose up at.
With a young offensive line in front of him which should continue to improve 2012 should be another productive season for Frank Gore. But with Kendall Hunter and now LaMichael James also in 49ers colours Gore could see his touches decrease. Especially as he fast approaches that 30 year-old barrier that running backs seem to struggle with now a days.
#81 - Cliff Avril, DE, DET [TD = --, PG = --, GS = 40]
Another franchise tag recipient in this off-season, the Lions decided that at $10.6 million, Avril was worth keeping around, despite the money and high picks already invested in the defensive line with Ndamukong Suh and Nick Fairley.
At just 25, Avril has been increasing his sack total year on year, from 5 as a rookie in 2008 to 11 in 2011. While his skills have improved, so too have his opportunities. Teams that face the Lions now need to pass a lot more in order to keep up with their high powered offense, as well as focus blocks inside to hold up Suh. All of that means it's open-season on QB's for Avril as lining up at left end he doesn't have to deal with the behemoth left tackles either.
However, the failure of the Lions to address their secondary needs this off-season could see Avril's sack chances hampered as opposing WR's will be able to get open quickly, and maybe before Avril can leave a QB-shaped hole in the Ford Field turf.
Make sure you're back same time tomorrow for #80=#71, which will include a Heisman trophy winner, some sack masters and just perhaps a controversy or two!
- Toby Durant (@TDonSport)
- The Pulling Linemen