After our end of season break the Pulling Linemen begin their off-season coverage with their first Mock draft of the year. I've thrown in a few trades, although doubtless there will be more during the proceedings in April.
1.

Indianapolis Colts (2-14): Andrew Luck, QB, Stanford
This pick needs no discussion. While people focused on Griffin's impressive athleticism at the combine it was Luck's which really grabbed my attention. His measurables were all comparable to Cam Newton. Which is kinda scary when you consider he's meant to be the next Peyton Manning too.
2.

*TRADE* Washington Redskins (5-11): Robert Griffin III, QB, Baylor
(6, 39, 70 + 2013 1st & 3rd to St. Louis)
The St. Louis Rams have been very clever here and opened up discussions before free agency, forcing teams to declare their interest before they can open up talks with Peyton Manning or Matt Flynn. As a result they could get a king's ransom for the #2 spot. Rumours are currently flying that the 'Skins will make such an offer to get their new signal caller.
3.

Minnesota Vikings (3-13): Matt Kalil, OT, USC
Justin Blackmon would have been extremely tempting here. With Adrian Peterson's knee injury the offensive onus will fall mainly on 2nd year QB Christian Ponder in 2012, and while he showed flashes of serious talent there was also a lot of inconsistency. Getting him an outside receiver will help, but the free agent class has a lot of those, and guys like Matt Kalil just don't come around all that often. He's a dominating presence on the blindside and will help Ponder feel comfortable in the pocket.
4.

Cleveland Browns (4-12): Justin Blackmon, WR, Oklahoma State
Having failed to get Griffin they'll settle for giving incumbent QB Colt McCoy some much needed help at wide receiver. Blackmon came in at 6 foot 1 in the combine, which has a few people worrying, but if you watch the tape he played much bigger than that. He's an effortless runner and, while not quite the prospect ex-teammate Dez Bryant was, his attitude at this stage is much better.
5.

Tampa Bay Buccaneers (4-12): Morris Claiborne, CB, LSU
After hiring LSU's secondary coach Ron Cooper this pick looks like a lock provided he's still on the board. Their cornerback position looks flimsy with Ronde Barber getting no younger and the looming trial of Aqib Talib it's really a no-brainer pick. Someone like Trent Richardson might tempt them, but his recent knee surgery ought to put them back on the right path.
6.

St. Louis Rams (2-14): Dontari Poe, DT, Memphis
I can see the Rams looking to move back again from here, but with no stand out value player available it would be tough unless a team falls in love with someone. The Rams 4.8 yards per carry against was one of the worst in the league and it had a lot to do with their interior defensive line. Poe had a monster combine, running an incredible 4.8 in the 40. At 350+lbs that simply shouldn't happen. He's an athletic freak of the highest calibre and his disruptive presence would go a long way to help fix the Rams defense.
7.

Jacksonville Jaguars (5-11): Quinton Couples, DE, North Carolina
Jacksonville need offensive playmakers, badly. But there just aren't any of even close value to this pick, and while an offensive lineman would be tempting to help the often clueless Blaine Gabbert I can see them addressing their other glaring need: pass rush. Couples had a bit of a down senior year but is still an excellent prospect and will add to what could be a very useful defense in 2012.
8.

Miami Dolphins (6-10): Courtney Upshaw, OLB/DE, Alabama
With all the coaching changes in South Beach could well come a change in defensive formation to a 4-3. For this they would need another defensive end to work opposite Cameron Wake, Upshaw seems to be that guy. As part of the stellar 'Bama defense Upshaw lived in the opposition backfield, and while his 6-1 frame isn't quite ideal for an every down DE he'd give the Dolphins the kind of formation flexibility that is vital when facing the Patriots twice a year.
9.

Carolina Panthers (6-10): Devon Still, DT, Penn State
With the inability of Otah, Beason and Davis to stay fit you can see the Panthers giving serious consideration to Riley Reiff or Luke Kuechly, but the glaring weakness of their roster is at defensive tackle. Having spent a pair of 3rd rounders last year on their starters you can see a need for an infusion of raw talent and depth, which will help to keep those linebackers healthy too. Devon Still can be their much needed run-stuffer. Don't be surprised if they take Fletcher Cox here though, he impressed at the Combine and could well see his stock rise as the pro days roll around.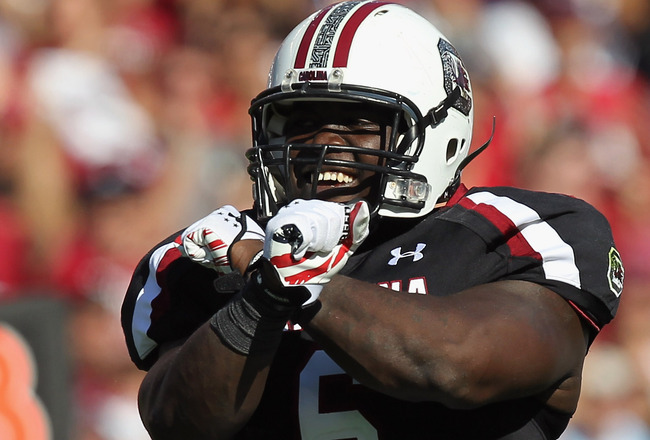 10.

Buffalo Bills (6-10): Melvin Ingram, DE, South Carolina
Head Coach Chan Gailey has been discussing his teams failure to get to the opposition QB recently, and with Upshaw and Coples gone that leaves Melvin Ingram. Ingram was perhaps the most impressive DE at the Combine and is also incredibly versatile, which is key as the Bills have failed to settle on an even or odd front for a long time now.
11.

Kansas City Chiefs (7-9): Riley Reiff, OT, Iowa
The run on defensive lineman really limits the options for the Chiefs, who despite recent high picks in that position, find themselves in need again. But instead of reaching they settle on their other area of need, a right tackle. I have my reservations about Reiff being an NFL tackle, he's a little short in the arm to deal with the various elite pass rushers that would attack him from that size. He projects much better on the right side, and perhaps even at guard, where he can use his physicality in the run game to open up holes for a healthy Jamaal Charles.
12.

Seattle Seahawks (7-9): Luke Kuechly, ILB, Boston College
The Seahawks find themselves without a middle linebacker at the moment as incumbent David Hawthorne is a free agent, and after not caving in to pay Lofa Tatupu last season one doubts they would pay Hawthorne what he considers his value to be either. Kuechly is as instinctive and productive a player as any team could wish for and after an impressive combine any worries about physical talent has disappeared as well. Don't be too surprised to see DT's Cox or Michael Brockers go here though as the position holds more value than ILB and is of great need too.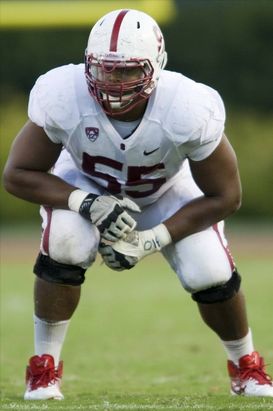 13.

Arizona Cardinals (8-8): Jonathan Martin, OT, Stanford
Arizona have a lot invested in Kolb and Fitzgerald, and they need to protect that combo if they're going to have any hope of challenging in their division. Levi Brown has had his chance at left tackle and not shown enough. Martin, while he has a bit of work to do against the faster rush guys he should be a solid protector for Kolb, with the potential to grow into a dominant player.
14.

Dallas Cowboys (8-8): Janoris Jenkins, CB, North Alabama
Dallas have great need for a cover corner, and despite character concerns they grab the guy considered by many to be the top man to man corner in the draft. Jenkins had an impressive senior bowl and combine which will only increase Dallas' interest after the terrible season they had in their secondary. His man coverage skills will help Rob Ryan continue his addiction to funky blitz packages.
15.

*TRADE* Cincinnati Bengals (9-7): Trent Richardson, RB, Alabama
(21 + 53 to Philadelphia)
With Cedric Benson a free agent and slowing somewhat the Bengals jump ahead of New York to snag the best running back in the draft. Despite having his knee scoped recently Richardson's talent should be enough to quell some concerns. He's the most talented RB prospect since Adrian Peterson and his presence in the backfield would keep the pressure off Andy Dalton and allow him to mature at his own pace.
16.

New York Jets (8-8): Mark Barron, SS, Alabama
The Jets have several needs that they can't realistically fill here, and instead go for someone to help fight the biggest threat they face: New England. The more I see and hear about Barron the more he sounds like the perfect weapon against the new generation of tight end. While his recent hernia surgery could scare them off and draw them towards DeCastro, the thought of having someone to help shut down Aarob Gronknandez will be too tempting.
17.

Cincinnati Bengals (9-7): Dre Kirkpatrick, CB, Alabama
The Bengals aren't usually one to let character concerns get in the way of a good player, and given the nasty injury to Leon Hall corner is a real need. Kirkpatrick isn't an elite prospect but will be a good #2 corner alongside Hall when he returns to fitness. He's also not one to shy away from a hit which will help ingratiate him to a physical and young defense. Don't be too surprised if they jump on DeCastro here though, Bobbie Williams is 35 now and a free agent, players like DeCastro doesn't come along too often.
18.

San Diego Chargers (8-8): David DeCastro, G, Stanford
The Chargers need some pass rush badly, but with Kris Dielman's enforced retirement and Marcus McNeill's issues the offensive line is simply too weak to allow a player like DeCastro to go. David DeCastro was a dominating force in the interior for Stanford and is the best guard prospect to come along in years. He should slot into LG and produce instantly.
19.

Chicago Bears (8-8): Michael Floyd, WR, Notre Dame
Jay Cutler needs some help, he simply can't keep doing it by himself. After Johnny Knox's horrific injury the wide receiver position becomes even more of a need than it was during the season. Michael Floyd is a big target who ran better than expected in the combine, easing some of the more nervous scouts about his prospects. By the time the draft comes along he might have shot up a bit further, but for now the Bears are grateful he's available here.
20.

Tennessee Titans (9-7): Whitney Mercilus, DE, Illinois
It would appear that the Titans are going to lose Cortland Finnegan in free agency, but it would be too much of a reach to take his replacement here. Instead they opt for one of the few true 4-3 DE's around. Mercilus isn't the most fluid and instinctive player but he had a highly productive 2011 with 16 sacks. The Titans have been turning out good DE's for a while and there's no reason to think they couldn't iron out the kinks here too.
21.

Philadelphia Eagles (8-8): Don't'a Hightower, ILB, Alabama
After seeing Luke Kuechly disappear before they could get their hands on him the Eagles move down to take the next best ILB on their board, filling the only glaring need on their roster. Hightower is a physical thumper of a linebacker who can take on blocks in the run game and not get pushed back. He might well find himself coming off the field in passing downs or rushing as he could be a liability in coverage.
22.

Cleveland Browns (4-12): Coby Fleener, TE, Stanford
Having taken Blackmon in early on they find another weapon for McCoy, or whomever they bring in to compete. Fleener is a Rob Gronkowski lite. At 6 foot 6 he'll provide the big target and strong edge blocking they need to get some offense going in 2012 against 3 very tough defenses in the AFC North.
23.

Detroit Lions (10-6): Cordy Glenn, G, Georgia
Detroit will be disappointed to see the top 4 DB's off the board at this point, along with the 4 best offensive linemen. Going BPA here would probably land them with Michael Brockers but you can't take a 1st round DT 3 years running. As a result they have to reach a little and fill a need. After a mightily disappointing combine, where his effort was called into question, OT Mike Adams isn't a fit here so they grab Glenn to help out their running attack.
24.

Pittsburgh Steelers (12-4): Michael Brockers, DT, LSU
The Steelers would love Hightower to be here but having given him to the Eagles the Steelers jump on the best player available to come in and replace their aging starters across the defensive line. He's oozing with potential, and the Steelers have shown that they don't mind sitting and waiting on their DL prospects as they train them up just right.
25.

Denver Broncos (8-8): Fletcher Cox, DT, Mississippi St.
Denver's defense was much better than expected for most of 2011, but there are still holes at DT and CB that need filling. Alfonzo Dennard or any other corner would be a reach here so they take the best DT available who happens to be a good value fit here too. Cox is a big talent and can shift along the defensive line to suit the front.
26.

Houston Texans (10-6): Kendall Wright, WR, Baylor
The injury to Andre Johnson really highlighted how thin the Texans are at WR. Wright had a poor showing at the combine but he has an electric highlight reel from this year and with Johnson and the big time running game he should get a lot of nice looks in Houston.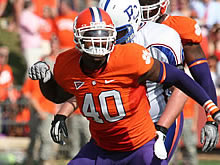 27.

New England Patriots (13-3): Andre Branch, DE/OLB, Clemson
Trade? Maybe not. New England still have their perennial need for a pass rusher and Branch fits the bill. He's got the size and scheme versatility that Bill Belichick loves, it's just whether or not he finally pulls the trigger on a 1st round rusher.
28.

Green Bay Packers (15-1): Nick Perry, OLB, USC
The pass rush disappeared for Green Bay in 2011 and it became clear that they would need someone to go opposite Clay Matthews. However if they can't find the cap space to keep Scott Wells, or sign Chris Myers, they could well look to Wisconsin centre Peter Konz.
29.

Baltimore Ravens (12-4): Mike Adams, OT, Ohio St.
Mike Adams has a ton of potential, but he needs the right environment to flourish. This is the ideal situation for him where he doesn't have to start straight away and has the chance to grow into the role as Bryant McKinnie, while solid in 2011, is going to be 33 in Sept. and can't be expected to go on forever.
30.

San Francisco 49ers (13-3): Mohamed Sanu, WR, Rutgers
San Fran were the surprise of 2011. Jim Harbaugh bought the best out of Alex Smith, but now he needs to get him some help outside the numbers. Michael Crabtree hasn't lived up to the his high pick yet, and behind him is a void of nothingness. If they're to cash in on this superb defense and what could be the last few years of Frank Gore then they need more of a threat on the outside.
31.

*TRADE* Seattle Seahawks (7-9): Ryan Tannehill, QB, Texas A&M
(43 + 2013 1st to New England)
The Seahawks need someone to push Tarvaris Jackson onto better things, or the bench. It looks like they could find that someone here before the Browns get their hands on him at the top of the 2nd, Tannehill is the consensus #3 QB in the draft despite his inexperience at the position.
32.

New York Giants (9-7): Peter Konz, C, Wisconsin
This is a difficult spot. The Giants have a few glaring needs at TE after the injuries suffered during the Super Bowl and at linebacker, but there isn't really a fit here. As a result Peter Konz seems to be the best bet. He's the total package and would be an upgrade either at centre or left guard for the Giants. It's not a sexy pick for the champions, but it might be the best one they could make with this board.
2nd Round: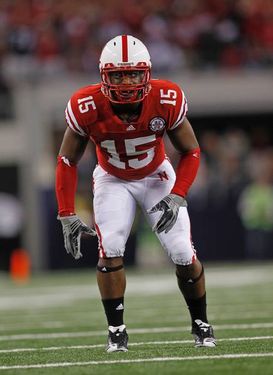 33. St. Louis: Stephen Hill, WR, Georgia Tech
34. Indianapolis: Orson Charles, TE, Georgia
35. Minnesota: Zach Brown, OLB, North Carolina
36. Tampa Bay: Alfonzo Dennard, CB, Nebraska
37. Cleveland: Kirk Cousins, QB, Michigan St.
38. Jacksonville: Alshon Jeffery, WR, South Carolina
39. St. Louis: Lamar Miller, RB, Miami
40. Carolina: Stephon Gilmore, CB, South Carolina
41. Buffalo: Reuben Randle, WR, LSU
42. Miami: Zebrie Sanders, OT, Florida St.
43. New England: Harrison Smith, SS, Notre Dame
44. Kansas City: Alameda Ta'amu, NT, Washington
45. Dallas: Chandler Jones, DE/OLB, Syracuse
46. Philadelphia: Jerel Worthy, DT, Michigan St.
47. New York Jets: Brandon Weeden, QB, Oklahoma St.
48. New England: Nick Toon, WR, Wisconsin
49. San Diego: Lavonte David, OLB, Nebraska
50. Chicago: Kevin Zeitler, G, Wisconsin
51. Philadelphia: Bobby Wagner, LB, Utah St.
52. Tennessee: Kelechi Osemele, G, Iowa St.
53. Philadelphia: Doug Martin, RB, Boise St.
54. Detroit: Mychal Kendricks, ILB, Cal
55. Atlanta: Vinny Curry, DE, Marshall
56. Pittsburgh: Bobby Massie, OT, Ole Miss
57. Denver: Brandon Boykin, CB, Georgia
58. Houston: Brian Quick, WR, Appalachian St.
59. New Orleans: Brandon Washington, G/T, Miami
60. Green Bay: Brandon Thompson, DT, Clemson
61. Baltimore: Ronnell Lewis, DE/OLB, Oklahoma
62. San Francisco: Jayron Hosley, CB, Virginia Tech
63. New England: Trumaine Johnson, CB, Montana
64. New York Giants: Josh Robinson, CB/KR, Central Florida