We all know the scenario. You've got to travel to the best team in your conference, after they've had a week off to get healthy and prepare. Just how do you overcome the odds and beat the #1 seed? Well the 2 top seeds this year have experience when it comes to that. Last year New England were the AFC's #1 and got dumped out by their divisional rivals the New York Jets. Green Bay were in the position the Giants now find themselves, walking into the lions den of the NFC with an upset on their mind. So just how do the 2 underdogs go about getting that W?
Denver Broncos (+13.5) @ New England Patriots
In order to create another big upset the Broncos will need to follow the same script as last week and then some. They added a few wrinkles to things that the Steelers hadn't seen before, hit a few big plays and were able to get after the opposing quarterback.
Tebow's not levitating that ball,
he's fumbling it.
In the week 15 match-up in Denver against New England, the Broncos were able to get off to a fast start before a few fumbles gave the Pats impetus that they never lost, going on to win 41-23.
In that game the Broncos did a decent job on defense, scheming against Welker and Gronkowski and holding them to a combined 8 catches for 94 yards. They were even able to keep the prolific Tight End out of the endzone. By anyone's estimation that's a win. Unfortunately that didn't stop the Patriots offense, cos there's also this guy called Aaron Hernandez who I'm sure His Tebowness had mentioned in meetings. Aaron Hernandez was left mostly alone that day and Brady hit the ex-Gator for a career high 129 yards and a TD.
Simply put the Patriots have too many weapons for Denver's defense to try and survive by taking one or two away. They know this now so expect a different strategy on Saturday night that will revolve around pressuring Brady and being strong in the red zone.
Demaryius Thomas races to the game winning TD last week
Sunday's Wildcard upset win was centred on their ability to get pressure on a hobbled Ben Roethlisberger who they sacked 5 times. Now a hobbled Big Ben is still slightly more mobile than Tom Brady, but unfortunately the Patriots offensive line is light years ahead of the Steelers one.
That's not to say Brady will be comfortable back there, he took 2 sacks against Denver last time out including one where Elvis Dumervil absolutely rocked him, but lets just say they'll have a tougher time getting to the QB with a straight forward rush than they did last week.
On offense, well they were able to get good gains on the ground against New England early on before the points deficit got too much. A similar strategy would again only get them so far in trying to keep up with Mr. Brady. So more of the game is going to put on Tebow's erratic arm.
Can the Broncos do the unthinkable
and keep Gronk out of the
endzone again?
Their feast-or-famine passing attack came through in a big way against Pittsburgh who were extremely aggressive in their run defense, often with both safeties up at the line of scrimmage. I would highly doubt the Patriots do the same thing. With linebacker Brandon Spikes and safety Patrick Chung available for this game, unlike in week 15, the Patriots run defense should be a tougher test for the Broncos again forcing Tebow to consistently drop back and throw, which is something he's yet to prove he can do consistently.
If the Broncos can avoid the silly turnovers that handed the Patriots momentum the last time round, and get a few back themselves, then there's definitely a chance they can upset the odds again. As everyone knows the Patriots defense is pretty putrid and allows teams to control the clock on them but it's still likely that they'll need to connect on a few big passing plays, and with Eric Decker expected to be out that's going to be tough.
Prediction: Broncos 27 – 35 Patriots
New York Giants (+7.5) @ Green Bay Packers
The New York football Giants have a blue print for how to beat an unstoppable offense. They even have a shiny Lombardi Trophy to prove it. In February 2008 the Giants upset a previously unbeaten New England Patriots in the Super Bowl, just 5 weeks after losing to them 38-35 at home. When they walk out onto Lambeau field to face a seemingly unstoppable offense, it will be 6 weeks since their match in New York where the Packers won 38-35.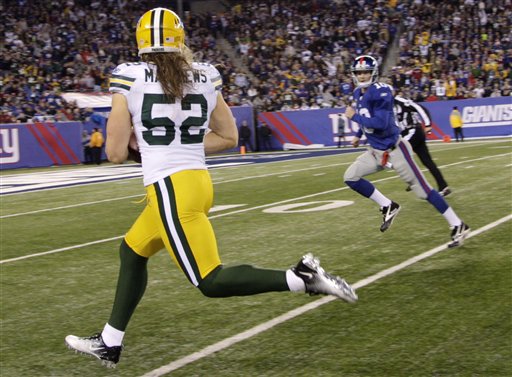 Eli Manning suddenly realises he shouldn't have passed it
to Clay Matthews. Hopefully he'll remember that lesson on sunday
Very coincidental yes, but the make-up of this Giants team is very similar to that 2007 Championship winning side. They've got an excellent pass rush from their front 4, a decent ground game (when everyone's healthy) and some play-making receivers. The difference? Eli Manning is a much better quarterback now. And yet, despite those big positives the Giants got swept this year by Washington and lost big at home to Seattle while struggling to wins against Arizona (by 4), Buffalo (by 3) and Miami (by 3).
Jason Pierre-Paul has been a
menace to QB's all year, and will
need to continue that against Rodgers
Having gotten a good look at the Packers recently, and running them very close, will be a benefit for the Giants. They'll need to come out firing and certainly can't afford to do anything other than score on their opening drive. Last week against Atlanta they were able to prove that you can't just double Victor Cruz and think that will shut down the Giants. Hakeem Nicks is every bit as good as Cruz, you have to try and take care of the both of them which is obviously a difficult task. One thing the Giants can do much better than Green Bay is run the ball. They averaged 1.8 yards a carry more in their game, and last week Brandon Jacobs and Ahmad Bradshaw combined to rip the Falcons for 5.5 yards a go. If they can control the clock and shorten this game it will be for the better.
It sounds a little crazy to take the ball away from Manning, Cruz and Nicks but in Super Bowl XLII the Giants took all the buzz out of the game with an opening drive that took 10 minutes just to score a 32 yard field goal. It killed a lot energy in the Patriots offense as they had to stand there for a long time waiting to get on the field. A similar slow-play opening drive could pay dividends on Sunday if the Giants can suck some life out of the excited crowd at Lambeau Field and remind them how crazy it is to be outside for so long on a January evening in Wisconsin.
Put simply the Giants need to pressure Rodgers with their terrific front 4 and the clock. Such a 2 pronged attack would really ratchet up the importance of every drive and every play for the Packers on offense.
Next on their "To Do" list is win the turnover battle. They were able to pick off Aaron Rodgers in their regular season game, but Eli tossed a pick 6 to Clay Matthews and lost a fumble to give the Packers a 2-1 edge. And you don't stand a chance against Green Bay if you're going to gift them an extra possession like that.
If Jennings' knee is 100% you can expect to see he and Rodgers
celebrate in the endzone again
Unfortunately for New York, the bye week has allowed the Packers to get healthy. They'll have their starting LT and RT back and ready to play as well as their primary receiver Greg Jennings. This will make things a lot tougher for the Giants devastating pass rush while Jennings will increase the mis-match Green Bay have in their receivers vs the Giants poor secondary.
You never know which Giants team you're going to get from week to week. Will it be the one that went into Foxboro and won or is it the team who got embarrassed by the Seahawks? If they play up to their full potential the G-Men can win this, of that I have no doubt. But if they start shaky and Eli throws in an early turnover then it will rapidly unravel for them.
Prediction: Giants 24 – 32 Packers

- Toby Durant (@TDonSport)
- The Pulling Linemen