Nick Collins, overjoyed at hearing that the Packers have
been placed top of the Pulling Linemen power rankings
for the fourth straight month
It's December, and that can only mean one thing: the latest edition of our monthly power rankings. Unsurprisingly, the Packers were still the unanimous choice for the top spot, while the Colts manage to cling on to the No. 32 spot through their unrivaled and unrelenting commitment to drafting Andrew Luck. The biggest drop in ranking by far is the Buffalo Bills, who drop a whopping 18 places as their season nosedives into utter mediocrity, while the Denver Broncos jump up 13 spots on the back of a lights-out defence and a cunning offensive strategy, based on the concept "run the ball for fifty five minutes until the DBs are so bored they'll get involved in stopping the run and forget to leave someone to cover Eric Decker". Very sneaky, John Fox. Very sneaky.
You'll also find below our picks for Week 13; Phil and Toby are now neck and neck at 111-52 in predictions on the season, while Gur trails at little behind at 101-62.
1 (1): Green Bay Packers (11-0) (TD: 1, PG: 1, GS: 1)
Who else did you really expect to see here? This team is rolling and Aaron Rodgers is on for a historic year. And guess what, that defense is starting to turn around too. The only thing stopping them going 16-0 could be if they rest their starters once the #1 seed is wrapped up.
2 (9): New Orleans Saints (7-4) (TD: 4, PG: 2, GS: 2)
It's almost funny to watch people try and cover Jimmy Graham, but then you realise he's just going to tear up your secondary too. He's 4th in receiving yards with 8TD's and even broke the goal posts with one of his slam-dunk celebrations. Graham is one of the big reasons why Drew Brees is yet again chasing the single season passing yards record.
3 (7): Baltimore Ravens (8-3) (TD: 2, PG: 5, GS: 3)
The Ravens have been a frustrating team all year, and November was no different. They went toe to toe with the Steelers, Bengals and 49ers last month and bloodied them all (particularly Alex Smith) but they lost to Seattle with Joe Flacco passing it a staggering FIFTY TWO TIMES!! How do you ignore Ray Rice like that Cam Cameron, HOW!?! Do that in the playoffs and the Ravens could fall short again.
4 (4): San Francisco 49ers (9-2) (TD: 3, PG: 3, GS: 4)
Losing a tight game in Baltimore is nothing to sniff at, but it did highlight the 49ers limitations, namely Alex Smith. The defense is mighty, and Frank Gore is a beast but they'll go as far as Smith allows. He held the ball too long and started to look like a deer in the headlights on Thanksgiving vs. The Ravens (but who wouldn't with Haloti Ngata charging at them). It didn't help that Anthony Davis was as much use as a sieve in a sinking ship either.
5 (5): New England Patriots (8-3) (TD: 6, PG: 4, GS: 6)
For all the yards they're giving up (over 400 a game) they're 11th in scoring defense, allowing a measly 20.3 points a game and have 21 takeaways on the year. Meanwhile the offense continues to hum along nicely with the incomparable Wes Welker leading the league in receiving yards and receptions while Rob Gronkowski is a touchdown machine. The Patriots have a stunningly easy run-in so don't be too surprised if they sneak the #1 seed in the AFC again.
6 (2): Pittsburgh Steelers (8-3) (TD: 5, PG: 6, GS: 5)
The Steelers put up a good show in beating Cincy but then looked awful in beating Kansas. While their defense continues to be stellar it's the performance of wide receiver Antonio Brown that has been turning heads. He's only gotten into the endzone once this season but he's getting open and providing Big Ben with a non-Mike Wallace option between the 20's.
7 (8): Houston Texans (8-3) (TD: 7, PG: 7, GS: 7)
It's always difficult when a team lose their starting QB to Liz Frank (That's what happened right?) but then to lose your back-up QB half way through his first game is just cruel. But even then there's no excuse to sign Jake Delhomme and threaten your loyal fan base with him. We'd all might rather they give TJ Yates a shot and spare everyone.
8 (12): Chicago Bears (7-4) (TD: 8, PG: 8, GS: 10)
The injury to Jay Cutler could kill what had been a very promising season. Their offense was clicking and the defense was playing at a top level. It could all go to waste with Caleb Hanie now. After a 3 interception performance against the Raiders you hope the game will slow a little for him and the wins will come because there's a chance Cutler could be back in time for the play-offs, and with him they would give Green Bay a run for their money.
9 (11): Cincinnati Bengals (7-4) (TD: 9, PG: 10, GS: 8)
Rookie wideout A.J. Green has more than lived up to the
pre-draft hype
It's been a tough November for Cincinnati with battling losses to Pittsburgh and Baltimore (welcome to the AFC North Andy Dalton) but a wildcard spot isn't out of the question if they can find 4 wins from @PIT, vs HOU, @STL, vs ARI and vs BAL. It will be a tough road, but they've got the defense required and an explosive playmaker in A.J. Green to make it happen.
10 (14): Atlanta Falcons (7-4) (TD: 13, PG: 9, GS: 9)
The Falcons are one of the most dull-but-good teams in the league. The do nothing flashy on or off the field. They don't wow when you watch them, and yet they get wins. They pound the ball with Turner and Matt Ryan makes safe throws. The defense isn't blitz happy and you'd struggle to name half their starters but they're all good and hard to break down. As a result of this bland nature they've slipped out of discussions about contending teams. But they're challenging as well as anyone for a play-off berth and on their day can beat anyone. Don't sleep on the Falcons.
11 (6): Detroit Lions (7-4) (TD: 10, PG: 12, GS: 12)


Once upon a time, the Lions looked a lock to make the playoffs - and potentially even knock the Packers off of the top of the NFC North. Along the way, Matthew Stafford seems to have forgotten how to read coverages (9 picks in the last three weeks, compared with 4 over the first eight) and Ndamukong Suh forgot how to keep a check on his rage. Facing the start of the home stretch without three key components on their defense (Suh, plus safety Louis Delmas and corner Chris Houston, who have both been listed as doubtful against the Saints), Detroit has to hope that Stafford regains his early season form, or the Lions might once again find themselves watching the post season from their couches.
12 (21): Dallas Cowboys (7-4) (TD: 11, PG: 13, GS: 11)


The team that everyone loves to see fail hasn't yet allowed that satisfaction to NFL fans, thanks in no small part to the emergence of rookie running back DeMarco Murray (who's currently second behind only Tim Tebow in yards per rushing attempt amongst players with over 6 carries per game average), the sheer dominance of DeMarcus Ware (who leads the NFL with 14 sacks) and a currently white-hot Tony Romo (who's thrown 10 TDs to 2 INTs in the past four games, and ranks 5th in TDs, 4th in completion percentage and 4th in passer rating on the season). All that said, the calendar has now turned to December; and Tony Romo in December disappears quicker than dogs from Michael Vick.
13 (20): Oakland Raiders (7-4) (TD: 12, PG: 11, GS: 14)
The Raiders have been one of the more surprising teams of the 2011 season, with new head coach Hue Jackson having been able to build on the Raiders' 8-8 2010 season (the first non-losing season for the team since 2002) despite a drastically shortened offseason thanks to the lockout. The silver-and-black boast a powerful tandem of running backs in Darren McFadden and Michael Bush (which is useful, as McFadden struggles with health woes) and a hard-hitting, powerful defense. While the amount given up was pretty ridiculous, the Raiders seemed to have managed to salvage their season by trading for Carson Palmer after Jason Campbell went down, and, behind the cannon-leg of Sebastian Janikoswki, are in good position to take control of the very 'meh' AFC West.


14 (10): New York Giants (6-5) (TD: 14, PG: 14, GS: 12)
It was all going so well for the Giants. After overcoming injuries that marred their preseason, the Giants quickly established themselves are the frontrunners of the NFC East, holding a 6-2 record that included close wins over an at-the-time-good Buffalo Bills team and delivering the Patriots their first loss in Foxboro since 2008. Things have since taken a turn for the worse for Big Blue, and with the Giants' currently on a 3-game losing streak, sitting behind the Cowboys in the division, a tough schedule the remainder of the season, and being hit once again by the injury bug - with starting left tackle William Beatty headed to IR and sackmeister Osi Umenyiora (7 sacks in as many starts) due to miss several weeks - the Giants instead find themselves in a crowded NFC wildcard hunt.
15 (15): New York Jets (6-5) (TD: 15, PG: 18, GS: 15)
Another season, another
Super Bowl guarantee that
looks to go unfulfilled
The Jets have been to back-to-back AFC championship games, but this year's team seems to be of a different sort. They've gotten away from ground-and-pound - LT is showing his age moreso than last season, while Shonn Greene still has yet to step up as a workhorse back - and while Sanchez has markedly improved this year (shocking SNF performance against the Ravens aside), he's nowhere near ready to put a franchise on his shoulders yet. Revis has been absolutely dominant, but the rest of the D hasn't lived up to the standard set by the 2009 & 2010 incarnations of the Jets, and without a punishing run game on the other side of the ball, it's very hard to see the Jets gaining a playoff berth this year.
16 (18): Tennessee Titans (6-5) (TD: 16, PG: 16, GS: 16)
Tennessee haven't won back to back games since weeks 2 and 3 but this weeks trip to Buffalo provides a good opportunity. Chris Johnson has been able to feast on the bad run D's they've faced, and the Bills are another one, but he continues to disappoint against half decent opposition. How much do the front office regret handing him that hefty contract now?
17 (30): Denver Broncos (6-5) (TD: 18, PG: 17, GS: 17)
All the talk about Tebow and his amazing ability to put very few points on the board is detracting from the stellar work of the Broncos defense and the outstanding performances of now injured rookie linebacker Von Miller. Miller has been terrorising opposing quarterbacks (along with a now healthy Elvis Dumervil) and the entire defense and special teams are firing right now.
18 (27): Seattle Seahawks (5-7) (TD: 22, PG: 15, GS: 18)
Tarvaris Jackson has moments where you're convinced he could be a decent NFL QB. He completed all but 3 of his passes in Thursday's win over the Eagles, helped by an outstanding catch from Golden Tate and a bit of Beast Mode from Marshawn Lynch. Seattle's defense is playing well at the moment too, and with 3 winnable games left a .500 record isn't out of the question.
19 (19): San Diego Chargers (4-7) (TD: 23, PG: 19, GS: 20)
You know how every year people say the Chargers are really talented and sure to be a Super Bowl contender but then they end up shooting themselves in the foot? Well they haven't won since the 9th October. That's 6 loses in a row. WOW. Norv Turner should be packing up his office.
20 (22): Washington Redskins (4-7) (TD: 19, PG: 25, GS: 19)
Why exactly was it Mike Shanahan benched Rex Grossman again? Well, because Grossman sucks, and yet it's VERY clear that he's much better than John Beck. The 'Skins scored just 10 points a game with Beck directing things, but with Sexy Rexy it's 19… Ok that's not great but it's almost twice what John Beck was doing!!
21 (3): Buffalo Bills (5-6) (TD: 17, PG: 20, GS: 28)
Injuries have completely derailed the Bills season. Their offensive line has been decimated and Fred Jackson is on IR with a fractured leg. What was a promising start has quickly turned into just another disappointing Bills season after a winless November was completed in a loss against the Jets that demonstrated the kind of frustrating and dumb play that has haunted Buffalo for so long.
22 (17): Tampa Bay Buccaneers (4-7) (TD: 24, PG: 21, GS: 21)
Oh dear oh dear oh dear. Where did it all go wrong? The Bucs are in a five-game losing skid, one which (according to the Tampa Tribune) could cost Raheem Morris his job if there isn't a quick turn around in fortunes. The season has been marked by five huge flaws: an inability to wrap up when tackling on defense, Josh Freeman making terrible reads and bad decisions, a receiving corps who struggle abysmally to gain separation from defenders, shocking offensive playcalling that horrendously underuses LeGarrette Blount, and a chronic predisposition to committing stupid penalties. All these flaws mask some very exciting, young talents, but until these young pieces mature and gain more experience, the Bucs will go through some agonising growing pains.


23 (31): Miami Dolphins (3-8) (TD: 20, PG: 23, GS: 25)
Miami have turned things around. Their defense is finally rounding into the top 5 unit it was touted to be in pre-season, and a lot of this has to do the now healthy DB corps. The recent improvements could be enough to save Tony Sparano's job, and who's to say he isn't a genius, I mean he's getting good production from Reggie Bush!
24 (13): Philadelphia Eagles (4-8) (TD: 25, PG: 22, GS: 22)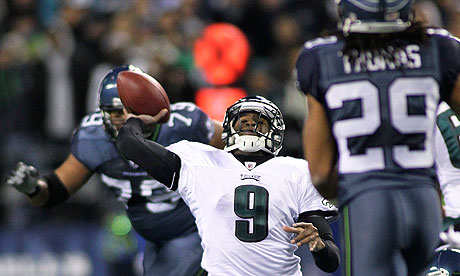 When Vince Young christened the
2011 Eagles the "Dream Team", you
knew it wasn't going to end well
Wow. With such high expectations the Eagles have fallen hard. Vince Young isn't very good but he's trying. The opposite however seems to be true of the defense. Nnamdi Asomugha has fallen from his pedestal and looks distinctly average, while the linebackers are dreadful. Hey, maybe they should have hired a defensive coach to be their D-coordinator and not an O-Line coach. Just an idea. Is this the end of the Andy Reid era? We're not sure. It would be an end he doesn't deserve, but that doesn't mean it's not likely to happen.
25 (29): Arizona Cardinals (4-7) (TD: 21, PG: 26, GS: 26)
Where would they be without Patrick Peterson? The rookie cornerback is quickly becoming the 2nd coming of Devin Hester. With 4 punt return TD's he's making plays and winning games for the Cardinals while they struggle in the absence of Kevin Kolb.
26 (23): Carolina Panthers (3-8) (TD: 26, PG: 28, GS: 23)
Carolina's offense is one of the most fun to watch in the league. Newton is fascinating, Steve Smith is just amazing and the combination of good line play and Stewart and Williams in the backfield means there's never a dull moment when the Panthers have the ball. And their terrible run defense provides a lack of dull moments when they don't have it too! Win-win. Unless you're actually a Panthers fan, then I'm sure it's really frustrating.
27 (16): Kansas City Chiefs (4-7) (TD: 27, PG: 24, GS: 29)
The streakiest team in the NFL; the Chiefs have had gone 0-3, 4-0 and now 0-4 this season. Since Matt Cassel was lost for the season (the Chiefs were 4-5 at when he went down) the Chiefs defense has really stepped up but it's not been enough to mask Tyler Palko's awfulness. When Kansas get their injured stars back next season they could take a few people by surprise.
28 (26): Jacksonville Jaguars (3-9) (TD: 30, PG: 30, GS: 24)
Despite the clearly great play from their defense the Jags find themselves here due to their awful offense together with the current state of affairs in the front office. The Jags were just sold, and despite the new owner stating they'll stay put in Jacksonville the feeling that they'll up sticks and go to L.A. won't go away. Unlike Jack Del Rio who has finally been giving his marching orders after many disappointing seasons.
29 (25): Minnesota Vikings (2-9) (TD: 29, PG: 29, GS: 27)
Jared Allen's amazing rate of sacks has slowed, and Adrian Peterson has been shut down for a few weeks with an ankle injury. Which means there really isn't that much to get even slightly excited about in Minnesota. Rookie QB Christian Ponder is showing flashes of what he could become, but there's a lot of pieces needed before this team can think about getting back to competing for the division.
30 (24): Cleveland Browns (4-7) (TD: 28, PG: 27, GS: 31)
It's amazing to think that Cleveland have 4 wins. They're awful. But they caught a few teams at the right time an
31 (28): St. Louis Rams (2-9) (TD: 31, PG: 31, GS: 30)
Is there a more disappointing team that the Rams this season? Not if you're Phil Gaskin anyway. It was all supposed to be so good, with Josh McDaniels on board and a whole raft of young receivers around Sam Bradford things were going to take this weak division by storm. Well injuries, misfortune and down-right bad play (particularly in run defense) have resulted in a team that will once again be picking early in April's draft.
32 (32): Indianapolis Colts (0-11) (TD: 32, PG: 32, GS: 32)
Dan Orlovsky has been put in as the starter and is in with a really good chance of being the first and only person to QB for 2 0-16 teams, and while news of Peyton Manning's injury is encouraging there's no reason to rush him back onto the field. Sunday night's annual game against New England has rather lost its usual excitement. Although Toby is still very much looking forward to it.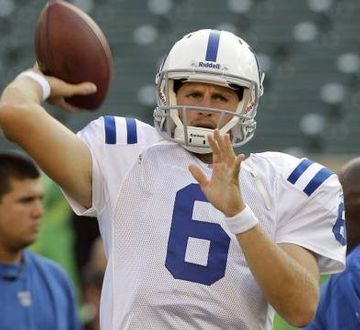 The hopes and dreams of the Indianapolis faithful rest on the shoulders of Dan Orlovsky - if anyone can guarantee your team the #1 pick in the draftl, it's him (see: Stafford, Matthew)
| | | | |
| --- | --- | --- | --- |
| | Toby Durant | Phil Gaskin | Gur Samuel |
| Eagles @ Seahawks | Eagles | Eagles | Seahawks |
| Titans @ Bills | Titans | Titans | Titans |
| Chiefs @ Bears | Bears | Bears | Bears |
| Raiders @ Dolphins | Dolphins | Raiders | Raiders |
| Broncos @ Vikings | Broncos | Vikings | Broncos |
| Colts @ Patriots | Patriots | Patriots | Patriots |
| Bengals @ Steelers | Steelers | Steelers | Steelers |
| Panthers @ Bucs | Panthers | Bucs | Bucs |
| Jets @ Redskins | Jets | Jets | Jets |
| Falcons @ Texans | Falcons | Falcons | Falcons |
| Ravens @ Browns | Ravens | Ravens | Ravens |
| Packers @ Giants | Packers | Packers | Packers |
| Cowboys @ Cardinals | Cowboys | Cowboys | Cowboys |
| Rams @ 49ers | 49ers | 49ers | 49ers |
| Lions @ Saints | Saints | Saints | Saints |
| Chargers @ Jaguars | Chargers | Chargers | Chargers |
| | | | |
| Last Week: | 15-1 | 12-4 | 12-4 |
| Overall | 111-52 | 111-52 | 101-62 |