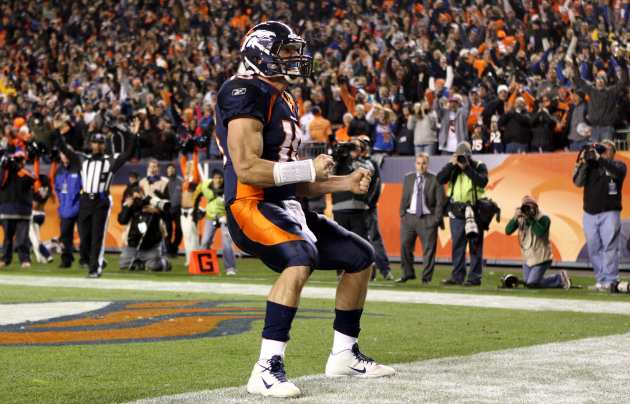 Tim Tebow's magic legs came to life with just 5 minutes
left on Thursday night
Well folks, Tim Tebow "did it again". For those brave souls like myself who sat through the worst game of the season that didn't involve Cleveland we were rewarded with what NFL Network's "professional" panel orgasmicly called "Tebow Time". To hear them talk it's like no one had ever gone on a game winning drive before.
Anyway, after what felt like a century of awful offense, of averaging 2.4 yards a carry the Jets defense tired a little and Tebow found a little crease here on a triple option and a big old hole there on a basic QB scramble before getting outside of the worst blitz of the season and scoring the winning TD. Well done to him. It was a game neither side offense deserved, or looked like they wanted, to win. But Timmy boy found a way through.
It's another game, much like the Miami one, that will solidify the positions of Tebow "Haters" and the… Tebowites? Tebians? I feel like his followers need a collective noun.
His QB stat line was ugly: 9/20 for 104 yards and there were not many pretty passes in there. A few were catchable balls, sometimes a WR would get an outstretched fingertip to one, but by and large there was little to write home about for Tim's arm again. His legs however, and his vision for a hole, have every right to be raving. As most talent evaluators said before Tebow entered the NFL, he'd make a real good FB/TE. He LOVES contact, he fights for every yard and he's a strong guy. Watching Tebow run during the final drive was fun, you could see what was coming and the Jets just weren't able to stop it partly because they insisted on defending a pass everyone knew wasn't coming.
Tebow's mechanics leave a lot to be desired, particularly
in the accuracy department
But… To say he won the game is wrong. Almost as wrong as saying "Tebow wins and therefore he's a good QB", but we'll get to that in a minute. Last night Tim Tebow was, for once, not the worst Quarterback out there. Would Mark Sanchez please come up to collect the award!
My god he was bad. The former USC star has been poked, prodded and critiqued more than most QB's in their 3rd year. Partly this is because of what the Jets gave up to go and get him at 5th overall and partly because he plays for a New York team. It also doesn't help that his loud-mouth head coach keeps yapping about how they're going to win the Super Bowl and take the division from New England. The kid doesn't need that kind of pressure Rex!
Sanchez does a few things really well, he can throw a quick timing pattern off of play-action REALLY well. It's right there on the money every time. But ask him to drop back, scan a field and consistently hit the open man? Not a chance. The Jets were 3-14 on 3rd down with the Sanchize as a big reason why. After last week's game against New England I said the Jets don't trust him, but the real truth is that they shouldn't trust him. Last season Sanchez, off the back of very strong defensive support, pulled out a few last minute wins (not too dissimilar to a certain #15) and people were raving about him being "clutch" and "a winner". NFLN even put up a stat that Sanchez's record in his first 40 starts was the 2nd best in Jets history. But that's so misleading it should be criminal.
Andre Goodman returns an interception for a touchdown
to keep the Broncos in the game
So here's the crux of this piece. Wins are NOT a good, or even useful, way to judge a Quarterback.
Tom Brady and Bill Belichick recently broke the record for QB-Head Coach pair wins. Great, but the problem is it's not just them out there! There are 52 other guys on the roster, all of whom play their heart out every game to get that big W next to their team in the standings.
During the game last night NFLN put up a comparison graphic of the Broncos with and without Tebow over the last year and a half. They are 4-3 with him but just 4-14 without. WOW! Tebow is a winner! He's the magic that makes the difference. Is he bollocks. The stat that needed highlighting over any other in that graphic was points per game. With Tebow Denver are scoring an extra 1.6 points a game. And it will be less after the 17 points the Broncos put up last night. Are you seriously telling me those 1.6 points are the reason they're winning? The whole Broncos organisation deserves credit for the turn around and their current win streak, most of all the defense which has greatly improved as the season has gone on. But you wouldn't know it if you went to the sports sites today.
The most galling thing about this whole "QB wins" stat is that it flat out ignores the input of the rest of the team. Would Denver have won without Andre Goodson's pick 6? How about the excellent punting of Britton Colquitt? And let's not even start to ask where they'd be without Elvis Dumervil and Von Miller.
Von Miller is showing why he was worth a 2nd overall
pick in April
American Football is the ultimate team sport. If just 1 person does not execute properly then nothing works. Yes some players have a bigger effect on the outcome of a game, and the quarterback is right up there, but to say it's the QB who wins is to be ignorant of the input other players have. The difference between a game winning last minute TD and a garbage time stat-padder is what happened in the previous 59 minutes of the game and the input of every other player on that field. They should not be dismissed so quickly. The NFL is a results business, I get that, but let's hold off anointing Tebow until we get a good sample size, or we see him against a good team and post up a good points total.
Baseball has had it's own revolution and tossed out the win as a useful stat to evaluate pitchers. The NFL is just waiting for a
Moneyball
moment to get this point across to the wider public. There are sabremetric places around, Football Outsiders being our favourite, but their own brand of stats aren't nearly as famous and widely used as the baseball equivalents, but they should be. You know where Tebow ranks in their QB
DVOA
? 37
th
of 40 (after week 10). Ahead of only AJ Feeley, Curtis Painter and Blaine Gabbert. Ouch.
This piece won't make a person lose their Te-boner and renounce their faith in #15. But hopefully it will make you think again before declaring: "Tebow just wins baby!!". The biggest single disaster of the Tebow craze was in the post-match interviews last night, when rookie sensation and the game MVP Von Miller's first question was about Tebow. Not about how good he was at making experienced OT's look no better than an anorexic in a pie-eating contest.
The NFL media is wrapped up in Tim Tebow because he's controversial and different. They can't get their heads out of his arse right now and it's dreadful to watch. All we ask here at TPL is that a fair and balanced evaluation of the game take place and that people don't forget the 55 or so minutes of useless play that come before the "magic". But on this night you could be excused for thinking Tebow was a good QB when you only had Mark Sanchez for comparison. The Jets would be fools not to seriously look at bringing in competition for him next year.
To me Tim Tebow is like a crappy movie that's way too long, unnecessarily complicated and extremely poorly acted, but it's got a weird twist at the end that no one sees coming. People leave the theatre stunned, talking about nothing but the twist and how good it was, forgetting the 3 hours of unwatchable dross they just sat through. To you he's a great finish to a story where the outcome is the only thing that counts. But who would you rather have right now, the 2-7 Cam Newton or the 4-1 Tim Tebow?
- Toby Durant (@TDonSport)
- The Pulling Linemen