Toby Durant:
All signs point to a repeat. But who has the best shot
at stopping the Packers?
Hello and welcome to our first roundtable in quite some time. Today's topic of discussion is just who has the best chance of beating the currently undefeated Green Bay Packers.
When the defending Super Bowl champs next take to the field in anger it will be 361 days since they last lost a game when Aaron Rodgers played all 60 minutes. The advanced stats on Aaron Rodgers this year are incredible, putting him on a par with the record-breaking seasons of Peyton Manning in 2004 and Tom Brady's 2007 and 2010 campaigns. He's the clear MVP of this season. But how do you combat him and the rest of a stellar squad?
We'll put forward the teams we each think have the best shot at pulling off a win against the Packers, not necessarily who we think will beat them first this season. So… Go!
Well we know it's not the Bucs, despite Blount's best efforts.
We got closer than anyone thought we would though - myself more than included.
T
hat 2pt conversion drop was horrible.
Yeah, terrible drop by Winslow, but he did set a career high in receiving yards on the one week I benched him in fantasy.
Ha.
Burned.
GS:
There was a good point on Pro Football Talk (PFT) today - even though we didn't beat them, we did show the strategy for beating them.
So, for those who didn't see the game; BRIEFLY go over what the strategy was please Gur.
Just finding the post on PFT, but basically, when it was close, what we did was keep constant pressure on Rodgers (a less mobile QB would have been sacked several times), use a lot of man coverage with a little zone mixed in, and on offense control the clock with the run game.
I know that's the conventional thinking of how to beat the packers - pressure on Rodgers and control the clock - but how many teams have beaten them doing that so far?
Well no one Phil, that's why we're discussing it.
Precisely.
But how many teams have they faced that have been able to do that? The problem is that the Packers offense is so explosive that teams give up on the run too quickly against them. To be honest, had Blount not broken that massive run, I think we would have given up on the ground game had we not scored on that possession, and then the game would have been over before the half.
To me the game plan is very similar to what people tried vs the '07 pats. Pressure with 4, control the clock. But the Pack have many more weapons then we did then. And Rodgers can move which is the real ace in the hole for them.
GS:
Well on that game plan, I believe that no team in the NFL has a better shot of beating the Packers right now than the 49ers.
Disagree strongly, but continue.
Me too, but go ahead with your argument.
O
k, let me just temper that with "if Frank Gore is healthy", which he's not been last 2 weeks but don't think it's a long term thing. Anyway, first off, is there a better front seven in football right now than the Niners'? They would not only constantly pressure Rodgers but shut down the Packers' (albeit limited) run game. Unlike the Bucs, their 3-4 formation lends itself better to keeping contain, which is a must with Rodgers.
Frank Gore can keep Aaron Rodgers off the field: But only if
he can keep himself on it.
As for offence, obviously Frank Gore is the heart of that O, and if he's not healthy, then yeah they wouldn't beat the Pack. But if Gore's playing, he's similar to Blount in that he demands attention not just from the front seven but the secondary too; The packers D has not been as good this season as last, and yesterday, once Blount started getting involved, the DBs started giving the wide receivers a bit more cushion, allowing them to make more plays. Now, Alex Smith is not a great quarterback. But he can make plays to help move the chains, and occasionally spring a big play (and the most important thing about smith is that he doesn't turn the ball over much at all).
Patrick Willis is the best ILB in the league. But is that enough
to stop the Packers? Gur thinks it could just be.
The Packers D lead the league in interceptions, but rank pretty low in other stats. That's because they play the high-risk, high-reward game. If smith can take care of the ball, then Green Bay's D can be exposed; and the 49ers D are good enough to neuter Rodgers as much as any team can.
Now you go.
Let me tell why you're wrong.
Please do.
The 49ers will face the Packers in the NFC championship game (if they both get there). The Packers will be at Lambeau field, without question. The 49ers are a warm weather team and will need to go to Wisconsin in January - problem #1.
Problem #2 The 49ers cornerbacks are not good. It's all well and good trying to control the clock with your O, but if Rodgers and the WRs just wander out, score, and sit down again, what does it matter?
My biggest problem with the 49ers here is a lack of scoring. They've only gone over 30 twice this season, in week 1 vs Seattle and then in week 5 against a no-show Bucs team. I don't think you can win a low-scoring battle with the Packers; you need to be able to put the points on the board yourself. But I will say this for the 49ers: They can get to the QB. Aldon Smith has been great and Justin Smith is a monster but with Rodgers' movement and accuracy that might not matter too much.
I also think the Packers will have lost well before they play San Fran. My choice still stands: Detroit.
Elaborate, and do it slightly quicker than Gur please.
Well I think they'll be the only team that beats them - packers will be Super Bowl champs at 18-1. To beat the packers, you don't need to focus your energy on limiting their offence. It won't work. You could have 8 in the box AND 8 in coverage, and they'll still score. Fight fire with fire. Put points on their D. It's been porous in the run game, and certainly isn't league leading in the air either. Matt Stafford and the Lions can run with Rodgers.
Phil wants to fight fire with fire, and thinks
Calvin Johnson could be the key.
Not literally run. Their ground game is atrocious (this week vs CAR doesn't count, cos CAR are non-existent in run D)
Yeah, not literally run, no. And instead of pressuring him physically, pressure him with the situation. You've got them at ford field, on thanksgiving, with an offence that just came back from a MASSIVE hole against Carolina.
Problem there is, Carolina stopped scoring. Will Green Bay? And Stafford dug that hole for them too with some awful throws in the 1st quarter.
And Rodgers takes care of the ball a lot better than newton did.
Maybe, but if the question is "who do I think has the best chance of beating them?" then my answer is the team I think can put most points on them, not who can limit them to the lowest amount.
My one problem with the Lions is a lack of offensive options.
I disagree with that Toby, Calvin Johnson requires a lot of attention, and Nate Burleson and Tony Scheffler have both shown they can more than take advantage of that.
Behind Calvin there isn't really much to get that excited about. Pettigrew is good but doesn't get open consistently, Titus Young is a rookie and Burleson etc aren't reliable. You can bracket Calvin with a corner and safety and still have Charles Woodson roaming the field. That's mighty tough to beat. Even more so when they have no fear of your run game.
I completely agree with the running game point, and not from a "clock control" point, but because the Packers D has been iffy enough that any viable run threat opens things up considerably for even the more average receivers.
It's fine to say the Pack can deal with Johnson and the passing attack. They've not dealt with anyone yet this season...
Josh Sitton and his line-mates have been playing at a
pro-bowl level in 2011. Can they handle the Lions fearsome
front 4?
Um, the saints?
The Saints put 34 points on them!
They've allowed the most passing yards in the entire league...
TD:
Think you'll find they've only allowed the 2nd most! And a lot of that is to do with teams throwing to keep up with Rodgers.
And still not lost a game. That's why I don't think an offensive shoot out is the technique to beat them. Do you think the Lions offensively can outscore the Saints? Because if not, why do you think they'd have better success in a shootout than New Orleans did?
I think the lions could do, yes. The Lions also have the 5
th
best passing defense.
We all liked the Bears, but with Cutler now out we don't
think they can get it done vs. their biggest rivals.
Well I think you're both wrong. And Phil the Green Bay line can handle that 4 man front. Wells and Sitton in the middle are awesome and should keep the interior pressure off Rodgers. Plus the Lions shoot themselves with bad penalties all the time. Yea they want to play tough but sometimes the flags will kill you. Now before about half time of Sunday Night Football I would have said Chicago. But Cutler's impending thumb surgery has just ruined that. So outside of a miraculous healing for Cutler I think the Giants have the best shot at stopping the Packers Express.
Go on...
They just need to use the same formula as they used to beat the '07 Pats, but they have better WR's now and, as much as it pains me to say it: Eli is playing pretty damn well. Jason Pierre-Paul, Tuck and Osi are pass rushing machines and cause the best lines in the NFL all kinds of trouble. Throw in that Chris Canty in the middle is a huge disruptive force. Their DB's are pretty good with Amukamara fit now and have been improving all year. Only problem is their LB's are weak in pass coverage, Finley could eat them alive. And even though Brandon Jacobs is all washed up their running game is ok when Bradshaw is healthy.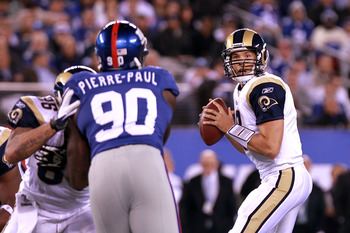 Jason Pierre-Paul's emergence has given the Giants yet
another weapon to disrupt opposing offenses.
I absolutely would've agreed with you Toby. Before SNF.
Yea, SNF wasn't their best showing.
Haha, I was waiting for someone to say that.
But I've not seen a pair of WR's make as many plays this year as Nicks and Cruz. Throw in Manningham and Ballard (if he doesn't get the yips now) and that's deadly. Plus they've got 22 takeaways (same as GB) and are tied with Minnesota and Washington for the league lead in sacks.
And that's not just coming from one guy... unlike Minnesota.
Exactly.
I'm just put off by the mini slump they're in at the moment.
They are in a little funk after the win in Foxboro, but the Packers roll into town in week 13, so I guess we'll see then.
The thing with the giants is that they really have no run game without Bradshaw, 2nd last in rushing yards, last in yards per attempt.
Then again, the Packers are giving up 4.7 a carry, so that should balance out.
... If they have a running back who can take advantage of that. But Jacobs really seems to be pretty past it, and if Bradshaw isn't healthy, I'm not sure there's a guy there who can take enough of the focus of the pack' D away from the receivers.
Ware and Scott are pretty untested (36 carries between them this year), and we see unknown RB's come good down the stretch all the time. Perfectly possible one of them could break out.
J
ames Starks is a perfect example...
And Ryan Grant did the same thing.
Eli Manning has been playing well in 2011, aided by the
best play-making tandem in the league: Hakeem Nicks
and Victor Cruz.
The only thing is if Elisha can keep his INT% down. He's at 2.5% this year but that's well below his career average. He starts turning the ball over and that confidence just oozes out.
Very true. It helps that the receivers aren't batting everything in the air this year...
Interesting point, all the teams we've mentioned so far are in the NFC. Does this mean we think the AFC is clearly weaker? Or are the teams there simply not equipped to beat Green Bay?
I do think the AFC is the weaker conference this year.
I think there's more parity in the AFC, so teams look less impressive as they beat each other...
Except the west but in the AFC there aren't really any all-out dominant teams.
T
hat's exactly what I said...
I don't mean necessarily against each other, I mean on paper.
Without a stand-out team in the AFC this year, are they in
danger of punching themselves out before the big one?
Despite their 2 losses to Baltimore, I still like the Steelers as having a good chance against Green Bay.
Yeah, I agree with Toby - Steelers still have the tools to beat anyone on any day.
I type too much, you guys make the points I was gunna make before I say them.
Haha
Still, if the Ravens were to play the Steelers again tomorrow, I'd take Baltimore again... Yet I don't think they'd beat Green Bay ever.
The Ravens beat the Steelers, but are losing to awful teams.
Frustrating much??
The Texans really could have been dominant this year if not for Schaub's injury. The Ravens really frustrate me. They have all the tools but are so damn inconsistent.
My point with the Steelers is that Wallace, Brown and Sanders are all much better than they were last year, the O Line looks better, Big Ben is still ace.
And Mendenhall is a real threat.
And Dick LeBeau showed great smarts vs the Pats this year. He learnt from the hiding we gave him in 2010 and changed the D completely. Stopped the Zone blitz, came out man etc etc. He can definitely adjust to find a wrinkle that will stifle Green Bay too.
Again this comes down to strategies... I don't think any team in the NFL is going to outscore the packers, I really think it has to come down to neutralising the Pack as best as you can. And outside Polamalu, the Steelers really have nothing in the back end.
Wrong. Ike Taylor has been ace this year, and Timmons might be the only Linebacker in the league who can keep with Finley.
Completely forgot about him. But even so, that won't cut it.
Plus Polamalu wasn't healthy at the Super Bowl, if he were this year it would be a different story.
On Sunday, Aqib Talib kept Greg Jennings in check for 2 passes for 6 yards. Rodgers has so many weapons that you need to have at least 3 good corners.
Well no one has that except Philly, but unfortunately the rest of that team is dire.
Tell you what; the Ravens secondary had some awesome plays Sunday vs. Cincy.
Yea.
Some bad ones too, but some proper highlight reel stuff.
Lardarius Webb has come on leaps and bounds this year.
I'm still not sure I like the Steelers better than the Ravens to beat the Pack - if Ray Ray is healthy obviously, from a team ethos perspective if nothing else.
I really want to believe in the Ravens. Before the season I said they'd get the steel monkey off their back, win the division, and maybe go to Indie... not so sure now.
They need to stop putting the ball in Flacco's hands so much and give it back to Rice.
Just takes one off day in the playoffs and it's night night, and the Ravens have had a lot of off days already.
I picked the Ravens to win the AFC North. But they just disappear vs rubbish teams so I can't trust them. Except for that game vs STL. Cue Phil smacking his head against the table.
We've lost to FAR worse teams than them. As I said last night: no pride in winning over the Rams, only shame in defeat.
As the Saints found out. By the way, the Ravens/Niners game will be awesome. Just thought I'd put it out there.
Well we have to have one high-point a year in St Louis. You're right Gur, Ravens-49ers will be excellent to watch for football guys - terrible for the casual fan!
I think we've exhausted the candidates for beating the Packers. I'm not even gunna go into the Pats due to our horrific pass D.
You'd get carved up worse than a turkey this Thursday.
Topical.
TD:
Ok, so why don't we give our Thursday picks here. I'm taking the Packers, Cowboys and Ravens.
GS:
I've got Green Bay, Dallas and San Fran.
PG:
I'm putting my pick 'em money where my mouth is. Lions, Dallas and Baltimore.