Toby Durant's Game of the Week: Pittsburgh Steelers (6-3) @ Cincinnati Bengals (6-2)
Before the draft, when all the focus was on Cam Newton, I was convinced that Andy Dalton, given he was drafted into the right situation, would be the best quarterback of the 2011 class. When he was taken by Cincinnati in the 2nd round though, I was disappointed. I didn't think starting week one was the best thing for him, or that the situation with Carson Palmer and all the youth around him would do him any favours. So yea, I got the last bit wrong.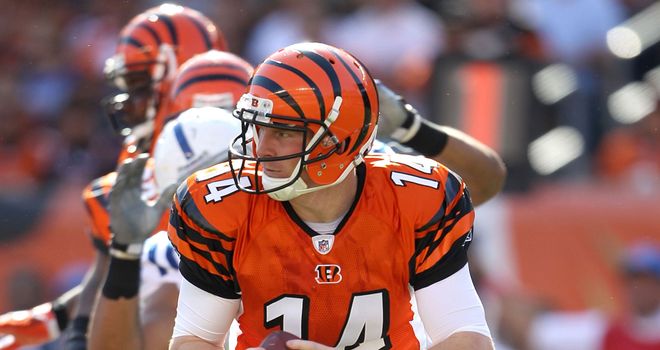 Andy Dalton won a lot with TCU, it's a habit he's
kept up in the NFL
Dalton, with fellow rookie the sensational wideout AJ Green, have not put up the flashy yards totals of Cam Newton and Steve Smith, but their efficient play has resulted more importantly in wins. The basis for Cincinnati's success stems from their tough defense. The Bengals are holding teams to just 3.3 yards a carry against them and they're knocking the ball loose too. Forcing 12 fumbles so far thi year, recovering 9 of them.
This tough, ball-hawking defense has given Dalton a great platform to work from, and while Ced Benson and the other running backs are hardly setting the world on fire they are fairly dependable. But now comes the first big test of Dalton's young career.
In the next 4 weeks Dalton will face the Steelers twice and the Ravens. Ouch. But that's going to be life in the AFC North and the Red Rifle needs to get used to it.
The last minute winner from Torrey Smith last week makes
this game a must win for Pittsburgh to keep pace
The Steelers are pissed. They've now been swept by their bitterest rival, a team they used to have tucked in their back pocket so you can be sure they'll come out hard and fast against the Bengals. The defense will throw things at Dalton he's never seen before, and pressure him like never before. I expect Troy Polamalu to be bought down into the box and force Dalton to make tricky decisions. It's an unenviable job and could get ugly.
The Steelers offense will have Emmanuel Sanders back and the trio of he, Mike Wallace and Antonio Brown will need to have their A game if they are to pick apart the stellar Bengals defense and create some gaps in the box for Mendenhall to run.
I'm giving the edge here to Big Ben's cool head and experience. How Dalton fairs in these first AFC North tests will go a long way to determine his Offensive Rookie of the Year candidacy. Because at the moment he's made a good case, but this is the big time now.
| | | | |
| --- | --- | --- | --- |
| | Toby Durant | Phil Gaskin | Gur Samuel |
| Raiders @ Chargers | Chargers | Chargers | Chargers |
| Saints @ Falcons | Falcons | Falcons | Saints |
| Cardinals @ Eagles | Eagles | Eagles | Eagles |
| Titans @ Panthers | Panthers | Panthers | Titans |
| Texans @ Bucs | Texans | Texans | Texans |
| Redskins @ Dolphins | Dolphins | Dolphins | Dolphins |
| Jaguars @ Colts | Colts | Colts | Jaguars |
| Broncos @ Chiefs | Broncos | Chiefs | Chiefs |
| Bills @ Cowboys | Cowboys | Cowboys | Bills |
| Rams @ Browns | Rams | Rams | Rams |
| Steelers @ Bengals | Steelers | Steelers | Steelers |
| Ravens @ Seahawks | Ravens | Ravens | Ravens |
| Giants @ 49ers | 49ers | Giants | 49ers |
| Lions @ Bears | Bears | Lions | Bears |
| Patriots @ Jets | Jets | Patriots | Jets |
| Vikings @ Packers | Packers | Packers | Packers |
| | | | |
| Last Week: | 10-4 | 7-7 | 6-8 |
| Overall: | 77-40 | 81-36 | 70-47 |