This week we're not going in-depth on a game or two and saying why it will be good. Instead we implore you, via any means necessary, to watch as much as you can of: Texans @ Jags, Bears @ Raiders and Steelers @ Chiefs. The reason is that Houston, Chicago and Kansas have all lost their Pro-Bowl (that's right folks, Matt Cassel made the 2010 Pro-Bowl) quarterbacks and in their place are the unkowns, the washed up and just perhaps the plain awful.
Caleb Hanie's number is twice that of Cutler's, so surely
he's twice as good at football...
With Jay Cutler sidelined due to thumb surgery on his throwing hand his back-up Caleb Hanie is thrust into the key position of a team on a roll. Chicago have won 5 in a row after Mike Martz finally learnt to ease up on the 7 step-drop, deep routes that were getting Cutler hammered in the backfield. With the emphasis on the red-hot Matt Forte and their ever tough defense Chicago don't really need to change anything now Hanie's in. And in his one appearance for the Bears Hanie put in a good performance in a high pressure situation against Green Bay in last year's NFC Championship Game. He should be ok, but you really never know. The Raiders defense is a tough nut to crack on the ground and Forte could find the going tough as they stack the box and try to force the game into Hanie's hands. If that happens then watch out!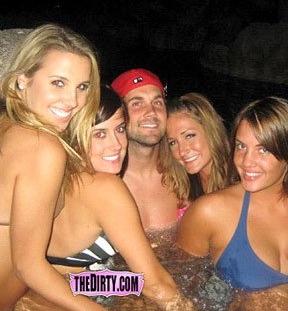 This is the 4th picture that comes up when you google
image search Matt Leinart. him with a helmet on
throwing a football? 37th...
In Houston things were going great, even with Andre Johnson sidelined and Mario Williams out both sides of the ball were clicking and with the Colts no longer posing their usual road block the Texans were on their way to their first division crown. Then quarterback Matt Schaub did something bad with Liz Frank, or something along those lines. Anyway, he's injured. And now look who's back, South Carolina's favourite party boy Matt Leinart. Much hyped out of college Matt Leinart's career never really took off. Some say he never got a fair shot in Arizona, what with some dude called Kurt Warner there too, before he got the boot in favour of Derek Anderson (ouch). Leinart does have the talent to perform, and a good platform with the league's best running attack. But rumour has it that he turned down the chance to take the starters role up in Seattle this year, in favour of back-up duty in Houston. If that's true then it's a huge red flag, this guy clearly doesn't have the desire that most in the NFL do to be the best he can be. Even if that isn't true the handful of stats Leinart has put up don't warm the heart: 57.1 completion percentage, 14 TD's, 20 INT's and just 6.5 yards per attempt. The Jags defense is playing really well right now and if it can slow Arian Foster and Ben Tate then Leinart will have to put some points up... And he's not been great at that in the NFL.
If Tyler Palko thought monday night was rough then
he's in for a shock this week as the Steel Curtain comes
to town.
For those of you who didn't see the start of what i'm sure will be a
highly successful
forgettable career on monday night, Tyler Palko stinks. And guess what, he stunk vs. the worst pass defense in the league. This week however he faces Dick LeBeau and his motley crew of hard-hitting, zone-blitzing animals. This isn't going to be one for the faint hearted. But what might be even better viewing than that will be if Kyle Orton, claimed off of waivers this week, it thrown into the fire. Orton is, on a good day, an average QB. But thrown into an offense where he doesn't even know the blitz pick up calls? T-rouble.
So don't watch Tom Brady or Cam Newton. Don't settle down and watch the safe and secure play of Matt Ryan. We all love watching people fall over on youtube, or situational comedies where characters get in way over their heads, THIS IS BOTH!!!
| | | | |
| --- | --- | --- | --- |
| | Toby Durant | Phil Gaskin | Gur Samuel |
| Packers @ Lions | Packers | Lions | Packers |
| Dolphins @ Cowboys | Cowboys | Cowboys | Cowboys |
| 49ers @ Ravens | Ravens | Ravens | 49ers |
| Vikings @ Falcons | Falcons | Falcons | Falcons |
| Panthers @ Colts | Panthers | Panthers | Panthers |
| Bills @ Jets | Jets | Jets | Jets |
| Bucs @ Titans | Titans | Titans | Bucs |
| Redskins @ Seahawks | Seahawks | Seahawks | Seahawks |
| Broncos @ Chargers | Broncos | Chargers | Broncos |
| Browns @ Bengals | Bengals | Bengals | Bengals |
| Texans @ Jaguars | Texans | Texans | Texans |
| Cardinals @ Rams | Cardinals | Rams | Cardinals |
| Bears @ Raiders | Raiders | Raiders | Bears |
| Patriots @ Eagles | Patriots | Patriots | Patriots |
| Steelers @ Chiefs | Steelers | Steelers | Steelers |
| Giants @ Saints | Saints | Saints | Saints |
| | | | |
| Last Week: | 10-4 | 11-3 | 9-5 |
| Overall: | 96-51 | 99-48 | 89-58 |