Toby Durant's Game of the Week: New England Patriots (5-1) @ Pittsburgh Steelers (5-2)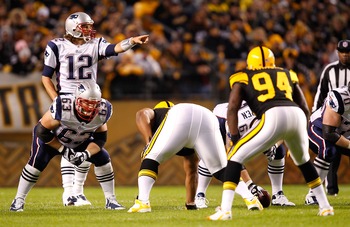 Tom Brady reads the Steelers defense en rout to a 39-26
victory in 2010
Forget Peyton Manning's Colts, these 2 are the AFC powerhouses. They've represented the conference in 7 of the last 10 super bowls, winning 5 of them. And once more they're the early leaders in the AFC.
The Pats are coming off a gritty win against Dallas and a bye week that has allowed them to prepare for this tough road game. An advantage Brady and Belichick don't really need when it comes to playing the Steelers.
The Patriots are 7-1 vs the Steelers when Brady's been at the helm, with the only defeat coming in 2004.
It had been hoped that the bye week would allow defensive captain Jerod Mayo (knee) time to get over his injury, but he's currently listed as Questionable. They have also cut cornerback Leigh Bodden this week, meaning larger roles for their leading interceptor Kyle Aarington and rookie Ras-I Dowling.
As for the Steelers, Hines Ward has been held out of practice this week with an ankle injury while James Harrison's continued absence with a broken face (no joke) has really hurt the Steelers defense. To fill the void at outside linebacker they've moved Lawrence Timmons across, but this has just served to weaken the interior of their defense. You can bet that the Patriots tight ends are going to be exploiting that all night.
The Steelers defense can hold even
the hottest offenses in check
The key for the Steelers will be keeping up with Brady, because he's owned their defense since he entered the league. They just can't operate as well if you get them out of their base 3-4 by spreading the offense. And there aren't many that are as comfortable in that situation as Brady and the mighty Wes Welker.
The Steelers hopes then lie in Big Ben and Mike Wallace. Wallace grabbed attention in this game last year with 8 catches for 136 yards and 2 touchdowns (most of that in the 4th quarter). This season Wallace is averaging over 100 yards a game and is as fast as ever. He's been good for 1 or 2 HUGE plays a game so far, so you can expect him to really stretch a Patriots secondary that has been shaky to say the least.
Mike Wallace has time to sit down in the endzone before
anyone can catch up with him
They way forward for the Patriots on defense is exactly what they did last year. Blitz the heck out of Roethlisberger. They took advantage of the Steelers porous O-Line to attack the QB and made sure to get him down too. Not much has really changed since then.
Expect this to be a fast-paced shoot out. The Patriots usually abandon the run vs the Steelers and put the game on Brady. It's not a bad tactic.
Phil Gaskin's Game of the Week: Detroit Lions (5-2) @ Denver Broncos (2-5)
I apologise, but I'm letting a personal vendetta (one shared by my TPL colleagues) get the better of my recommendation this week. That vendetta is against one Tim Tebow. It would be easy enough to use the flippant phrase "it's nothing personal, but...", but that wouldn't even be true. However, whilst I dislike his very public stance opposing the pro-choice movement, this is not the place for discussing it, so I'll keep this assassination purely professional.
It was clear from Broncos camp that Tebow was not the answer in Denver. He not only failed to beat Kyle Orton under centre, he failed to beat Brady Quinn for the backup position, and was even behind undrafted rookie Adam Weber in terms of performance. But from pretty much week 1 of the season, fans in Denver had started saving their pennies to take out Highway billboards asking HC John Fox to give him the starting job. In week 7, they got their wish. Down 15-0 to Miami with just half the 4th quarter remaining, Tebow led the Broncos back to an unlikely OT win with a Matt Prater FG, and those who had been calling for Tebow Time felt vindicated. The problem is, there was so much wrong with Tebows performace again the worst team in the NFL, and his game in general, that people seem to have completely ignored, including many in the media.
Fortunately, there are some voices of reason amongst the crap. The Dave Dameshek Football Programme this week contained words that describe Tebow better than I ever could, so I took the liberty of writing them down for you:
"I do not count Tim Tebow among the great quarterbacks, or even the mediocre quarterbacks. He stinks as far as I'm concerned... His throwing motion is so atrocious, and he throws such wobblers. He's so inaccurate, that anything else he does with his legs cannot make up for how awful he is" - Dave Dameshek
"The Lions are going to kill them... Everybody wants to ignore those 55 minutes of game time where Tim Tebow was absolutely awful because he had this amazing come back" - Adam Rank
"You will see, the more film NFL defensive co-ordinators get on him, the more he is going to look bad, bad, bad. They will figure out ways to completely clog him up... There is no reason to drop your safeties back if you're playing Tim Tebow. You can bring them all up to the line because he's not gonna throw it over your head. And once every team starts to commit to that and realise that's the way that you can play Tim Tebow, where's he going with the ball? He's not going to be able to run it, it's gonna be all short little passes - there is no ability to stretch the field when Tim Tebow is your quarterback, and that's gonna be the death of that offence." - Dave Dameshek
Rank (left) and Dameshek (right) doing their
best Tebow.
(You can find the full podcast, which I fully recommend, here: http://itunes.apple.com/gb/podcast/the-dave-dameshek-football/id436270201)
On the back of Tebow's "performance", people are predicting that this will be a surprising defeat for Detroit, and that this will be the beginning of Denver's rise to greatness. Well I've got news for you. It won't. The Lions are 8th in the league in sacks, have the 9th ranked rushing D, and are also 9th against the pass. If Tebow sucks ass for 55 minutes like he did against the Dolphins, he'll find himself with far more than a 15 point deficit to turn round against the #3 scoring offence in the NFL.
Long story short, Tebow is going to get crushed. I feel bad for the Broncos, because their D has actually started to turn a corner, and the more I see of Von Miller the more I love him, but now that the offence has been turned over to Tebow, they'll be constantly fighting an uphill battle.
The Lions D line will make Sunday a nightmare for Tebow
Lions to win, and win big, and Tebow-nation will get a much needed shot of reality.
| | | | |
| --- | --- | --- | --- |
| | Toby Durant | Phil Gaskin | Gur Samuel |
| Cardinals @ Ravens | Ravens | Ravens | Ravens |
| Vikings @ Panthers | Panthers | Panthers | Panthers |
| Jaguars @ Texans | Texans | Texans | Texans |
| Dolphins @ Giants | Giants | Giants | Giants |
| Saints @ Rams | Saints | Saints | Saints |
| Colts @ Titans | Titans | Titans | Colts |
| Redskins @ Bills | Bills | Bills | Bills |
| Lions @ Broncos | Lions | Lions | Lions |
| Patriots @ Steelers | Patriots | Steelers | Patriots |
| Bengals @ Seahawks | Bengals | Bengals | Bengals |
| Browns @ 49ers | 49ers | 49ers | 49ers |
| Cowboys @ Eagles | Cowboys | Eagles | Cowboys |
| Chargers @ Chiefs | Chargers | Chargers | Chargers |
| | | | |
| Last Week: | 8-5 | 8-5 | 7-6 |
| Overall: | 59-31 | 63-27 | 56-34 |