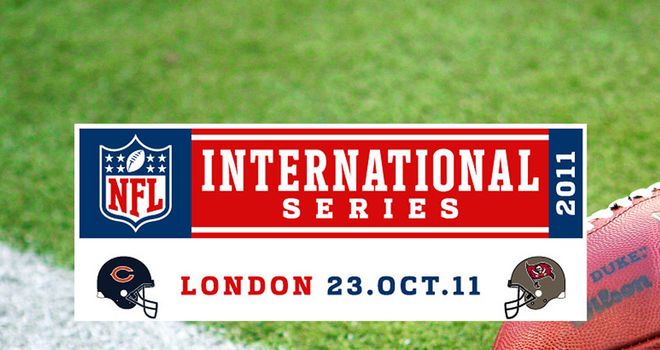 If you've seen any of NFL coverage in the UK this season you'll be sick to death hearing about the latest game in the International Series. "DA BEARS!!! THE SWASHBUCKLING BUCCANEERS!!! IN WEMBLEY! HAVE YOU HEARD?!?! YOU DEFINITELY HAVE, BUT HERE IT IS AGAIN!!!!!"
It's mind-numbingly frustrating. We get it, there's been a game here for the last 4 years and anyone watching you at 3am on a Monday morning LOVES football and knows there a fucking game coming up.
And yet… The 2011 Wembley game is not sold out. Tickets are still available for as "little" as £50 (about $75-80), if you don't mind sitting in the nose bleeds that is.
A giant Jason Taylor visits the UK with
the first game in 2007
4 years ago the 1st NFL game on these shores in my lifetime, between the New York Giants and Miami Dolphins, sold out in a matter of hours. I was excited, delighted and keen to pay whatever it took to get to see some live NFL action. It wasn't my team, but I didn't care. It wasn't even a good game (the weather and poor field didn't help) but that didn't matter too much either, I went back the next year, and the next too.
But by 2010 the novelty of just seeing "a" game started to wear off, especially when they sent over Denver and San Fran. It was the first time I didn't go and I didn't miss it at all. And now it seems that others are following suit.
The lockout didn't help. This game was on the rocks right from the get go. If the lockout wasn't over by August 1st this game would have been cancelled. That put everything from publicity to ticket sales on hold. It compressed the entire event into a highly concentrated, highly annoying, media gangbang that has left fans pissed off with all of it.
The other point is, not all the NFL fans in Europe live in London! People came from Spain and Germany to watch the first few games. That takes a lot of planning and quite frankly a lot of money. With the current arse-over-face global economic mess it's a cost that a lot of people can no longer bare.
The Saints and Chargers played out a high-scoring
thriller in 2008
The International Series was meant to expand the game in the UK, and it has done that. More people are aware of the sport, aware of the opportunities to play the game in this country. But the appetite for over-priced games is dwindling. We're fans of teams, not just the sport. With the weekly coverage on Sky Sports, the availability of things like gamepass and illegal streams, access to the game has never been easier. So why, when tickets for last weeks clash between Arizona and Minnesota were available for $4 on stubhub, do we have to pay a MINIMUM of £50 to see teams the majority of us don't support?
There seems to be a lack of understanding about logistics here. The game starts at 5pm UK time, meaning a finish time of anywhere between 8 and 8.30. Now throw in trying to get away from a stadium that, rather than being in the suburbs with acres of car parks around it like a lot of the purpose build ones in America, is in the middle of London. Once you're in the Underground or at the wheel of your car it could easily be as late as 9.30pm. Finally you've actually got to get home. For me that's only an hour or so by car. But if you're going as far as big population centres like Manchester or Leeds you're not going to be getting home til past midnight ON A SUNDAY. People have jobs to get to on Monday morning, so maybe they have to take a day off work to go to the Wembley game, or even get a hotel in London to avoid driving such a distance late at night. The costs of going to Wembley suddenly start to climb. Accessible it is not.
70,000 + fans into 1 tube station does not make
for a fast exit from Wembley
Yes, there is a cost to bringing the NFL circus to this side of the pond. And Wembley, due to its over-budget build cost, has always been an expensive place to have a day out. But it adds to the growing apathy of the UK fan base.
If the International Series is really meant to be about spreading the word this is how to do it: Don't have 10 years at the same venue, with the same people coming back year after year. Send a game to Germany, where the majority of NFL Europe teams were based. Have a game in expanding markets like China. Heck if teams don't fancy going to places with a language barrier then hold the game at the Millenium Stadium, Murrayfield or Croke Park.
World Bowl XV in 2007 was the last NFL Europa game.
It was played in Germany between 2 German teams. Hint-hint.
This game is the last of the original deal, and a new one has just been struck that will keep the NFL coming to Wembley every year through the 2016 season. Commissioner Roger Goodell has even been heard to say that 2 games a year were a possibility. This would be a disaster. Over saturation is the last thing the NFL want. If games suddenly don't sell out on a regular basis then the whole idea of expansion is in danger. Teams won't volunteer to give up a home game if they're not getting maximum revenue from it.
Personally, I don't want to see the International Series leave these shores. Yes I gripe about the brutal over-exposure it's been getting this year but it would be a shame to see it go. Especially if the Patriots then turn up to play in Germany and I miss out on the chance to see Brady again. But for the "good of the game" it needs to be moved on. It's whether or not the NFL bosses have the balls to make that call.
- Toby Durant (@TDonSport)
- The Pulling Linemen