Welcome to the home of the Champs.
Tonight The Green Bay Packers begin the defence of their latest title. I'm ridiculously excited for the return of competitive football after all of this lock-out nonsense in the summer.
This is a division that could surprise people. In my opinion the NFC North has a great chance to post the highest number of division wins this season and take that "Toughest division in the NFL" crown.
So without any extended pre-amble let's get right down to it, starting with the champs.
All is well for the Cheeseheads
2010: 10-6, #6 seed – Super Bowl Champions
Wk 1 vs New Orleans Saints
Wk 3 @ Chicago Bears
Wk 5 @ Atlanta Falcons
Wk 9 @ San Diego Chargers
Wk 16 vs Chicago Bears
Wk 17 vs Detroit Lions
As reigning Super Bowl champions the Packers kick off the season tonight against the Saints, 2009's winners, in a clash that could well end up deciding home field advantage for the play-offs. We have these 2 as the top teams in the NFC in our
Power Rankings
so expect fireworks and a great game of football.
Last season Green Bay threw away their 1st game against Chicago by committing a staggering 18 penalties, costing them 152 yards, and then punting to Devin Hester in the 4th quarter (always a bad idea). Green Bay won at home vs the Bears in week 17 to get into the playoffs but that game meant nothing for Chicago, had both sides needed a win it could have been a very different story.
As it was Green Bay beat Philadelphia in the wildcard round before going to the Georgia Dome and embarrassing the #1 seeded Falcons. Week 5 will be a big test for both sides in the rematch to see how the 2011 versions stack up.
Green Bay close with 2 home divisional games and there's every possibility that the division could still be in the balance at that point.
- If it ain't broke…
Green Bay were very quiet during the mad free-agency period, focusing on re-signing their own guys and extending those who needed it.
It's what they have been doing for years now, building through the draft and developing their own talent and it's lead to one of the deepest squads in the NFL so you can't fault them for sticking to that formula in 2011.
Throw in the return from injury of players like Ryan Grant and JerMichael Finley on offense and the development of young guys like Tramon Williams and James Shields on defense and things look pretty rosy in the Frozen Tundra of Lambeau Field.
Brett who? Aaron Rodgers rules
this team now
Aaron Rodgers, Quarterback:
Seems obvious, and it is, but with the bout of Rodgers-mania that swept the world after his great post season performances everyone is going to be watching and the pressure will be immense. Rodgers takes a lot of hits for a franchise QB, getting sacked 115 times in his 3 years as a starter during the regular season. Throw in that he's averaged 59 rushing attempts in those 3 years you can see how it was almost inevitable that he'd pick up an injury from all those hits, and last year against Detroit he sustained a mild concussion which took him out of that game and benched him for the game against New England.
The return or Ryan Grant should give Green Bay the running game they lacked last year when he went down, which forced Rodgers to take more hits, but don't be surprised if teams get after Rodgers more this year and try to rattle the Super Bowl MVP, but you also shouldn't be too shocked if Rodgers avoids that pressure and makes ridiculous throws and ends up winning the 2011 MVP award. The guy can flat out play.
Davon House, Defensive Back:
It's pretty difficult to pick a rookie who will make an impact their 1st year when on a team that's as loaded as this. So let's go with the one who's got a chance to see the field the most.
Davon House was a 4 year starter at cornerback for New Mexico State so has plenty of game experience, although not against the top level guys he'll be facing in the NFL. He's got nice size for a corner (6 foot, 200lbs) and good speed. Can occasionally get himself off balance by turning his hips too early but will get the time behind guys like Charles Woodson, Tramon Williams and James Shields to iron out the problems before being thrust into the starters role.
They've got one of the top QB's in the league, a myriad of weapons for him to use and a fast, aggressive defense. The sky is the limit for the 2011 Packers. Yes they have that "Defending Champion" target squarely on their back but they relish the challenge. Anything upward of 12 wins and a division title would be right for this team along with another deep run in the post-season.
Chicago Bears:
2010: 11-5, NFC North winner, #2 seed, 21 – 14 L in NFC Championship Game
Urlacher is the leader of this generations
Monsters of the Midway
Wk 1 vs Atlanta Falcons
Wk 2 @ New Orleans Saints
Wk 3 vs Green Bay Packers
Wk 9 @ Philadelphia Eagles
Wk 11 vs San Diego Chargers
Wk 16 @ Green Bay Packers
Last year was an odd one for Chicago. They beat top teams like Philadelphia and the Jets but managed to lose back to back games against Seattle and Washington. The Bears also rode their luck a lot in 2010, going 7-3 in games decided by a touchdown or less which is unsustainable.
They open up this season with a really rough stretch against the 3 best teams in the NFC, including one of the toughest road games around in the Louisiana Superdome. After that life gets a bit easier for them but not by much. They get the Suh & Co. in week 5, Jared Allen in week 6 and the young Bucs in week 7.
Life is going to be hard for Jay Cutler, especially with that swiss cheese of an O-Line…
Jay Cutler got sacked 52 times last season. To put that in perspective Tom Brady and Peyton Manning were sacked a combined 41 times, and they started every game unlike Cutler. And this is discounting the 4 sacks taken by Todd Collins and Caleb Hanie. You can't succeed if you can't keep your QB upright, and that's the worst part of Chicago's game.
It was a rough 2010 for Jay Cutler
At the start of last season Mike Martz came in as the new offensive co-ordinator and bought with him his usual array of stretch-the-field passing plays that many thought would play well with Cutler's cannon of an arm. Unfortunately the offensive line was weaker than non-alcoholic beer and simply couldn't protect Cutler for long enough.
To his credit Martz changed his play calling (although only after seeing the Giants beat on Cutler like he stole something) and the offensive line, doing more running blocking and less long pass protection, did improve.
However this off season the improvement seems to have disappeared. They gave up 15 sacks in their 4 pre-season games while integrating rookie right tackle Gabe Carimi and bumping Roberto Garza over to centre.
Every offense starts up front, and if the Bears aren't going to be the regression candidates everyone thinks they will be the line needs to step up.
Matt Forte, Running Back:
The 4th year man out of Tulane had his best season to date in 2010, going at 4.5 yards a carry and 10.7 yards per catch. He's asked for a new contract but with the sides quite far apart that has been put on the back burner for now, so if he wants a big pay day Forte needs to reproduce, or improve on, those career numbers.
As I've already said the Chicago passing attack has a tendency to break down and struggle, and while the defense will be good enough to keep Da Bears in games during 2011 they'll need to get more out of the ground game to take the pressure off. Now Forte's good yards per carry was off-set by just how few he got (nothing he can do about that) meaning he only just got over the 1000 yard mark for rushing. Chicago needs more than that this season to take the load off Cutler et al, so it's up to Martz to give Forte the chances because by all accounts he'll do well with them.
Gabe Carimi, Right Tackle:
Carimi, a member of the crushingly good 2010 Wisconsin O-Line, won the Outback award as the NCAA's best linemen and was a fixture at left tackle for the Badgers since Joe Thomas was drafted 3rd overall by the Browns.
Gabe Carimi with another target in his sights
He is a better run blocker than a pass blocker (hence his switch to right tackle), and was generally seen as a wise investment for the Bears 29th overall selection in April. Given the issues J'Marcus Webb has been having at left tackle so far this pre-season it might not be long before a re-shuffle is done and Carimi ends up as the blind side protector for Cutler.
The Bears line is such a mess that Carimi really can't afford to have any growing pains if they are to repeat 2010's division crown.
While their schedule isn't as soft as last years it has its soft patches (weeks 12 through 15) but there are pit falls in there such as the NFC's sexy picks Detroit and Tampa as well as that tough start. Chicago could easily find themselves 1-3 when they go into Detroit which would suddenly become a must win.
A .500 year is probably where the Bears will find themselves. They've been hard done by with the kick off rule change (2nd highest yards per return in 2010) and if they can't keep Cutler healthy then they could be in real trouble.
With all the hype you'd think the Lions had moved to East Dillon
2010: 6-10, 3rd in division
Wk 1 @ Tampa Bay Buccaneers
Wk 2 vs Kansas City Chiefs
Wk 4 @ Dallas Cowboys
Wk 10 @ Chicago Bears
Wk 12 vs Green Bay Packers
Wk 13 @ New Orleans Saints
If the league were decided on which team has the biggest bandwagon Detroit would be a serious contender. So many experts are picking the Lions for a wildcard spot it's almost become clichéd to say you like them. But I'm never one who is worried what people call me. I like these Lions.
The games I've put above are basically measuring stick games that I'm sure the Lions have circled on their calendars too. Tampa were the young upstarts that almost crashed the play-off party in 2010, the Lions want to go 1 better. Kansas were the surprise division winners of 2010 who overcame a heavily favoured rival. See where I'm going with this?
Detroit even used their pre-season game vs New England as a test to see how they matched up against a top team (well was the answer). They are a hungry bunch of players who have a drive to win. And win now.
-
Keeping Matthew Stafford healthy
The 2009 1st overall pick has just 13 starts under his belt for Detroit. He is behind the curve on his fellow 1st round QB's from that draft, Mark Sanchez and Josh Freeman, but if you were redoing the draft today there are still plenty that would take Stafford above the other 2, and even more who would take him above Sanchez. The kid has oodles of potential and a great arm, they just need to look after him a bit more.
This is why everyone was rather surprised when Detroit decided to forgo the top end O-Line prospects such as Mike Pouncey (15th, Miami), Nate Solder (17th, New England) and Anthony Castonzo (22nd, Indianapolis) and took the 1-year wonder Defensive Tackle Nick Fairley out of Auburn with the 13th pick.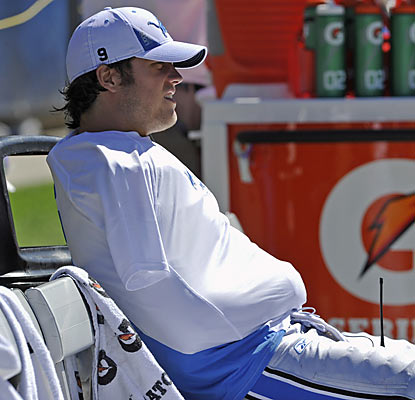 He can't help you win if he's sat on the sideline
Yes he could form an almighty duo with our favourite DT
Ndamukong Suh
but when you've already invested the 2
nd
overall pick at DT, and got a 1
st
overall + a ton of money invested in the most important position in the game don't you try and protect that asset? It would have been the sensible option really. After all it took 1 hit from Julius Peppers in the 1
st
game of 2010 to effectively knock him out for the season (Stafford would return week 7 before a hit vs. The Jets in week 8 to the same shoulder sent him home for the year) and when that happens you're season goes down the pan.
Matthew Stafford is basically 1 more shoulder injury away from being Chad Pennington, and that's not gunna get Detroit back into the playoffs. PROTECT YOUR BEST ASSET!!!
Ndamukong Suh, Defensive Tackle:
Relentless, vicious, brutal, brilliant. Suh is all of these and more. No one has caused such havoc on the inside since Albert Haynesworth's '08 "someone gimme lots of money so I don't have to try anymore" year. He gathered 10 sacks during his Defensive Rookie of the Year campaign last season and you can expect more of the same in 2011.
Titus Young, Wide Receiver:
With 1st and 2nd round picks Nick Fairley and Mikel Leshoure set to miss a good chunk of this season the Rookie Watch honours fall to their other 2nd round pick Titus Young.
Titus Young (centre) can make defenders look silly
Young comes to Detroit from Boise State and brings with him some real big play ability. He's got great run-after-catch ability and although he's not the best route runner around he should be a good compliment to Calvin Johnson and create real match-up problems when he comes into the slot.
He's a potential return threat too, having averaged just over 10 yards a punt return with Boise last year.
Tricky one. If it all falls into place there's definitely 10-12 win potential there. But they are still thin in the secondary and if that pass rush does slow down then watch out because I'm pretty sure I could get open against those guys.
In the end I think they'll edge 9 or 10 wins and be right on the edge of a wild-card spot.
There is a lot of pressure on Jared Allen (#69)
to keep getting to the QB
2010: 6-10, Last in Division
Wk 2 vs Tampa Bay Buccaneers
Wk 5 vs Arizona Cardinals
Wk 6 @ Chicago Bears
Wk 7 vs Green Bay Packers
Wk 15 vs New Orleans Saints
Wk 16 @ Washington Redskins
2010 was a perfect storm of awfulness for Minnesota. #4 left them up in the air about their QB situation, Brad Childress lost control, they bought Randy Moss back to try and get some mojo going but quickly shipped him out of town. Childress was the sacked, #4 was then injured and it all went up in smoke.
Now? Former defensive coordinator Leslie Frazier is in charge and took them to a 3-3 record to finish the 2010 season. Donovan McNabb has been bought in to start week 1 and mentor 1st round pick Christian Ponder. With a QB who isn't old enough for a bus pass and a head coach who isn't clueless Minnesota would do alright, but…
Donovan McNabb comes in after what can only be described as a disastrous season in Washington. His QB Rating and Interception percentage were the worst they've been since his rookie season, his yards per attempt plummeted too. Some of this was due to the drop off in the skill players around him from what he had with the Eagles but also he looked flat out bad a lot of the time. If the Ponder pick is going to work out he can't be thrown to the wolves like Andy Dalton is going to be in Cincinnati. Ponder is still a "prospect", he's not ready to go now, and maybe won't be by the end of the year either. But if McNabb, who was benched for Rex Grossman (that's not a typo) for the last 3 years of 2010, can't turn it around and be even remotely as productive as he was for the Eagles then Ponder might just be called on. And then things could get even worse. But fortunately for McNabb, he has this guy…
With his fumbling issues behind him AP has
become the clear #1 back in the NFL
Adrian Peterson, Running Back:
I tried to come up with an under the radar guy, I really did, but when you think about the Vikings there's only one guy who comes to mind. #28 is the best running back in the NFL, fact. Chris Johnson had the flashy 2,000 yard season but Peterson is a beast, he runs over, through and around would-be tacklers. He's got hall of fame potential and better yet hasn't bitched about his contract yet. Peterson makes every Vikings game exciting because you never know when he's going to do next.
Kyle Rudolph, Tight End:
A good tight end is a bad/young Quarterback's best friend. And Minnesota might have both on their hands. Rudolph, a 2nd round pick out of Notre Dame, has had a strong camp and pre-season and should be on the field a lot as Minnesota plan to use multiple TE sets this year to optimise the run game and keep things simple for the new QB's. He's got the frame and skills to be a similar threat as Rob Gronkowski was with New England last year. It's just whether or not they can get him the ball.
With stability now established there should be an improvement from Minnesota. They will be a bit weak up front on defense to start with as DT Kevin Williams is suspended for the first 2 games and with Pat Williams and Ray Edwards now gone they could be a lot weaker against the run then they have been in previous seasons.
7-9 wins if all goes well.
-
Toby Durant (@TDonSport)