The rule for week 2 is always to not over react to what we saw in week 1. But that's easier said than done. Mind you when the fixtures fall like this it's fairly simple. There are no divisional games this week (as part of the lock-out proofing that went on during the summer) and there are a lot of miss matches on the schedule this week, as shown by the fact that all but 4 games are consensus picks.
We're also giving you a brief preview of games we'll be keeping a careful eye on this week so let's get down to it.
Once again, we are not responsible for any gambling losses accrued by using our picks at a bookies. You'd be a moron to take us seriously anyway!
Does Kerry Collins have jedi powers???
Unfortunately for the Colts, no.
Phil Gaskin: Cleveland Browns (0-1) @ Indianapolis Colts (0-1)
If you'd have asked me 6 weeks ago, I would never have picked this as a Game of the Week candidate. To be honest, I probably wouldn't have recommended watching this game at all.
But after the last month of Peyton-gate, and the results from week 1, this game has taken on a whole new dimension. The Manningless Colts were humiliated at the hands of the Texans last week - a result which can't be 100% contributed to the absence of their franchise QB. Peyton could have done nothing to stop the Texans potent offence, or prevent the Colts' special teams play from being horrible. This matchup with the Browns will give the defence a chance to redeem itself, if they can. The Browns themselves had a shocking result in week 1 - losing to a Bengals team that many considered to be the worst in the NFL.
Colt McCoy had a poor game, completing under 50% of his passes, and will hope the Colts defence that appeared so flimsy in week 1 will help him recover. The winner of this game will have a chance to right the ship, build on a 1-1 start and hope to continue competing all season. For the loser, an 0-2 start will almost certainly mean the season is over practically before it has begun. In a wildcard race that is bound to include the runner up from the AFC East (Jets, Patriots?) and the AFC North (Steelers, Ravens?), 2 defeats this early on would be almost fatal.
Toby Durant: Chicago Bears (1-0) @ New Orleans Saints (0-1)
The Bears were tipped to be the big regression team of the NFC, well they didn't get the memo. Last week Chicago completely stymied last season's #1 seed Atlanta and turned heads with their 30-12 win in Soldier Field.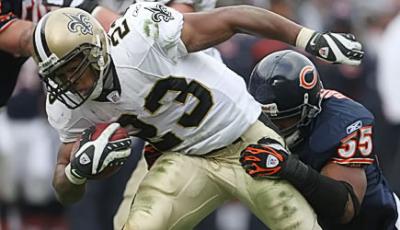 Lance Briggs makes the tackle on Pierre Thomas
Meanwhile the Saints played out a nerve jangler of an opener at Lambeau field, losing 42-34 but having a shot to tie it with the last play. They looked as dangerous as ever with Drew Brees under centre but the defense seemed a little shaky (but I'm sure Aaron Rodgers will do that to plenty of D's this year).
The big battle will come in the trenches with New Orleans' interior D-Line of Sedrick Ellis, Shaun Rodgers and Aubrayo Franklin, who were blown aside at times vs Green Bay, having something to prove. They'll go against a Bears Offensive Line that allowed 4 sacks and was somewhat sketchy in the running game, gaining just 3.3 yards a carry.
Taking the weight off Jay Cutler's shoulders is important, especially when you consider just how much Saints Defensive Co-ordinator Gregg Williams loves to blitz so who comes out on top in the middle of the line will be key to the outcome of this game.
On the other side of the ball you can bet Chicago will be fired up. All-Pro middle linebacker Brian Urlacher lost his mother during the week but will be on the field Sunday ready to continue the excellent start he made last week after getting an interception and taking a fumble to the house. The Bears play and aggressive defense against the run and blanket receivers in the passing game while Julius Peppers crashes the pocket. They provide a test for any offense, and the Saints have a few injury concerns at wide out.
Marques Colston is out after breaking his collar bone against Green Bay and Lance Moore is questionable with a groin injury, it could be a tricky day for Drew Brees and he'll hope the running game will help keep the Bears off balance.
Much like last week this game could provide a key tie-breaker come seeding time in December. This will be a very tight game but I'm going to give the edge to the home field advantage and the better QB. The Saints will win, but it will be very close and don't be surprised to see Chicago sneak it, they've won their last 3 games vs Brees and the Fleur-De-Lis.
Gur Samuel: San Diego Chargers (1-0) @ New England Patriots (1-0)
Two of the best QB's in the league face off
It might be an obvious one… but how could I not go for Chargers @ Patriots for my game of the week? Similarly to the Saints/Packers matchup last week, I think we're seeing a potential Championship game preview here. I think this game will go a long way towards proving whether or not these teams are for real. That might seem an odd statement to make, seeing as the Patriots are routinely considered Super Bowl contenders, while the Chargers finished the 2010 season with the no. 1 ranked offense AND defence. But, for me at least, there's two questions hanging over this game, one for each team:
How will the Pats defence look?
The Pats defence did not look fantastic last Monday night; in fact, they allowed Chad Henne to pass for 380 yards. Let me repeat that: the Patriots defence allowed CHAD HENNE to pass for just shy of 400 yards. And, my friends, Philip Rivers is a far, far, far better quarterback than Henne could even dream of being. So, let's say the offenses are evenly matched – and I think there's a fair case to be made there. In that case, it comes down to who's got the better defence and, well, San Diego's D is a lot better than the Miami's. As the old mantra says, "defence wins championships"; this game will be very telling as to how far the Pats will be able to extend their season beyond December.
How 'special' will the Chargers' special teams be?
I mentioned in the opening paragraph, the Chargers had the top ranked offence and defence in 2010 – and yet, they failed to make the playoffs… thanks to perhaps the worst special teams unit in the history of the NFL. Seriously, for a special teams unit to be so bad that they keep the team with best offence and defence in the league out of the post season, they don't just need to fail, they need to actively be sabotaging their team mates. And at times last season, it really looked like that's what they were trying to do. The Chargers tried to remedy that in the offseason by getting their hands on the best special teams co-ordinator in the NFL in Rich Bisaccia. He's going to have to earn his paycheque this week – if you want to see to what extent New England can take advantage of shoddy special teams, go back and watch the week 4 MNF game against the Dolphins last season. The Chargers could well make a Super Bowl run this year – if they have solved their special teams woes. No better opportunity to prove they have done so than against the Pats.
Whether it's the Patriots proving they can shut down high-powered offences, or the Chargers proving that they can be efficient in that crucial third phase of the game, this matchup will be a very telling preview of how the AFC side of things will be looking in January.
Picks:
| | | | |
| --- | --- | --- | --- |
| | Toby Durant | Phil Gaskin | Gur Samuel |
| Bears @ Saints | Saints | Saints | Saints |
| Chiefs @ Lions | Lions | Lions | Lions |
| Jaguars @ Jets | Jets | Jets | Jets |
| Raiders @ Bills | Bills | Bills | Bills |
| Cardinals @ Redskins | Redskins | Cardinals | Redskins |
| Ravens @ Titans | Ravens | Ravens | Ravens |
| Seahawks @ Steelers | Steelers | Steelers | Steelers |
| Packers @ Panthers | Packers | Packers | Packers |
| Buccaneers @ Vikes | Buccaneers | Buccaneers | Buccaneers |
| Browns @ Colts | Browns | Browns | Browns |
| Cowboys @ 49ers | Cowboys | Cowboys | Cowboys |
| Texans @ Dolphins | Texans | Texans | Texans |
| Chargers @ Patriots | Patriots | Patriots | Patriots |
| Bengals @ Broncos | Broncos | Broncos | Bengals |
| Eagles @ Falcons | Eagles | Falcons | Eagles |
| Rams @ Giants | Giants | Rams | Giants |
| | | | |
| Last week: | 7-9 | 10-6 | 6-10 |