Here at TPL, we're committed to bring you coverage of all the NFL, not just the teams that we individually support.
Well, I'm taking a break from that for right now to talk purely about my Bucs (hence, 'Slice of Selfishness').
Yesterday was not a good day for Bucs fans. And I'm going to explain just why it was that bad, in excruciating detail (it really hurt to stare at these stats and look at these plays again).
To begin with: we lost to the Detroit Lions by a score, 27-20. Except that doesn't come close to explaining how shockingly bad we were.
Here's a better indication: how our offensive drives went:
First Quarter
1) 3 and out (field goal)
2) 3 and out
Second Quarter
3) 2 first downs; interception
4) 3 and out
5) (Inside 2 minute warning) 4 first downs (field goal)
Third Quarter
6) 3 and out – despite 2nd-and-1 and 3rd-and-1
7) 3 and out – despite five yard penalty on Detroit. Third down with Johnson under centre
8) 3 and out – Johnson under centre
Fourth Quarter
9) 4 first downs; fumble on fourth down conversion, would have still been short
10) 3 first downs – two minute warning – TD on 4th down
11) 3 first downs; end of game
See that? In more than half our drives we failed to get a single first down! That's not just 'not good enough', that's outright pathetic. And I'm not giving credit to this allegedly fearsome Lions front four for that. For one thing, I think I heard Suh's name mentioned by the commentators twice all game, and Kyle Vanden Bosch just the once. Davin Joseph and Donald Penn locked those two up pretty much all day. As far as I could see, the biggest source of our pain was actually the Lions' linebacking corps. Is it me or did Stephen Tulloch seem to be all over every play?
=================================
What do I think is the single biggest factor in our loss? The gameplan. I really think the majority of the blame falls on offensive co-ordinator Greg Olson's shoulders. Seriously, what was he thinking giving Blount FIVE CARRIES IN THE GAME? Did Blount look sharp out there? No. He had 15 yards on those five carries. Does that excuse Olson taking the ball out of Blount's hands? HELL NO! And this is why not.
LeGarrette Blount vs. Seattle Seahawks, December 26th 2010, 1st half: 6 attempts, 22 yards, 3.7 yards a carry.
LeGarrette Blount vs. Seattle Seahawks, December 26th 2010, 2nd half: 12 attempts, 142 yards, 11.8 yards a carry
This is what happens
when you leave Blount
IN THE GAME
It's a simple lesson, really: DON'T TAKE BLOUNT OUT OF THE GAME PLAN. Last season, Blount got his first NFL experience in a blowout at the hands of the Steelers. The next game, we barely scraped by the Bengals; the following week, Blount was inactive again for the Saints, during which we, once again, were completely dominated. Then, in week 7, Blount got his first double-digit carries in a game, during a very close win against the Rams. And, would you look at that? We didn't lose a game by more than a score for the rest of the season. Blount is a beast, and any time he's in the game, defences need to account for him. There is no excuse for using him so little in this game.
I'll tell you what game yesterday reminded me of: our 17-10 loss to the Ravens. In that game, we didn't get on the score board until there was four and a half minutes left in the first half, and that was only a field goal. Our only touchdown came late in the fourth quarter, again with four and a half minutes left on the clock. I still remember to this day what the commentators said as time was ticking down: "Freeman is really impressive, I can't believe they waited this long to go to the hurry-up offense". And it was that same phrase that kept running through my head yesterday. Now, ostensibly, we came out in the 2nd half in the '2-minute offense', according to several Bucs' beat reporters on twitter. Personnel wise, maybe, but 2-minute offense is also about mentality. In the third quarter, Freeman had one and a half series (leaving the second due to leg cramp). Both were three-and-outs. In the first series, only on second down was there no huddle, and even then, Freeman was milling around the backfield before the team ambled up to the line of scrimmage. If this is 2-minute offense, maybe some urgency wouldn't go amiss?
=================================
But of course, football is a team game, so let's take into a look at two other factors that I feel contributing to our poor showing:
Adrian Clayborn (#94)
So close... yet so far
Matthew Stafford had an absolute field day, according to the stats. And he did. But one thing which I noticed is that a hell of a lot of his plays appeared to be made on the run, being flushed out the pocket. We got 0 sacks, but our defensive line was in the backfield a lot, forcing Stafford to use his feet to avoid being brought down. That's the good part. The bad part was, when he was on the move, none of our D line seemed to have the closing speed to chase him and get that sack. I've gotta single out whoever was manning left end for the lack of contain though – whether it was Michael Bennett or Da'Quan Bowers, Stafford always had room to run to his right. The flipside of that? It seemed to me like almost all of the pressure that was forcing Stafford to run came from rookie Adrian Clayborn. We could have downed Stafford several times yesterday if there was equal pressure coming from the other direction.
Earnest Graham:
must do better
Since last season, Raheem Morris has been calling Earnest Graham 'Insurance Graham'. If that's our insurance, our premiums are too high. When we let Cadillac Williams walk in free agency, we needed someone to step up and not only fill Caddy's role as a third-down back, but Caddy's role in the hurry-up. Apparently, Insurance Graham has won that job. Based on yesterday's performance, I can't believe how bad the guys he beat out were. And here's the problem: I get that there's specific personnel for different packages, and for whatever reason, Blount is not part of this particular package. But you know what? I bet you if Olson had put Blount in, the defence would have had to react to that, and I really believe that would have opened things up in the pass game. If Graham is really going to fill Caddy's role, then he needs to be a much bigger worry for the defence. It seemed to me that Freeman held onto the ball for quite a long time on most of his drop backs. Because of the camera angle, I really can't tell, but it looked to me as if he was waiting for someone to become open. If Blount's in the game, the defensive backs have to take a split second to see if they need to come down to help stop the run – you do not want to risk Blount making it past the first line of defence and having no-one behind to lend support – and that split second can make the difference between a receiver staying covered and coming free. Either Graham needs to step up, or Olson HAS to work Blount into the 2-minute offence. Or else the kind of offensive limpness we saw yesterday will be around for a lot longer.
=================================
Some other random thoughts on the game:
As the commentators mentioned yesterday, on Freeman's interception; it looked like Freeman saw a yellow flag immediately after the snap, assumed it was an offside call on the defence, thought he had a free play so he just lobbed it to see what would happen. And then, of course, it turned out that the penalty flag was on the offense for illegal motion, so the interception stuck. It's a stupid mistake, and inexcusable; but, if Freeman's going to throw an interception, I much prefer that it's because of a stupid and, yes, arrogant mistake, than a failure to read coverages – it's far more easily correctable.
I believe this was more of a loss for us than a win for the Lions. The thing that hurts most is that we could have won yesterday. I believe we have all the pieces we would have needed to win yesterday – if we could have executed better. I know that I've talked a lot about how there was a big Cadillac-shaped hole in our offense yesterday, and that seems even more bitter seeing his stats against the Eagles. Except for one thing. Even if Caddy was out there in pewter and red yesterday, do you think Blount would have had more than five carries? I don't. I think that whether it was #24 or #34, the gameplan would have been the same. Graham had more carries than Blount yesterday. Do you remember what Caddy's yard-per-carry average for the season was before Blount took over role of lead ballcarrier? 2.5. I'm sorry, but I don't think Caddy would have made a spot of difference.
To all the 'Glazer haters'. Throwing money at a problem doesn't make the problem any smaller, it just makes it a more expensive problem. If spending in free agency guaranteed wins, Dan Snyder would need a second house just to hold all his Lombardi trophies. I will leave the topic for another article, which I hope to finish soon – but all I'll say is, our spending in the early 00's might be the reason we have a Lombardi of our own, but it's also the reason we only had one. I'd much rather have the caproom to resign for the long term Josh Freeman, Mike Williams, Arrelious Benn and Gerald McCoy in 2014 – when all four's contracts expire, then face another situation like we did in 2003 – when we had so little cap space, we had to let both Sapp and Lynch go, and the Bucs were never the same team again.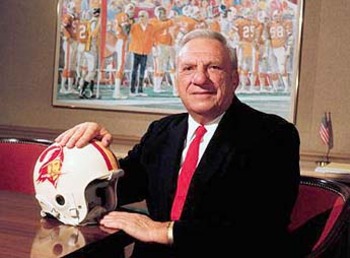 Also, remember this guy?
=================================
Finally – five positives:
Our run defence was average. When you're used to your run defence being utterly atrocious, this is definitely a positive. Last season, the Maurice Morris rushed for 7.3 yards a carry average on 15 attempts; the team as a whole averaged 6.5 yards on 28 attempts. Yesterday, Morris and Jahvid Best, the Lion's two leading rushers, both averaged 3.4 yards a carry, on 8 and 21 attempts respectively. As a team, the Lions averaged 3.6 yards a carry on 35 attempts. Since our D gave up an average of 4.8 yards a carry last year, I definitely count this as a positive
The ghost of Michael Clayton was exorcised permanently yesterday. The ex-Buc wideout had a fantastic rookie season; the rest of his career with the team was poor. After Mike Williams became the first rookie receiver to have double digit TD receptions since Randy Moss way back in '98, there were a few voices wondering whether we were going to see #19 turn into Clayton 2.0. Just in case there was any doubt, Williams pulled an absolutely ridiculous touchdown grab in the fourth quarter. Sophmore slump? Not likely.
As bad as we looked yesterday, we didn't fall behind in the race for the division title – all four teams from the best division in football start their seasons 0-1.
In 2002, the Bucs became the first team in NFL history to lose their home opener and go on to win the Super Bowl that season. That's probably not going to happen this year, but it does tell us that not all's lost yet.
There's another 15 games to go. Game on.
- Gur Samuel (@FredThePuppy)
- The Pulling Linemen