With the first pre-season games upon us today (HUZZAH!!!) The Pulling Linemen produce some tweet-sized predictions for the coming year:
San Diego Chargers:
Slow start -> hot middle -> iffy finish. But still take AFC West easily. Rivers lights it up again. Can D stay strong without Rivera?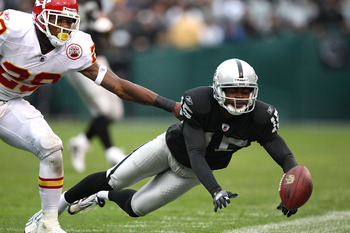 Jed Jacobsohn/Getty Images
Oakland Raiders:
No O-Line = bad times for Campbell. Al Davis fires HC and eats his brain. WR's qualify for 2012 olympics in "100m dropped passes."
Kansas City Chiefs:
No NT = bad run D. Cassel returns to Foxboro wk 11, gets warm welcome from fans/blitzing LBs. regress from 2010, but O has potential.
Denver Broncos:
Better than 2010, but still not good. Tebow is "not ready" so Orton starts. D has fewer holes, Dumervil's return will help. 4-6 wins.
Indianapolis Colts:
Manning's neck seems a serious issue, can he keep leading Collie into safeties? If no Manning then big trouble. If fit then div winners.
Houston Texans:
All the pieces on O, talent on D, but still lack DB's to contain the best passers. Miss play-offs, Kubiak finally fired.
Jacksonville Jaguars:
Even less fans that before, Gabbert forced into action too soon. Jones-Drew still explosive. DL keeps them in games, but not enough.
Tennessee Titans:
Hasselbeck will help CJ's running, if he doesnt hold out. Lot of pieces left in the offseason, D is usually strong vs run, pass not so good.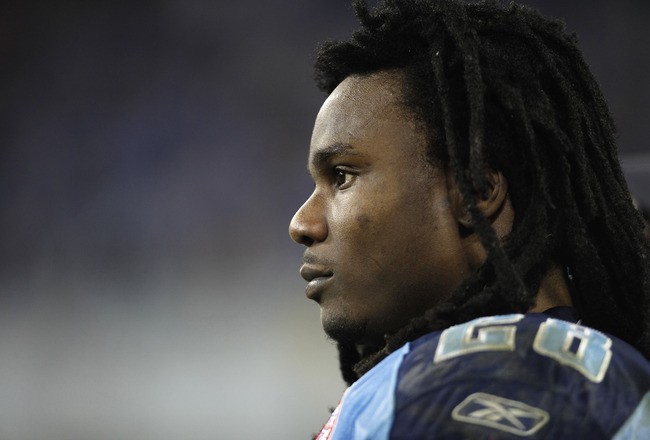 Joe Robbins/Getty Images
Baltimore Ravens:
Big test for Flacco/Rice. Must prove they can get it done. Can Lewis/Reed still do it? After cutting Vets young guys must produce. Wildcard.
Pittsburgh Steelers:
Bought their guys back, feel another run is there. Got B'Mores number, but 1 slip and they'll be in. O/U for Harrison fines: $499,999.
Matt Freed/Post-Gazzette
Cleveland Browns:
New coach, largely same players. Hillis needs to repeat, McCoy must show more. D might struggle, lots of picks for future after Jones deal.
Cincinnati Bengals:
No TO/Ocho + Palmer "retired". Ginger rookie QB = trouble. Joseph gone too, Marv Lewis next? Great LB corps. If healthy, could save the D.
New England Patriots:
Brady + Belichick = wins. OL still strong + more youth. DL just got bigger with Ellis/Fat Albert. All the way? Not without better pass rush.
New York Jets:
3rd time lucky? "show me" year for Sanchez, must play all 4 Q's. D still good but missing OLB's too. Thin at WR. Revis due DPOTY. Wildcard.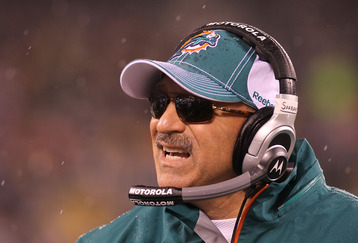 Nick Laham/Getty Images
Miami Dolphins:
Thomas + Bush backfield has potential. OL could become great. D needs more than just Wake. Henne + Sparano's last chance? Yes.
Buffalo Bills:
Dareus must be good from wk 1. Kyle Williams to get more attention. Run game has potential, Fitzpatrick's last year as stop-gap?
Tampa Bay Buccaneers:
Young team, few additions, out to prove 2010 wasn't fluke. Only 1 NFC West game this season though. Freeman for real? Just misses Wildcard.
New Orleans Saints:
Sproles > Bush, Brees still got it. D-Line now monstrous. Big time contenders again, but winning div is a must to get home in the dome.
Atlanta Falcons:
Trade for Julio Jones must pay off or there's trouble ahead. Ray Edwards adds bite to the pass rush. Will go as far as Ryan can take them.
Carolina Panthers:
All hinges on 1st pick Cam Newton. Resigned core of the team. Sounds good but they were 2-14 for a reason. Unlikely to be 1st pick again.
Streeter Lecka/Getty Images
New York Giants:
Many O-Line shifts but should be ok. Thin at LB + Amukamara out. Missing playoffs could be end of Coughlin. Must do better in December.
Dallas Cowboys:
More talent than they showed last year. Fit Romo will help. Still weak at DB. Could sneak wildcard if all goes to plan. Rarely does tho.
Washington Redskins:
Choosing between John Beck and Rex Grossman is no choice at all. Skins fans just waiting for Andrew Luck in 2012.
Philadelphia Eagles:
Asomugha, Samuel + DR-C = scary good DB's. Eagles are primed for a deep run. Vick must stay healthy but things look good in Philly.
Green Bay Packers:
A healthy Grant + Finley make the defending champs even better. Kept their own, didn't splash out in FA. If it ain't broke… Div winners.
Chicago Bears:
O-Line improved at end of last year, Carimi will help more. Traded Cutler's fav target Greg Olsen, bought in Roy Williams. D always good.
Detroit Lions:
Everyones favourite sleeper but injuries already taking their toll. Success hinges on Stafford's health. Playmakers all over, team must gel.
Minnesota Vikings:
Hoping McNabb has 1 more year in him or Ponder will be thrust into action. Must lean on Peterson, lines getting old. Slim shot at playoffs.
St. Louis Rams:
Favourites for the division. Bradford + McDaniels could be huge. Had a good FA, if draft picks pan out could cause an upset in playoffs.
Arizona Cardinals:
Paid a lot for Kevin Kolb, he better be good. Adrian Wilson says he'll play through a torn bicep. Won't be enough tho. 5-7 wins only.
Seattle Seahawks:
Made a lot of nice moves (Rice, Miller, Gallery) but still lack the QB to do well. D still dodgy but has young potential.
Associated Press
San Francisco 49ers:
Alex Smith… again. New coach, same QB. Lost Franklin, could expose Willis to more blockers and ruin D. A few bright sparks for 2012.
- Toby Durant (@TDonSport)
- Pulling Linemen