Should Adrian Peterson be your
no. 1?
With regular season football approaching fast, this is the time of year that fantasy drafts rule people's lives. It's also the time that fantasy tips, pointers, sleepers and mocks are cropping up left, right and centre, all with conflicting advice and opinion. With that in mind, we here at The Pulling Linemen would like to make things worse by throwing in each of our own 2 cents!
Don't like what we've got to say? Then let us know by commenting at the bottom! Think we might be on to something, don't tell anyone until after your draft – you've got to do everything you can to get one step ahead of the competition (although we draw the line at 4 hours of research on kickers...).
Phil Gaskin (@sosayitisaid)
Top 5 picks of 2011: Adrian Peterson
Jamaal Charles
Ray Rice
Arian Foster
Chris Johnson
Ok, so the content of this top 5 is fairly obvious. The order may not be. Jamaal Charles is primed for a massive season, provided Todd Haley allows him to become the teams feature back and take some carries away from Thomas Jones. Ray Rice takes the spot above Arian Foster due to his receiving ability out of the backfield, plus the addition of Vonta Leach to the Ravens roster. Arian on the other hand has lost Vonta, but with a great passing game and solid O-line in place, he should still have a good season. Chris Johnson sneaks out MJD or your choice of top QB (Mike Vick, Aaron Rodgers?) for the final slot, provided he ends his holdout sooner rather than later (if not, look for Javon Ringer to be big in the first few weeks of the season).
2011 MVP: Ray Rice, RB, Ravens
Pretty much as above. He's going to get more goal-line looks, and with better FB blocking he's going to score BIG.
Sleeper of the Year: Knowshon Moreno, RB, Broncos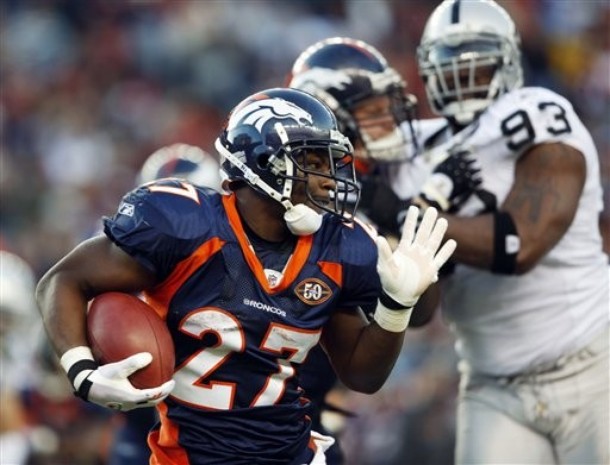 The Broncos are counting on Moreno
this season - can you?
Whilst the debate continues over Orton-Quinn-Tebow in Denver, people seem to have forgotten just how much John Fox likes to run the ball. This season is make-or-break for Knowshon, and if he fulfils his potential he might show you great value for a 4
th
-5
th
round pick. Don't be surprised to see Donovan McNabb start the season well either. With 8 men in the box against Adrian Peterson, McNabb will have more space to make the plays he's capable of.
Primed for a Breakout: Pick your Rams WR
With Sam Bradford under Josh McDaniel's tutelage, everyone is calling the Rams passing game as their "sleeper". If everyone expects them to be good, that's not a sleeper. But the question of who Sam will be throwing to is still very much unanswered. In PPR leagues, Danny Amendola looks like a surefire hit, but will he get the yardage and TDs required in standard format leagues? Maybe Mike Sims-Walker will emerge as the #1 receiver, taking it from current camp standout Brandon Gibson. Or can Danario Alexander or Donnie Avery come back from knee injuries to pose a serious threat to opposition defences? Right now, it's a crap shoot as to which of these guys will be on the roster come week 1, let alone a decent fantasy option, but someone is going to have to catch all these passes Sam is going to be throwing.
Avoid at all Costs: Giants D/ST
I don't care how good their D-line is at getting sacks. The injury to Terrelle Thomas is serious and significant. The best corner in the Giants secondary joins Prince Amukamara on the "out indefinitely" list. Added to injuries to Bruce Johnson and Brian Witherspoon, this team is dangerously thin at corner.
Don't put your franchise on: Peyton Hillis, RB, Browns
Is he a 1-year wonder? Maybe. Will he have a reduced workload? Certainly. Pat Shurmur has already stated he wants to put less stress on the overworked Hillis with Montario Hardesty close to healthy after last year's injury, and an improved passing game through Colt McCoy will give Hillis less chance to rack up the stats.
Fantasy ROTY: Jonathon Baldwin, WR, Chiefs
With defences trying to manage Jamaal Charles, Dwayne Bowe and Stevie Breaston, Baldwin is going to have plenty of opportunities against nickel and dime backs, and he could dominate them.
Free agent you wish you'd chosen: Lance Kendricks, TE, Rams
Phil Gaskin will be scouring free agency
for Lance Kendricks
Another by-product of the suspected Bradford boom. Josh McDaniels loves to use 2 tight end sets, and Lance Kendricks is sure to be a big part of his red zone plans, particularly with Michael Hoomanawanui now laid up with a potentially "significant" calf injury.
Toby Durant (@TDonSport)
Top 5 picks: Adrian Peterson, Arian Foster, Jamaal Charles, Ray Rice, Michael Vick
Adrian Peterson is a perennial No. 1 pick. He's the best back in the NFL and seems to have sorted out his fumbling issues. I'm not too worried by the loss of Vonta Leach from the Texans back field, Foster and his O-Line have looked good this pre-season. Like Phil I'm expecting big things from Jamaal Charles. He should see more carries this year and with Le'Ron McClain now there to clear a path he could be more explosive. Rice is an intriguing prospect. He's got the aforementioned Leach now blocking for him, and after Willis McGahee was released it looked like he'd be a sure bet. But Ricky Williams was recently added to the Ravens roster and is a legitimate threat to take goal line carries away from Rice. Some of you might be asking why i've left Chris Johnson out of my top 5, and the answer is simple. His hold-out scares the life out of me. Both sides are entrenched and it could last a long time. Vick, while no guarantee to play all 16 games, is the best bet for No. 5.
2011 MVP: Jamaal Charles, RB, Kansas City Chiefs
The likelihood is that it will be actually be a free agent pick up made in week 3 like Vick and Peyton Hillis were last year. But for now I'm going to say Charles. He's got the home-run threat with every carry and while the Chiefs have improved their passing game Charles will still see plenty of action.
Sleeper of the Year: Jimmy Graham, TE, New Orleans Saints
A true sleeper is hard to find these days, but someone who could perform far better than expected is Jimmy Graham. He showed flashes of his potential last season as a legitimate target for Drew Brees and there's no reason why he shouldn't be targeted more in 2011. Brees is someone who likes to distribute the ball to a number of different guys and when the season gets underway Graham should be in for his fair share, if not more. He'll be someone you can sit on in your draft too and watch as people reach for a Gates or Finley. However Graham shouldn't be leant on weekly as your main TE, make sure you have a solid guy on your bench for the bad match-ups.
Primed For A Breakout: Jahvid Best, RB, Detroit Lions
Jahvid Best is heading for a big year,
says Toby Durant - if he can stay healthy
Jahvid Best is a great talent, on a talented team, but who has been plagued by injuries since he's been in the NFL. In most standard 10/12 team leagues you'd be able to get him in the 5th round or lower, but if he can stay healthy then there's no reason why he can't produce on the level of a top 10 runner. His rookie stable-mate Mikel LeShore is now out for the year with a torn achilles, and so the burden of duty with fall mostly to Best. He's got good hands coming out of the back-field and his blitz protection has improved too so he could be an every down back. If he's healthy...
Avoid At All Costs: A high pick on K or D/ST
It happens every year. Once the starting skill positions are filled out someone reaches for the "best" kicker, or the Defense that is getting a lot of pre-season hype. The thought process is obvious, "I've really like my starters, so my bench guys will never have to play anyway." WRONG! No matter how good you think your starters are something will go wrong. An injury, a bad weekly match up or simply bye-week issues will crop up and make you regret not taking the depth when you should have. the last 2 rounds are when D/ST and Kickers should be taken, and no sooner!
Don't put your franchise on: Larry Fitzgerald, WR, Arizona Cardinals
This is no slight on the man's ability as a football player. Larry Fitz is a great wide-out, maybe the best in the league, but his team sucks. Promising running back Ryan Williams is already done for the year, leaving the rushing in the slippery hands of Chris "Beanie" Wells. Meanwhile new QB Kevin Kolb is very much an unknown quantity, and is setting up behind a paper-thin offensive line. Fitzgerald has the ability to put up outstanding numbers, but unfortunately his team-mates may well let him down.
Fantasy ROTY: Daniel Thomas, RB, Miami Dolphins
I was extremely tempted to put Atlanta's Julio Jones here, but with Running Backs continuing to be thin on the ground I'm going for Thomas. The logic is simple. Miami didn't re-sign Ronnie Brown or Ricky Williams so Thomas has minimal competition for touches (yes Reggie Bush is there, but he's nothing more than complimentary to Thomas). The Miami offensive line has been bolstered by the selection of rookie C/G Mike Pouncey and while the QB play isn't going to be great Thomas should still see some favourable looks due to the threat of Brandon Marshall on the outside.
Free Agent You Wish You'd Chosen: Your top pick's back-up
Knowing your backups could be the
difference between a winning and
losing fantasy season
Picked Chris Johnson in the first round? Make sure you get Javon Ringer. Got Vick? Get Vince Young just in case. A lot of people see these insurance, or handcuff, picks as a waste of time and roster spots, but injures happen all the time in the NFL, and if your top player goes down it can mean the end of your season if you don't have a legitimate replacement. Other players will also be out to get these back-ups as they can prove invaluable later in the season. Don't be afraid to take out some insurance.
Gur Samuel (@FredThePuppy)
Top 5 picks of 2011: Adrian Peterson; Ray Rice; Arian Foster; Andre Johnson; LeSean McCoy
Adrian Peterson is pretty much consensus no. 1 this year, and I have to agree – Donovan McNabb's game is built on play-action, so AP will be carrying the rock maybe even more than usual, but the fact that the Vikes did trade for Donovan means AP won't be seeing 8-man boxes every snap either. Ray Rice, I'm very high on this season. Of the Ravens' top five receiving targets in 2010, only Rice Anquan Boldin return; who the Ravens have added, however, is Vonta Leach, an absolute bull of a fullback. With a defence as good as Baltimore's, there is no need to force the ball down the field to a receiving core Flacco hasn't had a chance to get in synch with, thanks to the lockout, and with Willis McGahee gone to Denver, there's no big threat to taking carries away from Rice (no, Ricky Williams does not count); all of which could add up to a big year for Rice. Foster, as we all know, put up huge numbers last year, and I'm convinced he could put up similar numbers this year, despite losing Leach. If Wade Philips can work his wonder with the defence, the name of the game for the Texans will be clock control, so expect the Foster to be prolific. Importantly, (and setting up a nice segue), opposing defences will have to play honest against the Texans, because of the big man in the #80 jersey. Any team mad enough to put eight in the box to stop Foster will find Andre Johnson tearing their secondary to shreds. Great offenses are often built on 'triplets' of a QB, RB and WR, and the Texans have the potential for a great one, as whichever of Foster and Johnson defences will try and focus on will just pull coverage away from the other. If you can someone manage to land both for your fantasy team, you are in for a very fun season. Finally, LeSean McCoy. He's a great threat out the backfield in the passing game, quick and nimble running the ball, and most importantly, will see a LOT of action once Vick is inevitably injured. He'll be a great pick up for your fantasy team, especially PPR leagues.
2011 MVP: Ray Rice
Why would I pick Ray Rice for my MVP if I've got AP has my number 1 pick? Simple: down the stretch, the Ravens will still have something to play for, no doubt in their usual battle with the Steelers for a first round bye in the playoffs. Minnesota? Yeh… Not so much. They'll pretty much be done for the year by the time mid-November rolls around, at which point they'd probably rather see what they've got in Ponder than putting Ol' Man McNabb out there, meaning a sharp decline in production for Peterson.
Sleeper of the Year: Roy Helu
Roy Helu has been
impressive in the
preseason (c) Keith
Allison
According to NFL.com's fantasy game, he is currently owned in just over half of fantasy leagues. If he slips through the cracks in yours, Helu is definitely worth picking up in the late rounds, or even chancing it in free agency. He's looked fantastic this preseason – a great fit for Shanahan's zone-blocking one-cut scheme, Helu's rushed for 129 yards on 11 carries (that's a 5.9 YPC average), and with Ryan Torrain's injury struggles and Tim Hightower's propensity to fumble, Helu will be a very solid sleeper pick up.
Primed for a Break-Out: Matthew Stafford
This comes down to one question: is Stafford injury prone or just unlucky? If you believe the latter, make sure you take Stafford. There is a reason he was taken no. 1 overall in the 2009 draft; and while, obviously, I believe Freeman will be proven to be the best QB of that draft class, Stafford, should he actually be able to survive an NFL season, will be almost as good. Mikel LeShoure is out for the season and Jahvid Best has his own injury concerns – but Detroit has enough aerial weapons beyond the obvious one (Nate Burleson, tight end Brandon Pettigrew) to make this a strong pass-first team. Stafford will serve you very nicely.
Avoid at (almost) All Costs: Chris Johnson
CJ2K? Seriously? Yes, seriously. I think people seriously, seriously underestimate how long Johnson's hold out will last. I'm talking about weeks and weeks into the season. Bud Adams is a stubborn owner – he essentially forced Jeff Fisher, then the longest tenured head coach in the league, out of his job over Vince Young, who ended up being cut anyway. If Adams was going to stump up the money for Johnson he would have done so by now. As for Johnson, there is absolutely no reason, from his perspective, why he shouldn't hold out the entire season if needs be – he makes far more money from endorsements than from his contract, and at this point he can't accrue a season towards free agency; if he's not making the money, the only thing he can gain from turning up at the Titans' facility is a potential injury. With Larry Fitzgerald recently signing a $15 million-a-year contract only strengthening Johnson's resolve, this hold out will last well into the season. In your fantasy draft, the only way you're going to get CJ is to spend a first round pick on him; in fact, I'd argue that unless you can get him in the seventh round (or later), don't even think of touching him – any points he does get this season will not be anywhere near enough to make up for the points you would have gotten had you drafted a player starting from week one.
Gur Samuel: Don't trust Charles!
Don't Put Your Franchise On: Jamaal Charles
Another break from convention here. Look, I like Charles a lot, but, as with CJ2K, he's gonna demand a premium pick if you want him, and I just don't see the value being there. Why? Because he's part of a backfield committee: Dexter McCluster is being moved over to running back, Thomas Jones will get his carries, and if the Chiefs decide to run it in on third and goal, don't be surprised to see Le'Ron McClain steal some touchdowns in the situation. Charles is a great running back, but for what you'll have to spend to get him, you may find yourself disappointed.
Fantasy ROTY: Mark Ingram
Like Charles, Ingram is part of a backfield committee; however, with Pierre Thomas coming off injury, Ingram will be the closest thing the Saints have had to a workhorse in years. Most importantly, Ingram's been the guy getting the call in goal-line situations. He should be available in the fifth, maybe sixth round of your draft, and if you take him there, you'll be very pleased with the return.
Free Agent You Wished You'd Chosen: Jaquizz Rogers
I am very annoyed that those damn dirty birds drafted Rogers, I was very high on him as a late round pick entering the 2011 draft. As a fifth round rookie, he is very unlikely to be drafted, but he's someone to pick up in FA a few weeks into the season. Todd McClure is old; Harvey Dahl has gone to the Rams; I don't think Michael Turner will stay healthy. When he does go down, you can expect Rogers to take most of the carries in Atlanta – he's a shifty little scat-back, so he'll be able to get production running to the outside of the middle of the Falcons' line does become a weakness. He's a deep, deep sleeper, but if you grab him post-draft, I think you'll be taking a running back who down the line will be a very solid choice for a RB/WR flex spot, and could even challenge for a no. 2 RB spot in the second half of the season.